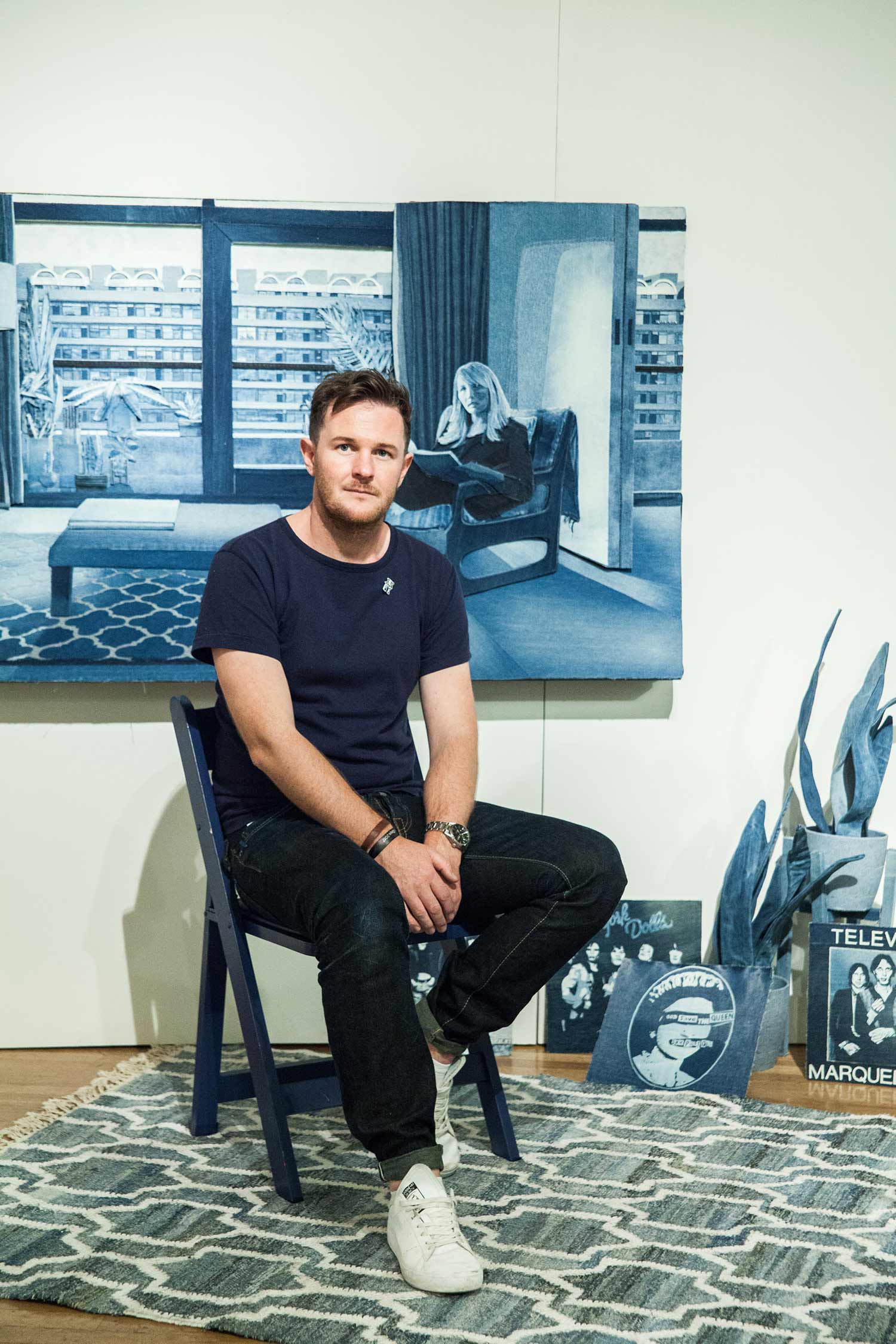 Editors note – I'm really excited to have denim artist, Ian Berry, as a guest writer here today! He attended New York Denim Days and showcased his art there, but has been kind enough to give his run down on the event and share all the other artists with us! You may remember Ian from previous blog posts like this one or this one, and for those of you who don't yet follow him, you should check out his Instagram (@IanBerry.Art) as he's active daily, sharing his work and inspirations! Enjoy the post!
---
New York Denim Days. A denim Festival in New York. The world's most favourite garment, surely deserves its weekend in the spotlight in the world's favourite city (writing from London).
Having seen four happen in Europe's denim Capital, Amsterdam, it was about time it happened somewhere else as well, and New York was the place – and what a weekend.
I exhibited in the first ever one in Amsterdam, so, it was only fitting that I did in the inaugural event in New York. I was just lucky the schedules lined up (I was very late to commit) but the whole team's commitment, both from Amsterdam and in New York, is infectious. I'd like to pay special tribute to Andrew Olah (Kingpins) for really making me feel so welcome.
For me it was a great chance to show my work, all made out of bits of denim layered up, to an audience many who had only previously seen it in print or online. And if I got a $ for every time I heard 'I hadn't realised it was like this, it's so much better in real life' well, I certainly could afford many of the sore throat tablets I had to buy when I lost my voice.
For me, it was an enjoyable event, it made me feel further a part of this great community, and that's what it is. Besides, I see this event growing bigger and bigger and it'll be good to say you were there at the beginning.
To make so many friends under one roof, and re connect with many old ones is what it is all about (I also saw many people making great business connections), but also to see what is going on and to see hard core denim heads among just normal everyday people who may find out much more about denim than they ever imagined (think me a few years ago).
I didn't get around everything, and if I missed someone out I truly apologise. I think everyone there, just by being there and being a part of this event, are the founding members of what will become a bigger and bigger event. In one post I can't write about them all so this one, as an artist, I will write from that angle. So here are the ones that showed Art x Denim. It's a mix that has worked for me so far.
De ver Azul
A green alliance for an Indigo experience between Art & Sustainability.
Juan Manuel collaborated with @officina39 and @berto_industria_tessile who presented for the first time – RECYCROM made with leftovers, reprocessing the scraps and transforming the textile fibers into colored powder. A great achievement for both companies which presents a new era for dyestuffs.
Juan Manuel gave his expression to this industrial ensemble with his limitless creativity bringing the Recycrom product to life. The fabric was his canvas and the indigo powder his brush. His day job is in a denim Laundry in Columbia, and I have said for a long time that many people I have met who work in laundries are artists as well as chemists and Juan Manuel has taken this a step further, utilising all his skills to make this impressive work.
Rubbing, engraving, marking, dipping, disassembling, bleaching, blocking, inking, dyeing, printmaking and working with laser, all with this 100% recycled colour made for beautiful textured work. He had also made them into bags, and rather than use mine I think it will be framed.
Juan Manual is one talented and more importantly, awesome guy. We've have been friends for some time, but this trip really cemented it. I am looking forward to our next meeting (he was even so good to come and watch my soccer team at 6am in a NY bar…we lost).
@Deverazul projects reveals and creates an amazing world of blue hues on denim.
Hektad x Artistic Milliners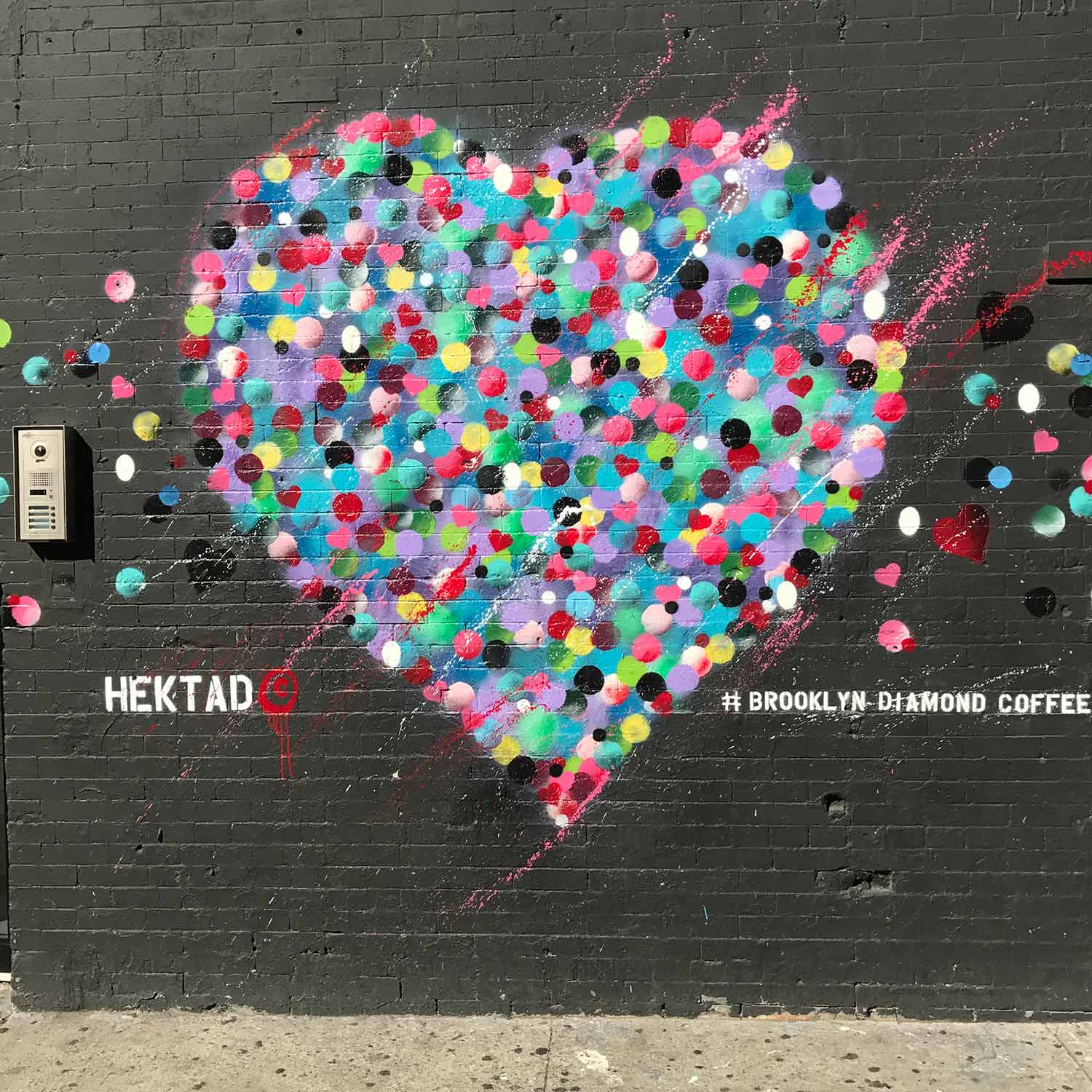 Denim mill Artistic Milliners landed an icon. You can't walk around the streets of NY without seeing his distinctive street art. You wouldn't have to go far from the event to come across his whimsical "Love Drunk" hearts and humorous anecdotes on the streets of the Big Apple. It was the hearts that took centre stage here with him drawing them live on tees outside on the Sunday, and had also made a collection of denim and skateboards that he customized with all proceeds going to the hurricane relief in Puerto Rico.
I was grateful that a mutual friend introduced us, just a shame I never got chance to get one myself. Check him out at @hektad._official
Anka Lavriv x Hudson
And once again, I'm also grateful to another mutual New Yorker friend who introduced me to Anka. A very talented artist who creates beautifully delicate illustrative style tattoos. She was doing the illustrations straight onto the denim live at the booth. If only I could work live… Denim Months anyone?
It was great for the public to see her working live on the jeans. These monochromatic refined and elegant illustrations are dark and mysterious, finding her inspiration in nature, fine arts and folklore. You will normally find her inking on to your first skin, not second, at Black Iris Tattoo in Brooklyn. Follow her at @anka.tattoo
Hassan Kwame x Danyaki – Denim 'design ideation'
Hassan Kwame showed on the Sunday at the NYDD street Bazaar. I had seen the posts go up in the weeks before the event about him and the photography with him – the work was incredible and those combined made for a high energy stand. He is an extremely positive human and what could have easily gone wrong with the paint splatted denim jeans and jackets, they looked so cool and it worked.
It would also be misleading to think he painted on any jeans, these are Japanese Selvage with his own Danyaki label.
Once again, time meant I failed to get one – but – I could never pull it off like Hassan himself. I genuinely look forward to meeting him again. Jackson Pollock's paint splatted jeans in his 'Jack the Dripper' Time magazine article was iconic, we now have Hass the Splash (sorry)! Follow him at @danyakinyc
Wrangler
Wrangler presented its 70th anniversary collaboration with Peter Max, a '70s-inspired, psychedelic capsule collection for men and women. A master of Pop Art, he is the official portrait artist for the Statue of Liberty and welcome banners at the U.S. Ports of Entry. I know from my time in the Hamptons he's very much a local to this area, so great he was showing this in New York. Silver Jeans Co showed a great textured denim 'canvas' that over the two days was illustrated upon by Hanna Barczyk while Denimrush hosted a live demonstration of hand-painted denim jackets.
Tonello
And finally, a favourite. My friends at Tonello showed 10 Designers efforts from all over the world who have painted, stained, scrambled, and abused denim in every possible way, using it as a canvas to express themselves freely, mixing different languages and artistic tendencies.
The Jeans were all using the full potential of Tonello technologies: from Laser Blaze to ECOfree 2, from Bohemia to NoStone®, from Ecospray Robot to Core. While labelled designers, they are labelled here as I saw them as art.
The designers were Grace Warland, Matias Sandoval, Serena Conti, Su Kim & Jon Rouleau, Mika Mitarai, Juan Manuel Gomez, Ilinca Trif, Stefan Vella, and Greta Giannini.
The first-annual New York Denim Days Festival took place on September 30th – October 1st. The indigo-soaked two-day shopping event at the Metropolitan Pavilion in Chelsea included interactive displays, indigo dyeing workshops, new denim designers as well as established brands, with denim mills alongside in-store events, a vintage denim market, parties, DJ's and panels – all geared to give consumers access to their denim heroes and heritage brands.
The one-day street bazaar took place outside on October 1 and with food, live entertainment, games, art, selfie stations, and more! This festival aims for denim heads, fashionistas, foodies, families, tourists, teens, tweens, and of course, all New Yorkers who are true-blue denim lovers. I will be sharing part two with you very soon!
Image credit: Lisa Kato.