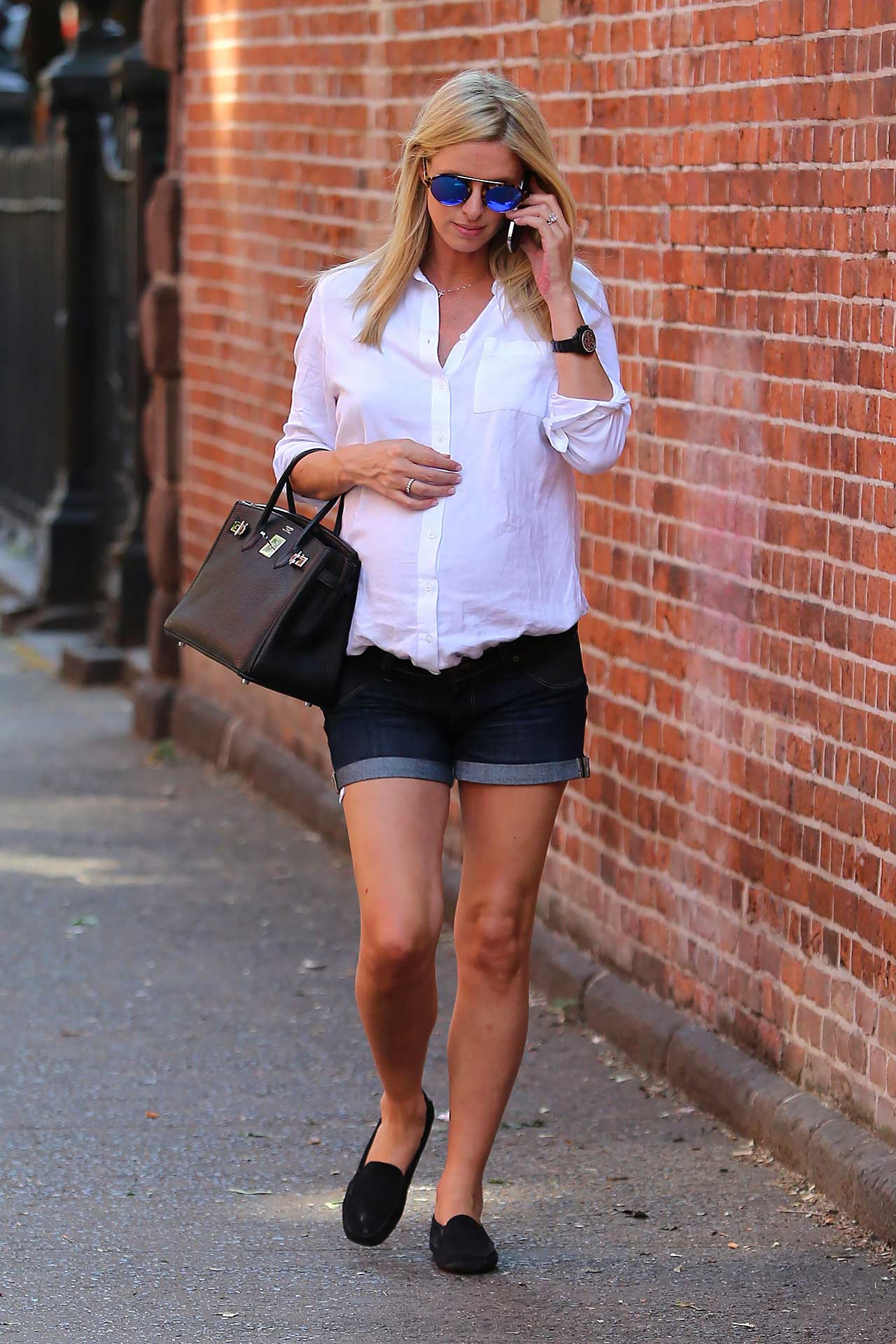 TV personality and socialite, Nicky Hilton, was caught chatting on her cell phone while strolling around SoHo in New York City. Nicky seemed to be in quite the conversation as she made her way from shop to shop, still engrossed in the chat.
One thing I have noticed about Nicky is how dedicated to her favourite denim brands she is. She's been a huge fan of both FRAME Denim and PAIGE Denim for many years now, often re-wearing the same pair of jeans countless times before changing to a new pair. She used to be obsessed with her James Jeans Twiggy in Slate, then her FRAME Le Skinny de Jeanne and her PAIGE Skyline Skinnies, but this time she's opted for something new during her pregnancy – the PAIGE Jimmy Jimmy Maternity Denim Shorts in Langston.
We have seen Nicky in plenty of denim shorts before, but I haven't seen this pair on her. I think the dark indigo wash pairs very nicely with the crisp white shirt and driving shoes. All finished off with an Hermes bag and some sunglasses. PAIGE Denim did a great job with these as denim shorts are always in the lighter blue hues, combined with distressing. We actually rarely ever see an indigo blue, so it's a refreshing change.
When it comes to maternity style, people often find it difficult to wear jeans, but we did an article on how to look stylish in your maternity denim a little while ago and it got great results. So many premium denim brands have gorgeous maternity jeans and shorts now, it's impossible not to look good and comfortable while wearing them. What do you think of Nicky Hilton in her PAIGE Jimmy Jimmy Maternity Denim Shorts? Is it a good look? Buy these PAIGE denim shorts online at Shopbop.com for $159.
Image Credit: AKM-GSI