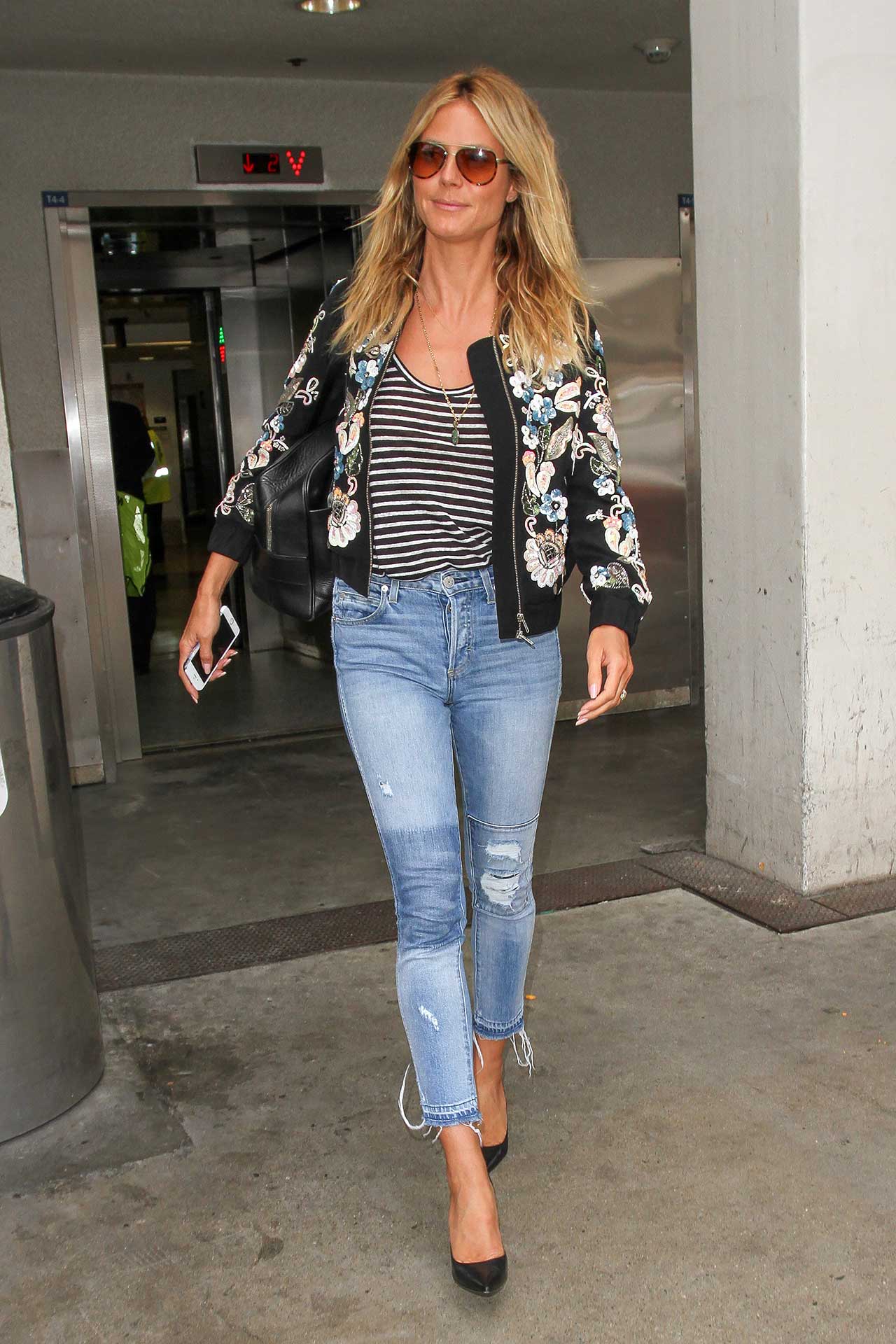 Former supermodel, Heidi Klum, was pictured returning to Los Angeles after attending the 2016 CFDA Awards in New York City. She made her way through LAX in good spirits as the paparazzi took snaps of her. Speaking of the CFDA, did you see Heidi's dress? She looked absolutely incredible in my opinion. Evening gown wear is great, but I do honestly prefer to see what denim Heidi is wearing as she has such an eclectic taste in jeans.
For her trip through LAX Airport, Heidi opted to wear her favourite AMO Babe Skinny Jeans in Keepsake with a Paige Celia Tank in Black/White Stripe, a floral satin bomber jacket, and some black pumps. We have seen Heidi in these AMO Babe jeans so many times now, being styled in many different ways as well. She definitely has a great fashion sense. Like this look here, pairing the striped print with floral patterns? It's a winning combination.
Have any of you denim lovers tried out AMO Denim yet? I haven't personally and I can't wait to do so, they seem to have some gorgeous fits and their jeans designs are extremely inventive. It's no wonder that Heidi loves them so much and has multiple pairs. Also, I know a lot of us here are huge PAIGE Denim fans, so have any of you branched out to try her tops and general clothing line? I've heard so many great things! Anyway, what do you think of Heidi Klum in her AMO Babe Skinny Jeans in Keepsake? Do you love it? You can buy AMO Denim from Shopbop.com online.
Image Credit: AKM-GSI