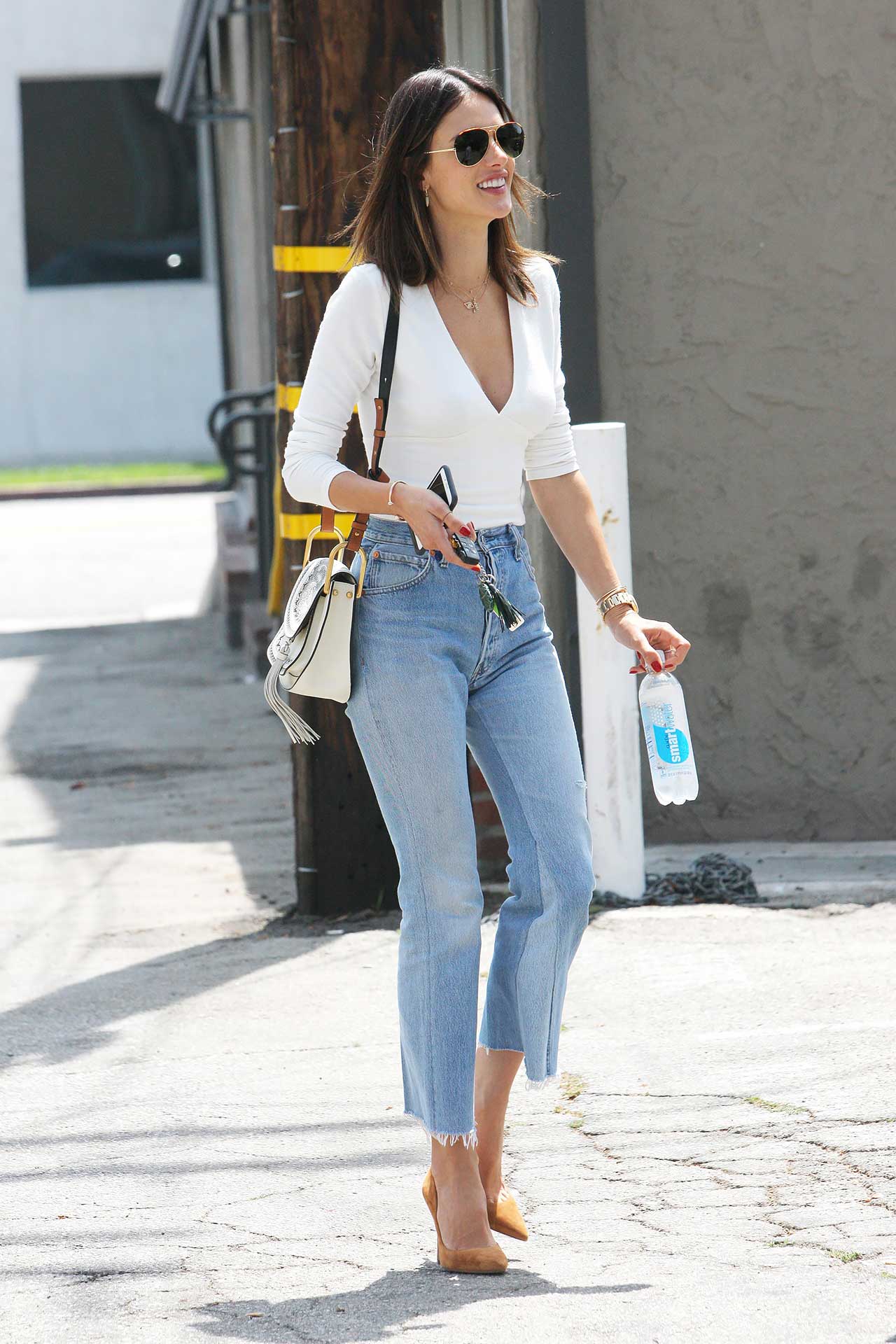 The gorgeous model, Alessandra Ambrosio, was seen smiling as she grabbed some coffee at Urth Caffe in West Hollywood, California a few days ago. You wouldn't think that Alessandra is 35 would you? She is a true Brazilian beauty that just oozes class, confidence and style. But, what is she wearing?
Alessandra's husband, Jamie Mazur, is the co-founder and creator of RE/DONE Levi's, so it's no surprise to me that she stays true to the brand and wears their vintage denim all the time. This pair of RE/DONE Levi's that Alessandra has on here are amazing. The mom jeans fit with the baby boot, cropped raw hem is a fantastic combination. They are called The Leandra and are a brand new cropped flare fit for the company. I can see here that RE/DONE Levi's have actually inserted denim panels on the inseam to widen the legs on The Leandra, giving them more of a unique and on trend appearance.
The things this brand does to vintage denim is incredible. I don't know if you have seen their pieces, but from when I first found out about them when they launched back in 2014, I was besotted. There's nothing I love more than sifting through vintage jeans to find the perfect washes, but they always need tailoring in some way as the fits are outdated. With RE/DONE Levi's, they alter them for you and make them more modern, which is ideal. You can see our interview with RE/DONE here.
Alessandra styled her beautiful pair of vintage Levi's with a white plunge neck top, some brown suede pumps and a white bag. I think she's nailed this outfit as it's the best way to really show off a mom jeans fit like this, with simple, tight fitting clothing. You want the jeans to be the focal point, but as they often fit looser, if the rest of your clothes are fitted, it still gives off that feminine appearance – with an edge. Don't you think she looks stunning? There's something about Levi's jeans that just embody the true denim spirit. You can shop Levi's denim at Shopbop.com. What do you think of Alessandra Ambrosio's style?
Image Credit: The Media Circuit / AKM-GSI