The gorgeous Heidi Klum was seen watching her kids Leni, Henry, Johan, and Lou play soccer in Brentwood, California a week or so ago on September 13, 2014. I love that she's such a hands on mum as we often see her at her kids events.
For the day, Heidi wore her Seafarer Calypso Flares with a gorgeous black silk cami top, a Givenchy Nightingale Micro bag in Emerald, some gold sandals, a pretty green watch and a jade heart necklace, finished off with some aviator sunglasses. As with all of my get the look posts here on The Jeans Blog, I usually do some similar items as well as exact pieces, so for this one, I have combined exact items with similar ones and I love how the outfit came out.
I haven't personally tried Seafarer before, but I have seen quite a few celebs out in their flares and they look really good. Flared jeans are really coming in again for Fall and hitting it big in the denim world, so now is a great time to get a pair and start styling them! Check out some of the options below as well as some more photos of Heidi Klum in her Sefarer flares!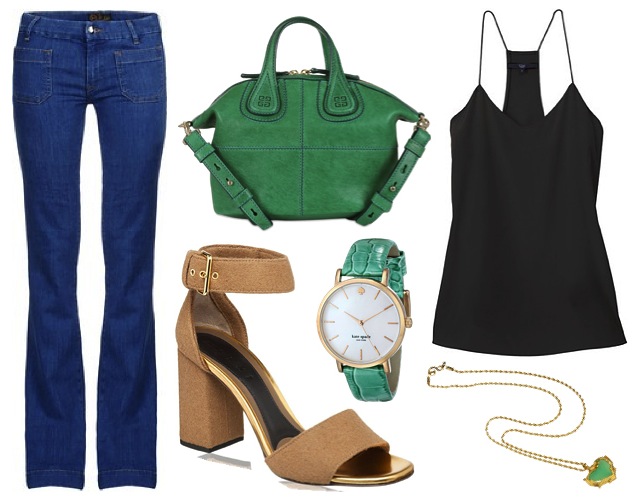 Jeans | Bag | Shoes | Top | Watch | Necklace | Sunglasses