Actress Emma Roberts was pictured getting out of a car as she arrived at the Peppermint Club for Dave Chappelle and John Mayer's show in West Hollywood, California. It's always nice to see celebs going to other celebrity events and supporting them!
Emma chose to wear a pair of Leopard Print Skinny Jeans which she styled with a navy corduroy varsity style jacket, some black ankle boots, and a black bag. We haven't seen leopard or cheetah print in denim for a while as not many celebs are wearing it compared to the vintage blue jeans they're loving right now, but I think Emma is rocking these! I like the print and the fit, although they could be one size smaller in my opinion, to prevent the sagging.
I couldn't narrow it down to find out the exact brand that Emma was wearing here, but based on the leopard print itself, I have found the FRAME Ali High Rise in Cheetah or the GOOD AMERICAN Good Waist Leopard Skinny. Both of these are very similar in the sense that they have smaller print and a more orange tone to the jeans, so you can't go wrong with either! It's a great look!
How many of you are still rocking your leopard print jeans? I know the trend really took off again last year, not so much for denim, but for other clothing items like dresses, coats, tops and boots etc. so you wont look out of place, that's for sure. I still have my old Current/Elliott Stiletto in Grey Leopard which I lived in at the time, but haven't worn them in a long while as they don't really fit me anymore. Who remembers them? They were the pair of jeans that really kicked off the printed denim phase back then!
Getting to Emma's outfit here though, as much as I love the jeans, I think I am mostly thrown off with the overall styling. I wouldn't have worn these with a navy corduroy jacket like that, or with the printed sweatshirt underneath, as it just seems too intense and busy. I would have preferred the leopard jeans to be the focal point of the outfit and they should be styled with neutrals. A nice cream or black sweater would look great here, or even a blazer, but I know everyone has their own unique dress sense and that's not for me to criticize. When it comes to printed denim though, how would you style it? With other bold pieces or with neutrals? Let me know in the comments below!
Shop Leopard Jeans at Shopbop.com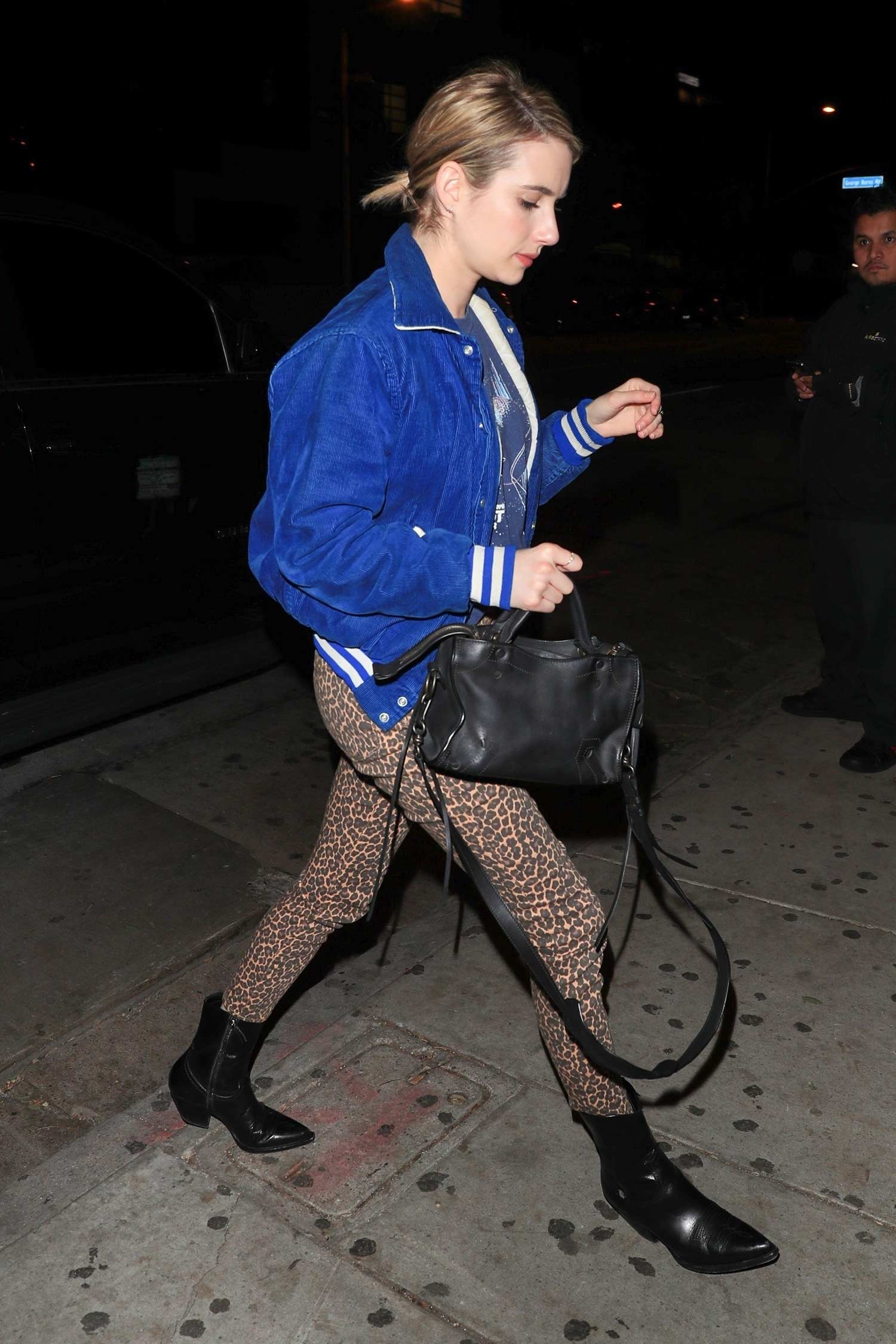 Image Credit: GAMR / BACKGRID