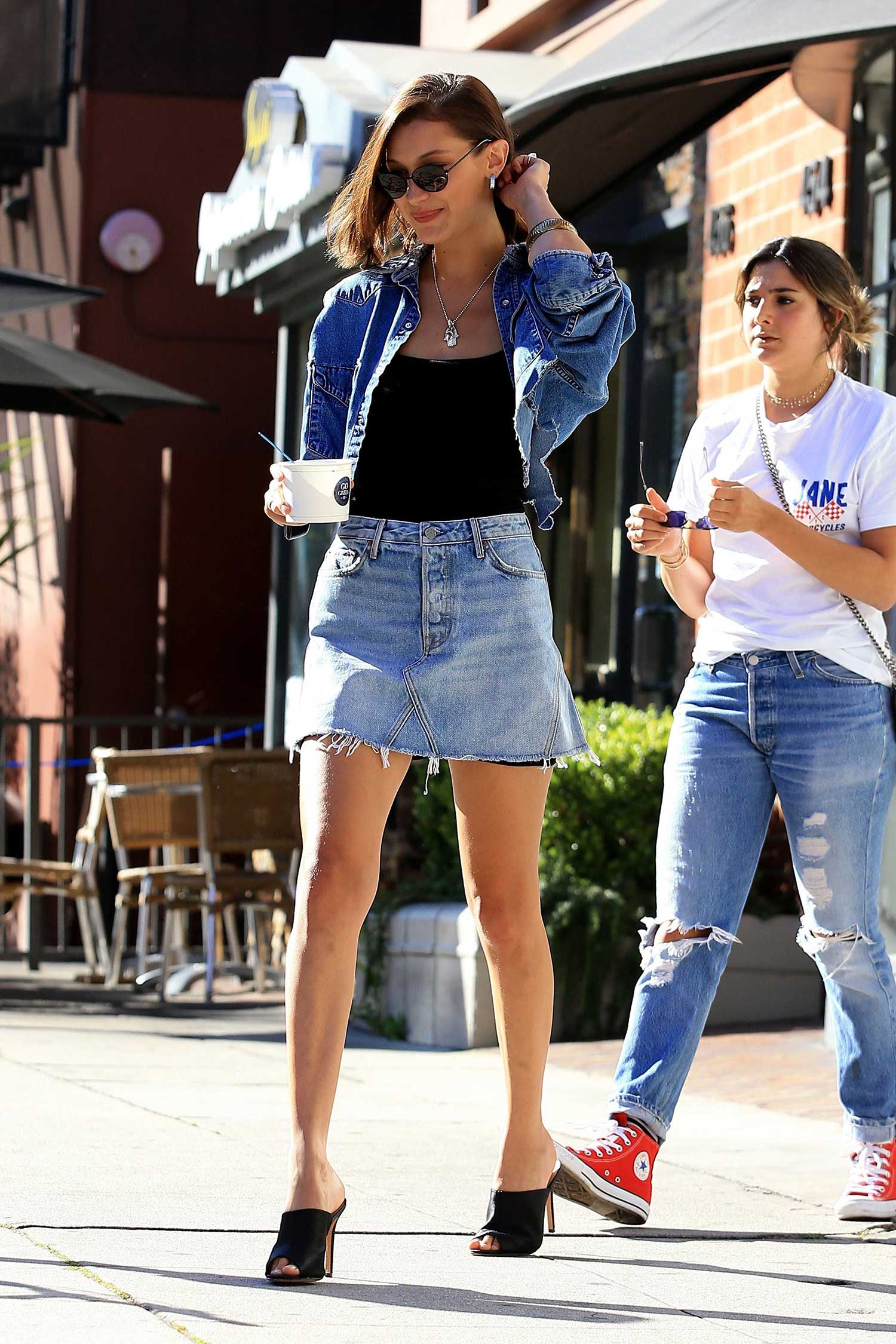 Supermodel of the moment, Bella Hadid, was pictured picking up some fro-yo in Beverly Hills, California, before getting into her car. She looks absolutely amazing and radiant doesn't' she? She's one of my favourite models as she has such a healthy figure. I know she has lost weight and toned up, but she looks so happy and healthy still, and I loved that she was a model before with some curve!
Bella wore a double denim outfit for the day, picking a GRLFRND Eva A Frame Denim Gusset Skirt in Car Wash to go with an Are You Am I top, a Cropped Denim Jacket, and some Schutz Sandals. We see so many variations of double denim these days that it never gets tiring. Mixing it up with a denim skirt and a cropped denim jacket is a great way to make it more fresh and current!
I know Bella's sister, Gigi Hadid, was the it model last year and the most popular, however I think this year is definitely Bella's year as she seems to be featured a lot more now. Plus, she has absolutely fantastic denim style so it's always a pleasure to feature her in our celebs in denim section! I mean this outfit here is a fine example of how great she looks in denim, but she's been so adventurous this year with her jeans choices, I can never get enough of her looks! Anyway, what do you think of this GRLFRND Denim Skirt? I am a huge fan of the brand for their jeans and jackets, so I imagine this skirt is just as amazing!
Shop This GRLFRND Skirt Here & Denim Jackets at Shopbop.com
Image Credit: GAMR / BACKGRID