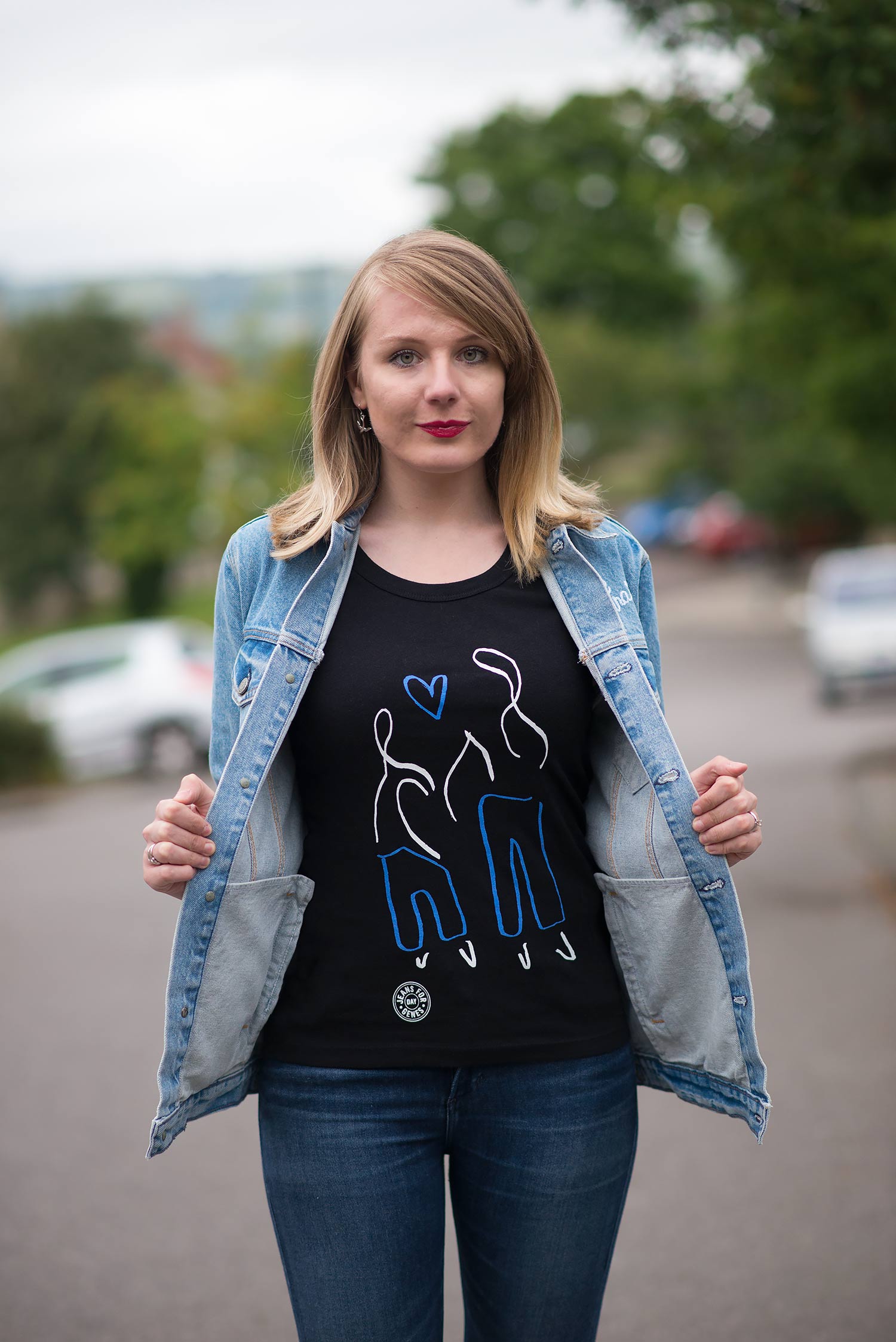 A charity that I am always happy to support, Jeans for Genes, is holding its annual fundraising event on Friday 22nd September 2017, so I'm making this post to raise awareness and give you plenty of time to get ready for the event, and given that all of you here love jeans as much as I do, it's perfect!
Jeans for Genes raises money for children affected by life-altering genetic disorders. It is estimated that one in 25 children is affected by a genetic disorder, which means 30,000 babies and children are diagnosed in the UK every year. Monies raised on Jeans for Genes Day provides grants for day-to-day support, equipment, respite and events which bring together affected children and their families.
The charity launched its 2017 campaign with the reveal of a new limited-edition t-shirt, designed by Molly Lindsay, a talented undergraduate student from The Glasgow School of Art. The tee was selected from a number of entries, by the Jeans for Genes fashion panel and the queen of style Kate Moss herself, and is now available for £20 online, from the Jeans for Genes website. You can see it on me here and given how understated it is, with a palette of blue and black, it's complementary to jeans! If you don't want a t-shirt though, they do a really cute denim tote instead!
Renowned for its star-studded support every year, Jeans for Genes has enlisted celebrities Ashley James, Charlotte De Carle, Ellie Taylor, Frankie Gaff, Harriet Jones, Jenk Oz, Jayde Pierce, Leomie Anderson, Marc Dessen, Maya Jama, Mollie King, Oscar Duke, Rachel Riley, Reggie 'n' Boille, Romesh Ranagathan, Stephanie Pratt, Vogue Williams, Chloe Lewis, Zoe Hardman, Lydia Bright and Louisa Johnson to support the campaign and help raise money for the children affected by the genetic disorders. Bloggers are also stepping in, such as myself, to help spread the word to even more people as well!
"I'm am really pleased to be part of a fantastic charity campaign that helps to change the lives of children with life-altering genetic disorders. Fundraising for Jeans for Genes Day is obviously the primary purpose, but it is also a really fun initiative giving us a chance to experiment with denim! I'm looking forward to wearing my favourite jeans in support of the campaign on Friday 22 September, and I hope others are too" – Mollie King

"One in 25 children in the UK have life-altering genetic disorder and the Jeans for Genes campaign funds support for these children across the country to make their lives a little easier and more enjoyable. I'm delighted to be supporting Jeans for Genes this year – it's a fantastic way to raise funds for a very worthwhile cause. I am encouraging everyone to get involved, so pull on a pair of jeans, make a small donation, and change lives!" – Rachel Riley
Every year the Jeans for Genes campaign encourages people to sign up for a free fundraising pack, pull on a pair of jeans and make a small donation on Jeans for Genes Day, or purchase the new t-shirt, this will donate money and show you support the cause. As I mentioned above, the official day is 22nd September, so you have a month and a half to get ready. One of the best things you can do though is wear double denim and share it via social media, tagging the charity in. That will really spread awareness! To sign up for your free fundraising pack visit JeansforGenesday.org and plan something fun!