It's almost time for you to celebrate Independence Day on the 4th of July, so I thought it would be a nice idea to style a few outfits around the red, white and blue theme of the American flag, to be patriotic. Of course these all include denim, choosing red jeans, white jeans and navy blue jeans, as well as a pair of denim shorts and a classic black skinny. If you are stuck on what to wear, there are five different denim outfits inspired by the 4th of July here, so there's something for everyone! Including a subtle look, evening outfit, a day time ensemble, something very patriotic and another for a pool party! You can't go wrong with any of these outfits here to celebrate 4th of July in style with denim!
The Day Time Approach
I put this outfit together as something fun, youthful and energetic, but representative at the same time. For the base, I chose the Frame Denim Le Color Rip skinny jeans in Blanc as they made the perfect white jean a little less structured due to the distressing. Opting for a red garment to go with these, I chose the Equipment Sleeveless shirt in Ribbon Red and then went with a Rebecca Minkoff Mini MAC in Navy. all of these three pieces complete the red, white and blue theme that I wanted. Finishing things off, I chose a pair of Christian Louboutin Pigalle in black for a classic feel, some gold jewellery (including a star ring, to match the flag) and then I went with navy blue nails and red lips, just to pull it together! I think this is a great outfit for a lunch out with the girls!
The Evening Approach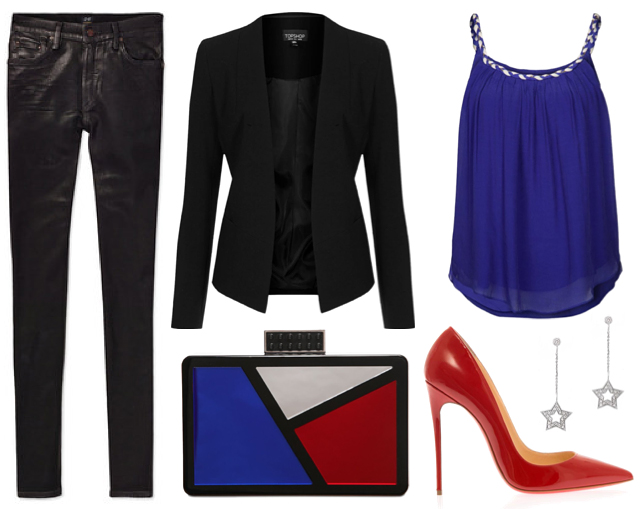 If you are celebrating the 4th of July in the evening, perhaps on a dinner date or a nice evening out with the family, I went with something a little more classic and mature. I chose the Citizens of Humanity Rocket Leatherette skinny jeans in Black as they are gorgeous! They have a leather like look to them and a truly amazing fit! I then went with a black blazer from Topshop, to keep that classic flow going, but I added the red, white and blue in a different way. I opted for a navy camisole top to go under the blazer, just showing a peep of blue, then a pair of Christian Louboutin Pigalle heels again, this time in red! The red, white and blue clutch box by Les Petits Joueurs is actually my favourite part of this look though! It's the perfect blend of colours and shapes to celebrate, but without overdoing it! I then finally chose some silver star earrings.
The Subtle Approach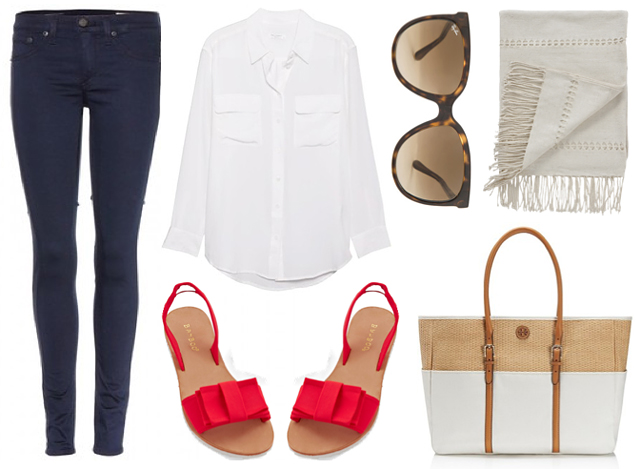 Since Independence Day is a holiday day, so many of you love to spend it doing a BBQ or a picnic, so I wanted to do something with a subtle approach to the red, white and blue theme. I chose a pair of Rag & Bone Legging Jeans in Navy, pairing them with a crisp white blouse from Equipment. White shirts and dark blue jeans are such a normal and classic combination that nobody would suspect anything, but since red plays such an important role here, I chose a pair of sandals with a little red to them, just to liven it up and show that you are being patriotic. Since this outfit was something I put together for a picnic in the park or a day out with your friends and family, I chose a tote by Tory Burch to carry everything, a pair of Ray-Ban sunglasses and then also a blanket, just so you have something to sit on.
The Patriotic Approach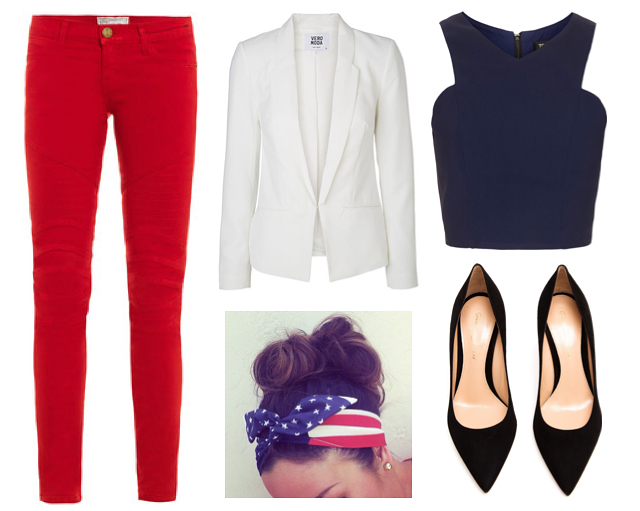 If you are someone who loves the 4th of July and wants to go all out, why not try an outfit like this? Red skinny jeans always make a statement, so using them as the base for this look is definitely the key! I went with a pair of Current/Elliott red skinny jeans (similar here) and then paired them with a fresh white blazer from Vero Moda. The pop of navy comes in with the cropped top that I chose to go underneath the jacket from Topshop. This outfit literally combines all of your red, white and blue pieces in one! I chose a pair of classic black heels and then to be even more fitting to your country, I went with a United States flag headband! Just to show that you are having fun and not taking it too seriously! I think this would work equally as well with some pointy black flats too and will look great for day or evening!
The Pool Party Approach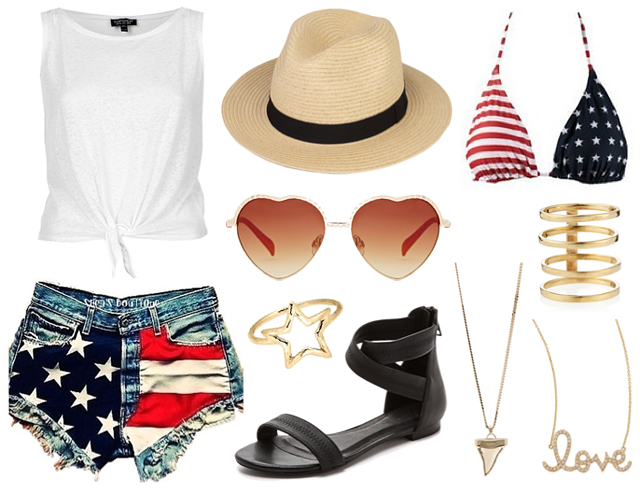 Finally, I have my pool party or BBQ look that I know many of you will probably be opting for, weather dependent of course! I found these really cool denim cut off shorts which have a DIY USA flag on the front of them, which I think looks awesome! I paired them with a tied up white tee from Topshop to give that easy vibe and then a simple pair of black sandals to go on your feet. Since this is a younger outfit which you are having fun with, I also chose a flag inspired bikini to go underneath the top. As the top is sheer, the print will show through, which I think will look really pretty!
Now the key to finishing this look and making it appear relaxed is in the accessories. Throw on a Fedora and a pair of quirky sunglasses like these heart shaped frames and then layer on the jewellery. I chose a shark tooth necklace by Givenchy, a Love necklace, a set of gold bangles and a star ring in gold too. I can definitely see this being worn around the pool, at the beach or in the backyard for your BBQ!
– So, which 4th of July denim inspired outfit do you like the most?