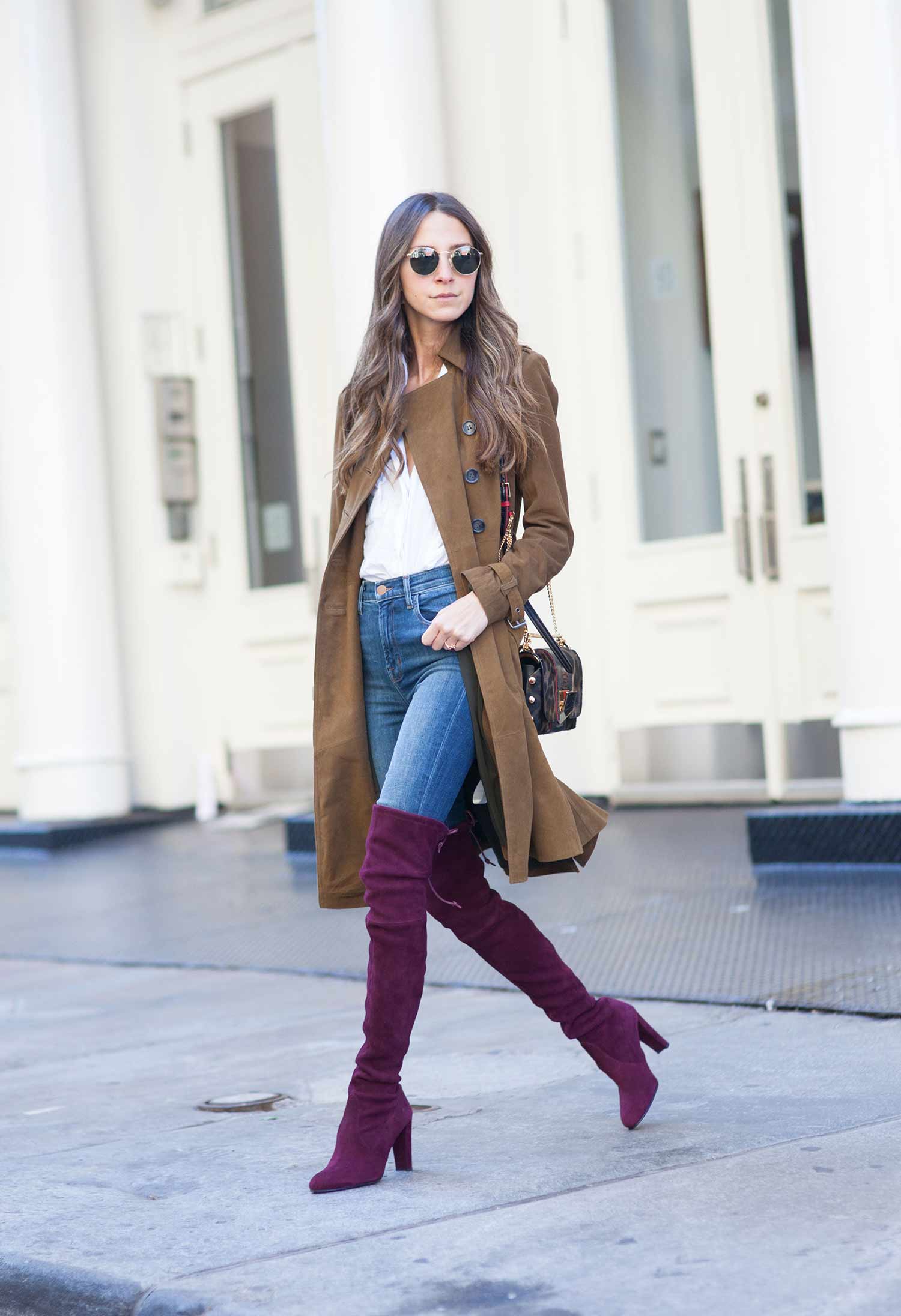 How To Style Jeans With Tall Boots
Burr, it's cold outside! I know many of you have made the switch from your summer wardrobe to your fall and winter already, which means, bigger boxes and the need for much more storage. The one item that typically will stay the same throughout the year is your jeans collection! We all love jeans because they are so versatile in many types of weather, but what's a better way to style them up in the cold weather than with a great pair of over the knee or thigh high boots?
You can pick your favorite movie quote to describe how much you love tall boots; they are so fetch, so rad… Okay, I'm kidding with the silly names, but seriously, who doesn't love to wear tall boots with their jeans? Look out below, because you might just develop a crush on these 10 different ways to wear your tall boots with jeans!
Black on Black
We all have a pair of black jeans that we love to wear, especially when we are feeling a little more bad than normal. Black is a color we associate with being cold, so why not wear it when you are cold? Finding a great pair of black boots to go with your favorite black jeans isn't as hard as it may seem. You can go with any shade of black and even if it has a bit of contrast to the boots you find, it will still look amazing. This look isn't my favorite for an elegant night out, but it will give you a great comfy look to wear while shopping or meeting your girlfriends at Starbucks!
– Try these Stuart Weitzman Boots with these Citizens of Humanity Rocket Jeans.
One, Maybe Two, but Not 50 Shades of Grey
I love matching similar colors together, it gives off such a professional, yet bizarre look that leaves passers by saying, did they mean to do that? Of course, we all love to wear pastel colors together and different shades of red, but in this case, grey is another wonderful color to add to your collection of jeans! There are so many shades that you could literally stock your closet full of only grey jeans and never wear the same pair twice in a week! Trust me, Grey is where it's at and actually, I can admit that it's my favorite color!
– Try these Stuart Weitzman Boots with these PAIGE Transcend Verdugo Jeans.
Burgundy Boots
One of my favorite colors for the fall and winter season is Burgundy! It has such a warm look to it and looks great with a medium/dark denim! They're hard to get your hands on, maybe feet on… but are a great way to spice up your wardrobe and get away from the typical brown/black/gray colors. You have two extreme choices when wearing burgundy boots, first, let the boots be the focal point of the outfit, or second, wear something else that is even more bold than the boots! All of us jeans lovers know that the perfect jeans make any outfit perfect!
– Try these Stuart Weitzman Boots with these Rag & Bone Jeans.
Wear some Leather!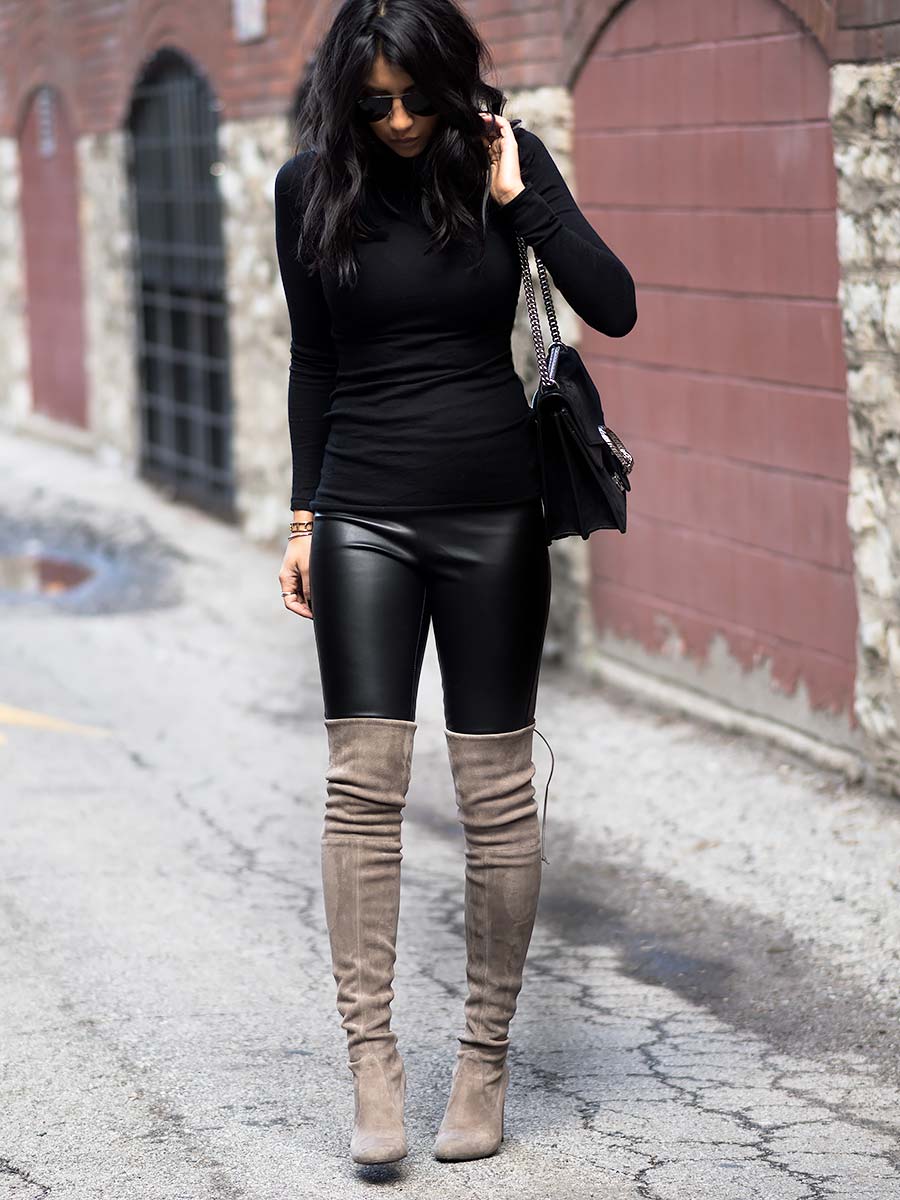 If you know me at all, you know that I adore a great pair of leather jeans. I wear mine all the time, and have found some amazing ways to style them! If you have real leather, you know that it keeps you warm, but on really cold days, I love to wear my leather jeans with a comfy pair of suede boots. The color options are endless and since everything goes with black, you can choose any color boots and you can slay no matter where you go! Since we love boots and we love leather, try matching your top or jacket to black leather to accentuate the amazing boots you are wearing!
– Try these Stuart Weitzman with these J Brand Maria Leather Pants.
Make It Great, Go Higher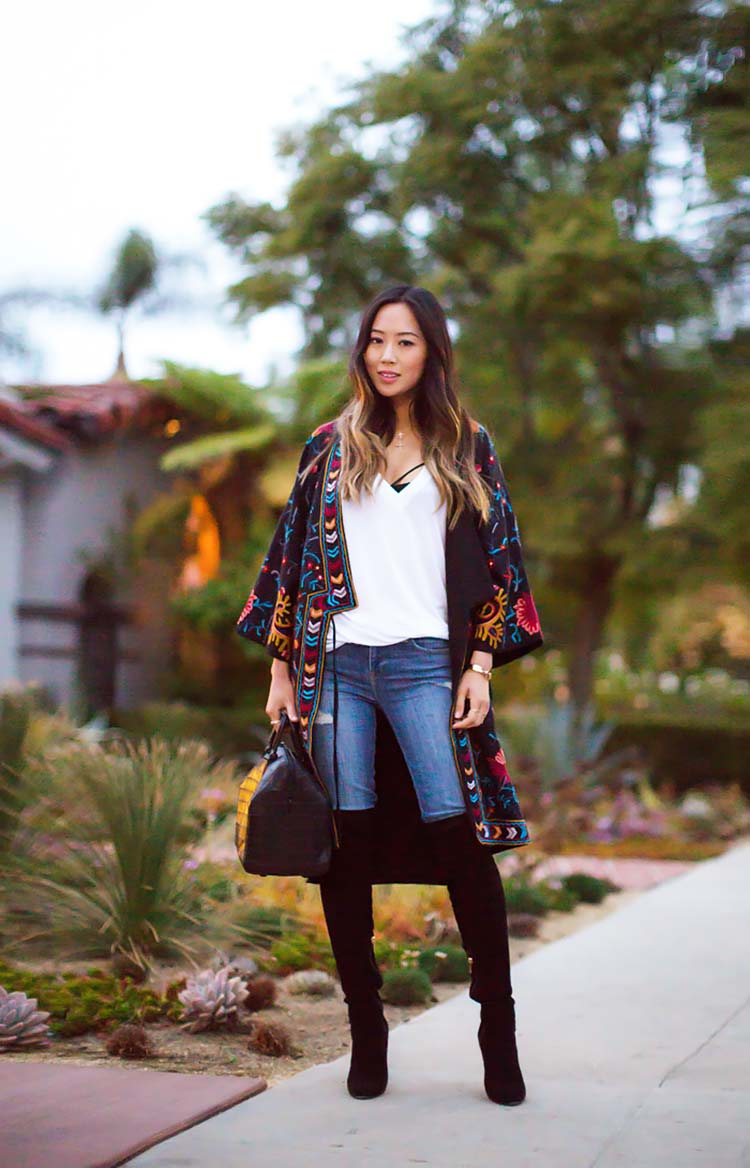 You love your tall boots, but have you tried high waisted jeans with your tall boots? What else could make your long amazing legs look longer than a pair of thigh high boots you ask? Well that's so simple, wear high waisted jeans with them! I personally have eaten up the high waisted jeans look, it flatters every part of my body and protects me from things that low rise jeans just can't do! Simply put, these two items together are a match made in heaven!
– Try these Stuart Weitzman Boots with these 7 For All Mankind Skinny Jeans.
Be Bland
A subtle tan or camel color is an excellent choice for an amazing color of boots. I want to see you wearing your tan boots with darker wash jeans and your camel boots with a medium wash, but other than that, you can wear them how you want to. I know, you are all experts of your personal style, so don't take everything I say to heart! Either keep your entire outfit really bland with color or wear a top that is so bold and daring that you have to look in the mirror 11 times before you actually decide to walk out of the house.
– Try these Stuart Weitzman Boots with these J Brand Jeans.
Animal Boots Too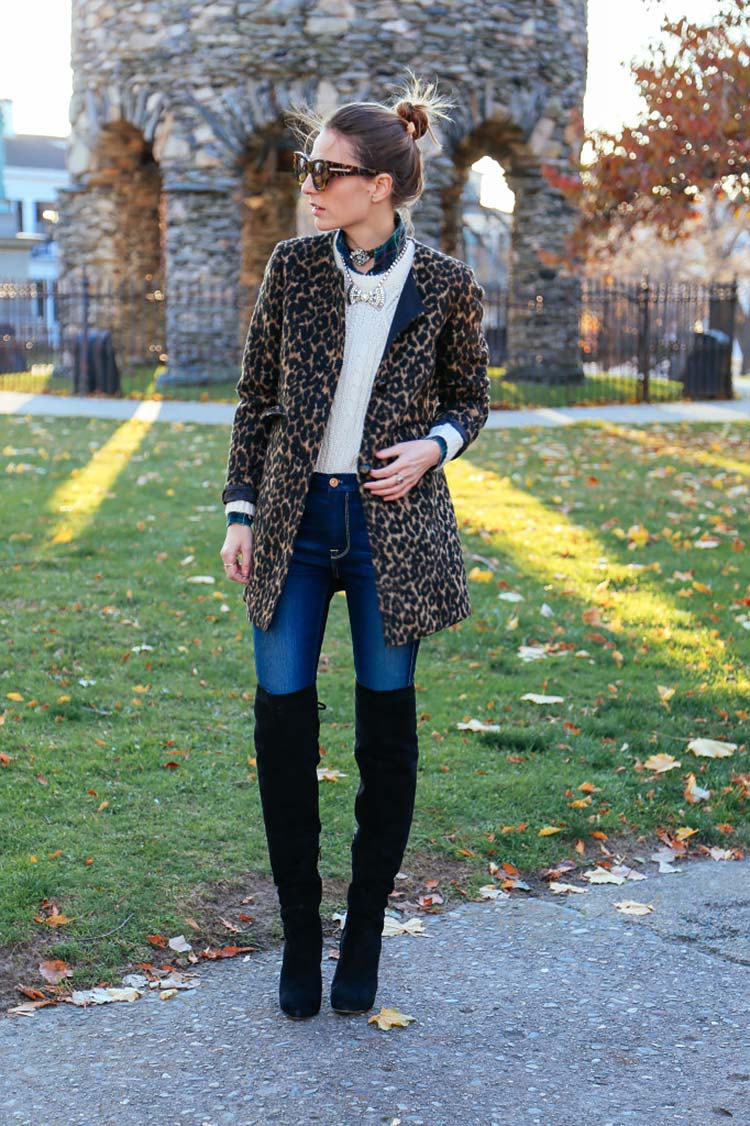 There are many options to include an animal print into your outfit, in this scenario, you can wear boots, a coat/jacket, or jeans that have animal print! It's typically a great way to get people to say WOW when they see you, but also it's fun when wearing it. I personally love to dress for myself, but also enjoy conversation starters! When I wear animal prints, I seem to get more people I have never met asking me exactly what animal I am wearing and normally leads into a much deeper conversation and sometimes a new blog follower and friend.
– Try these Monnier Freres Boots or these b.young Leopard Jeans – not together though.
Biker's Have More Fun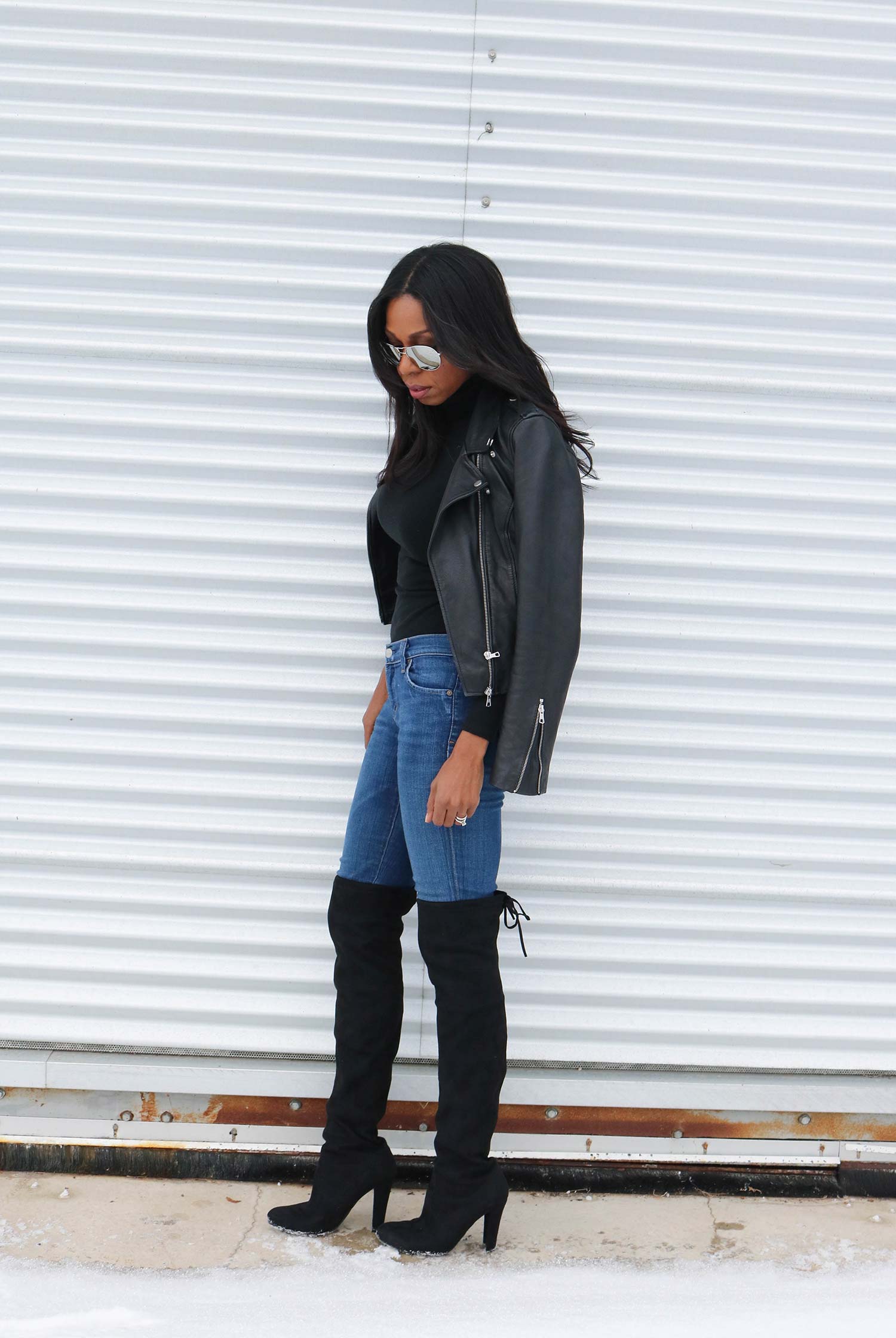 Another one of my favorite items to wear with a great pair of jeans looks even better when you wear it with thigh high boots! A Biker jacket can make any outfit look so much more edgy! I'm amazed at the places I see women wearing biker jackets these days. Recently I attended a benefit gala for cancer research and the wife of the most well known donor was wearing an evening gown with a biker jacket! Needless to say, we are seeing them everywhere so maybe you should trade in your bulky winter coat for your amazing biker jacket! Any Jeans and any Boots will really complement your biker jacket and give you a fabulous look!
– Try these IRO Boots with these Citizens of Humanity Jeans and Mackage Leather Jacket.
Cover Up Your Jeans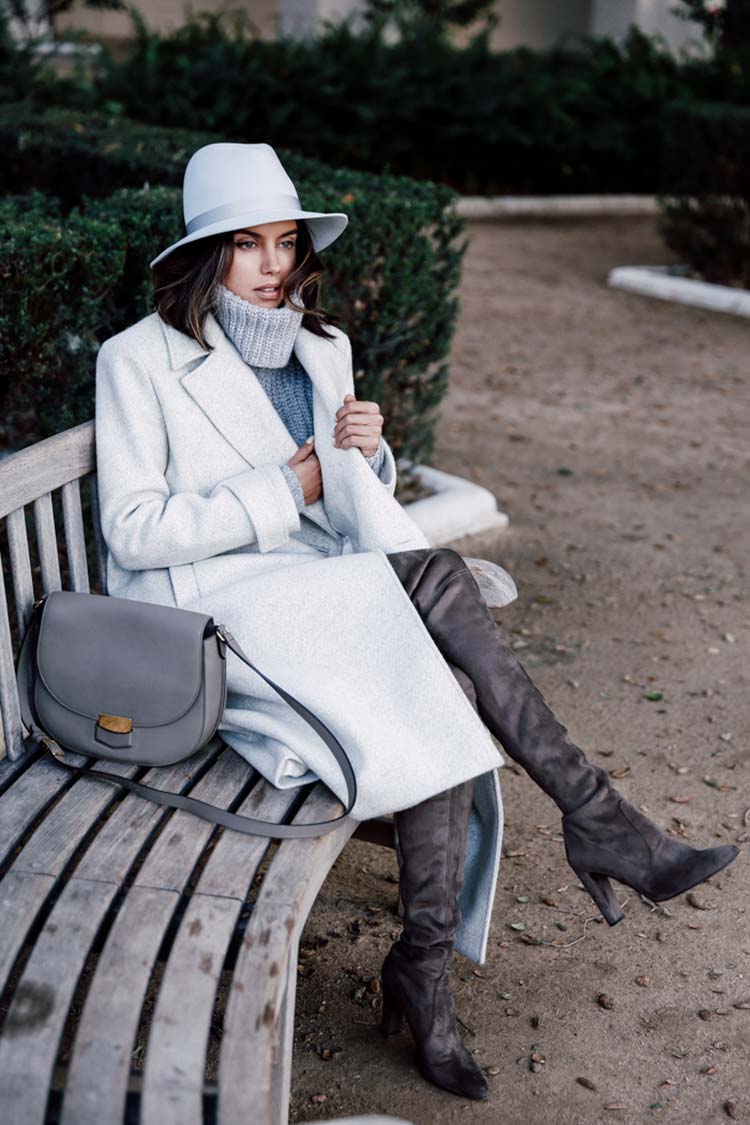 Let's be honest, sometimes it's sooo cold that you need to wear an extra warm trench coat. That's okay, because if you are a jeans lover like me, you will still wear your favorite, most comfy skinny jeans under your coat and under your boots! Don't forget that sometimes your most special items that you wear are the ones that no one can see!
– Try these IRO Boots with these J Brand Skinny Jeans.
Wear Navy or Black Boots… With… Well Anything!
Navy is your friend, no really, it is, wear navy boots with just about anything you can think of. Earlier we discussed black boots with black jeans, but you can literally have one pair of black boots and have a million different ways to wear them, just like you can with navy! Your only stipulation is that you NEVER roll the top of your boots and look like a pirate. Assuming you listen to that small piece of advice, you are free to wear your black or navy thigh high boots with anything you own!
– Try these Stuart Weitzman 50/50 Boots with these Citizens of Humanity Rocket Crop Jeans.
To view bloggers outfits in full, click the images.