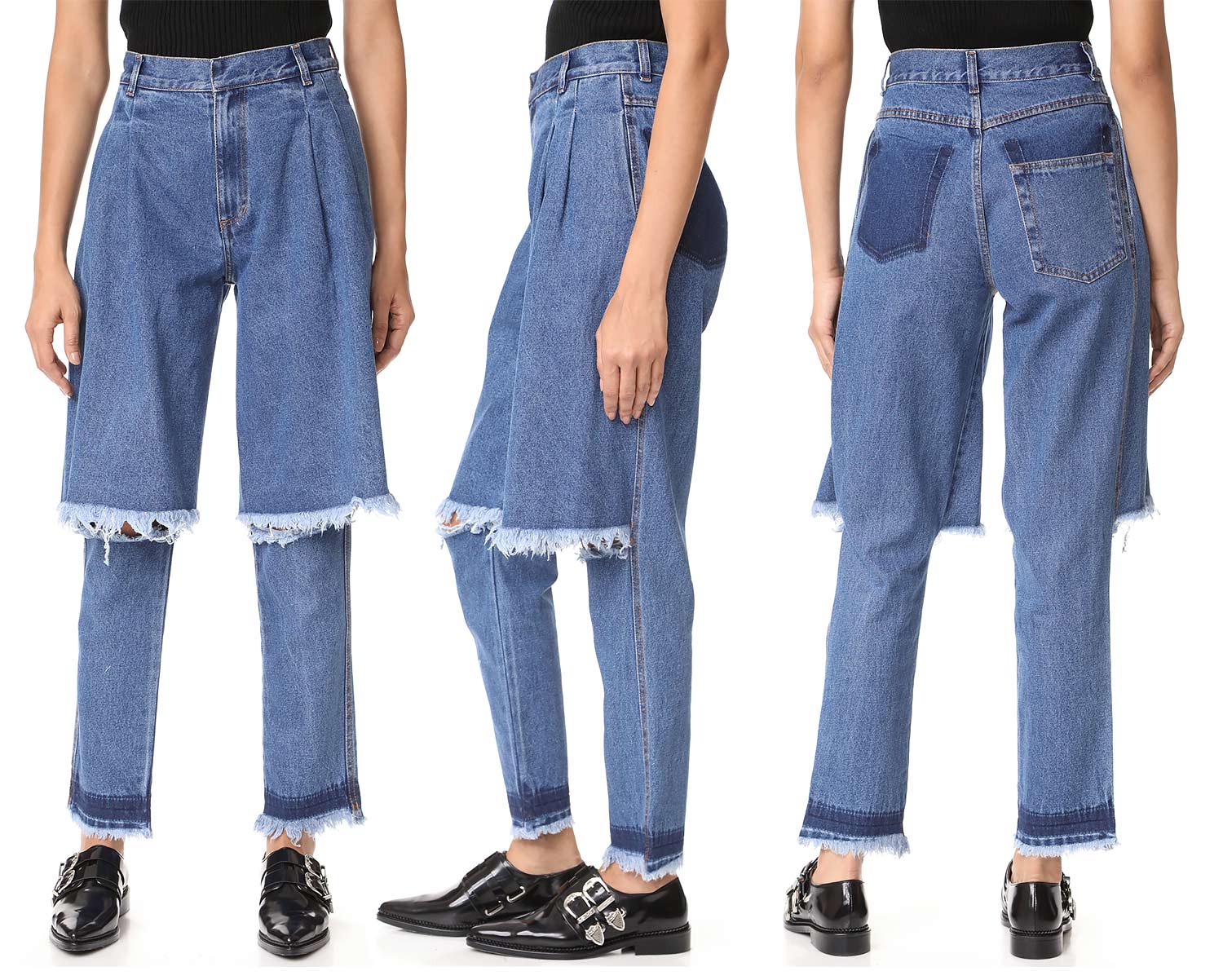 I'm all for new types of denim and jeans trends, but when brands take things too far, I do question what's really going on with the denim industry. I did a blog post not long ago about the crazy and worst jeans that are on trend at the moment, and some of them were just plain shocking. It seems to be a trend in itself though that more and more designers are jumping on board with. The styles are going way outside the realm of normal and are actually quite frightening. Since more are being released and I've already done that round up post, I'm doing a 'What Were They Thinking?' series which will showcase some of the crazy jeans coming out at the moment.
First up, we have the Ksenia Schnaider Dark Blue Demi Jeans. These jeans just got released yesterday and when I saw them, I didn't have a clue what was going on. Was that a pair of denim shorts layered over the top of a pair of jeans? What is all that extra fabric? It turns out these jeans have a pleated waist and voluminous profile, complete with raw slashes at the knee and a slim lower leg which creates a layered look. They have a single patch back pocket, a hidden hook-and-eye closure and a zip fly. But my question is, why would they make the top half baggy like shorts and the bottom half slim like jeans? It really does look like someone layered a pair of shorts on top, until you see them from the side and notice all the extra fabric which will be flapping in the wind.
These Ksenia Schnaider jeans are made from 100% cotton and originate from Ukraine. They have a 14.5″ rise, which is incredibly high by anyone's standards, and an inseam of around 30″, with a leg opening of about 13″, making them much like a mom fit. You can only imagine how bad they will look on ladies with shorter legs! They go in size XS, S, M and L, so I'm not sure how that sizing will work. I don't think the wash is that nice either though. I'm all for raw and frayed hems, or ripped knees in general, and even patch back pockets, but the whole combination of all of this together, with the basic blue wash (which is almost 2D and not realistic), is too much for me. These are not a pair of jeans I would wear and I genuinely think brands are taking their quirky and innovative designs way too far these days. Wearability genuinely comes into question here. What are your thoughts on this pair of jeans? And the general weird trends that are encroaching?
Check out these Ksenia Schnaider Jeans on Shopbop.com for $409