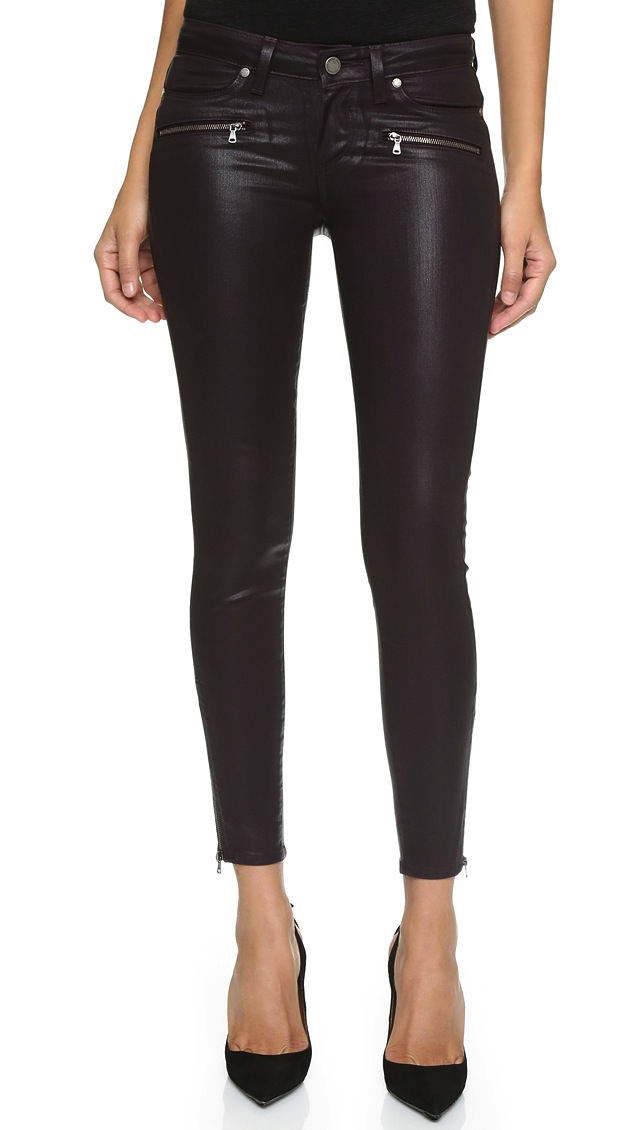 Paige Denim Jane Skinny Zip Jeans in Velvet Plum Silk Coated
How gorgeous are these Paige Denim jeans? As soon as I saw them, I thought they were absolutely perfect for the Autumn weather that will be upon us in a couple of months! We are so used to seeing coated black and red jeans that it makes such a nice change to see a plum purple instead! These jeans have a silky coating on top of them so they give off a leather like effect on top of the soft, lightweight denim. It's a great way to get that luxurious leather style without spending too much money, all while being animal friendly.
The Jane cut itself is a cropped ankle skinny which features two zippers at each side of the hip and a zipper at each ankle on the outerseam. The front pockets are faux to keep things sleek and the overall fit is fantastic. I have the Jane in white and it's a gorgeous cut! These are made from a 42% lyocell, 33% cotton, 15% rayon, 9% polyester and 1% elastane mix. They are dry clean only because of the coating, however you can find out how to wash coated jeans in a previous post that I wrote. The rise is around 8.25 inches, the inseam is cropped at 27.5 inches and the leg opening is a small 8.75 inches, but with the zip, these will be fine to get over your ankles. I think these are just perfect for the coming months! Buy these jeans online at Shopbop.com for $269.