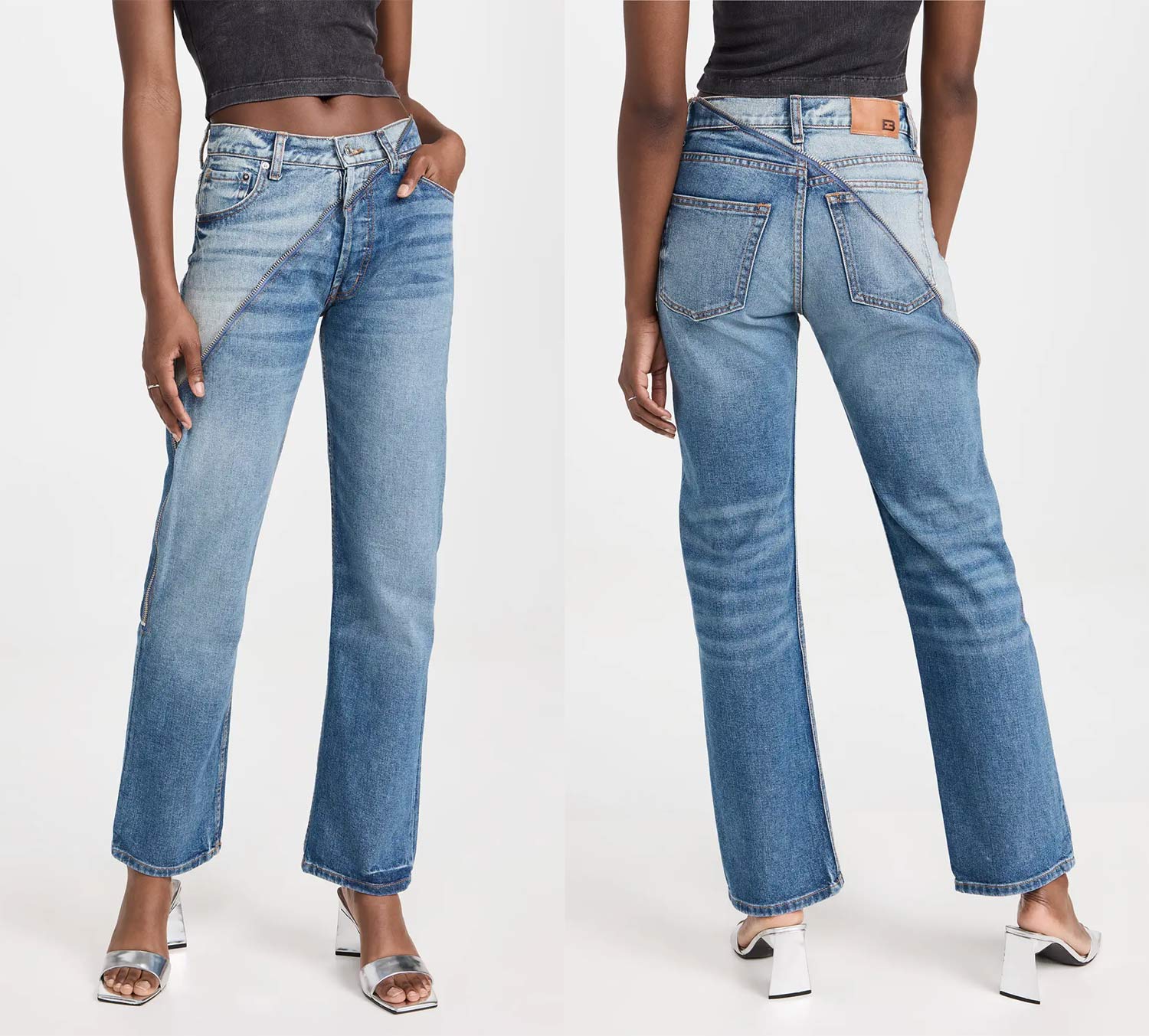 EB Denim Gemini Boyfriend Jeans in Hendrix x Cobain
How cool are these jeans?! These are the EB Denim Gemini Boyfriend Jeans in Hendrix x Cobain wash. Not only do I love the play on words for the wash being Jimmy Hendrix and Kurt Cobain, which I'm thinking is because these are like two pairs of jeans in one, but I love how unique they are.
These EB Denim jeans begin as two separate garments, spending 5 weeks in the EB DENIM wash house getting turned into this unique pair of jeans! They're created with over 100 pieces, just to form the "Gemini Jeans" and that's absolutely incredible! They're recreated off of vintage dead stock denim and have a boyfriend fit, which is a mid to high rise with a straight leg.
These jeans are made of a cotton and polyester blend that's non stretch and mid weight, with the classic 5 pocket styling, button fly and vintage fit. The rise is around 10.75″, the inseam is 31″, and the leg opening is 17″, which is around 8.5″ laid flat.
The main focus of this pair of jeans is the zipper detailing. As you can see, they feature an asymmetrical zipper that goes from one side of the jeans to the other, and down the outerseam. This is an actual zipper, it's not just a print, and it's where the two pairs of jeans are sewn together to create one pair. I have never seen a pair of jeans as unique and as cool as this! I think they're incredible!
For those of you not familiar with the brand, here's a little snippet of the brand's history:
EB Denim founder Elena Bonvicini discovered a love for thrifting while spending time in the Midwest with her vintage-loving grandmother. Taking notice of the surplus of men's jeans and lack of women's, Elena began to buy men's Levi's and upcycle them into unique fits for women. Elena started selling these productions out of her high school locker, and thus EB Denim was born. Since then, the brand has evolved beyond denim basics to include dresses and blouses made from recycled scarves. Each piece is one of a kind, using handpicked, reconstructed pieces, and incorporating excess materials into other designs to ensure zero waste. Denim may never go out of style, but Bonvicini's label has upped the game by offering a stunning, sustainable, and modern take on classic looks. Unique cuts and patchwork designs make EB Denim the go-to brand for It Girls everywhere.
These jeans retail for $590 and can be purchased on various websites below. I would LOVE to see these on some celebrities and see how they style them. I think they're amazing! What's your opinion?
Buy these EB Denim Jeans online at:
Shopbop | Revolve | Bergdorf Goodman | FWRD | Desordre