As mentioned before, we will be featuring a guest written articles from readers who loves The Jeans Blog and adore denim. This is our second contributed article and it's by Alessandra, giving you advice on jeans for curvy figures. We hope you enjoy it and look forward to more guest written articles from fellow denim addicts, such as yourself. Lorna.
Do you love curves? Oh, yes! Curves are the best "distinguished feature" of a real woman and you should be proud to wear them. So, lets look at the best ways to incorporate your curves with your denim, one of the most loved fabrics in the world.
Denim represents the ultimate classic in fashion, a pair of jeans is timeless and every one of us has a pair of them… or more than just one pair, but with so many cuts and fits out there – skinny, straight, wide-leg, girlfriend, boyfriend, flare, and so on… it can be difficult to find the exact silhouette that works best for you. The chances are that there are a few styles that could work, but uncovering the one that fits you like a glove is a style victory in our eyes. Knowing what looks great on your figure is what will ultimately make shopping much easier for you. So, lets get to it!
The most important aspects to evaluate are: fabric, fit, and wash.
Usually when most of us pick a pair of jeans, fabric is not taken into consideration so much and we tend to look at the trendy cut or the wash, but the fabric itself represents the basis of choice for the right jeans on curvy women. It should be soft, but not to thin as it can emphasize areas you would like to hide, especially on the hips. It shouldn't be too thick either because it can draw attention to and enlarge the silhouette of your legs. The denim must be comfortable, but not too loose, otherwise it doesn't support your body shape. So what does that leave? It needs to caress you, it must be stretchy enough to wear all day long allowing you to feel good and live your life, but avoiding the points made above.
You should try to choose a mixed composition of fabrics in the denim, such as a cotton/elastane blend, or even cotton/cashmere, which is soft, comfortable and opulent to the touch, if you can find it. You can find out more on the different types of stretch in jeans in a post written by Lorna, so you are more aware of the blends. For non-stretch jeans though, you should pick a very good quality 100% cotton that follows the curves and contours of your body, moulding to your figure by wearing it day after day .
What fits should curvy women choose?
Fit is the core of the elusive perfect jeans for curvy women, fortunately there are lots of different styles that are trendy right now, so you have plenty of choice to look great and have fun, wearing your jeans with tops and accessories, with a flattering fit. There are some golden rules when it comes to jeans cuts that will help you appear fabulous and show off your curves, these are:
Always opt for high waist jeans – they surround the natural shape of a feminine body.
Try to avoid super skinny jeans as they can be unflattering.
Try a slim fit, which is sexy and feminine enough but doesn't add pressure.
Try wider leg shapes, such as regular fit or flare or even boot cut jeans to balance hips.
Back pockets shouldn't be positioned too low, but closer to the waistband to create a lifting effect on your back .
So now you have the tips and tricks to look for and avoid when finding a pair of jeans which will flatter your figure, here are some cut options that I personally love and think will do wonders for your curves.
High Rise Slim Jeans – Hourglass shapes should draw attention to the smallest part of their bodies – their waist – with a high-rise jean with minimal stretch. Opt for a wash with subtle highlights that will slim and flatter your shape.
Vintage Cut High Rise with a Tapered Leg – Boyish figures can create more shape in a vintage cut denim with a high rise and tapered leg in non-stretch denim. This style of jean looks great in pale, washed-out blues that feel really authentic. The leg can be cuffed for a fun bike ride or worn with heels for a sparkly Friday night.
'70s Kick Flare – A kick flare looks great on all body types, but they are particularly flattering for curvy shapes. The flare should start from above the knee to balance out larger hips and bottoms. Look for a high rise that will slim and flatten the tummy. When worn with heels with about a cm of space from the floor to hemline, the flare elongates the legs, almost completely transforming your body. Everyone should own a pair.
Flared Jeans with Fit Technology – A flared leg balances out curvy hips, evening out proportions. Look for denim with fit technology as they'll work harder for your shape, holding in lumps and bumps and smoothing you out in all the right places. They will also keep their shape wear after wear. Dark washes like a deep indigo or black are always the most flattering.
High Rise Jeggings – They are not real denim, but they offer a good comprise between comfort & look, because they have the appearance of jeans combined with the comfort and practicality of leggings. Choose an extended height on the waistline as this will ensure an elongating effect and you will immediately look slimmer and taller. Just make sure your pair isn't too thin and highlighting all the wrong places.
When you wear your slim fit denim, it's better to balance your hips with a soft chunky wool knit or for an hourglass effect, don't forget to highlight your waist with a cropped sweater, tight on the waist. It's important to think about what you wear your jeans with, especially if you're conscious and want to wear Jeggings, why not try a long tunic and some knee high boots to balance everything out and feel more secure around the waist, hips, and bottom area? Flares are easier to style though as they do all the balancing out for you, so a blazer or sweater works perfectly.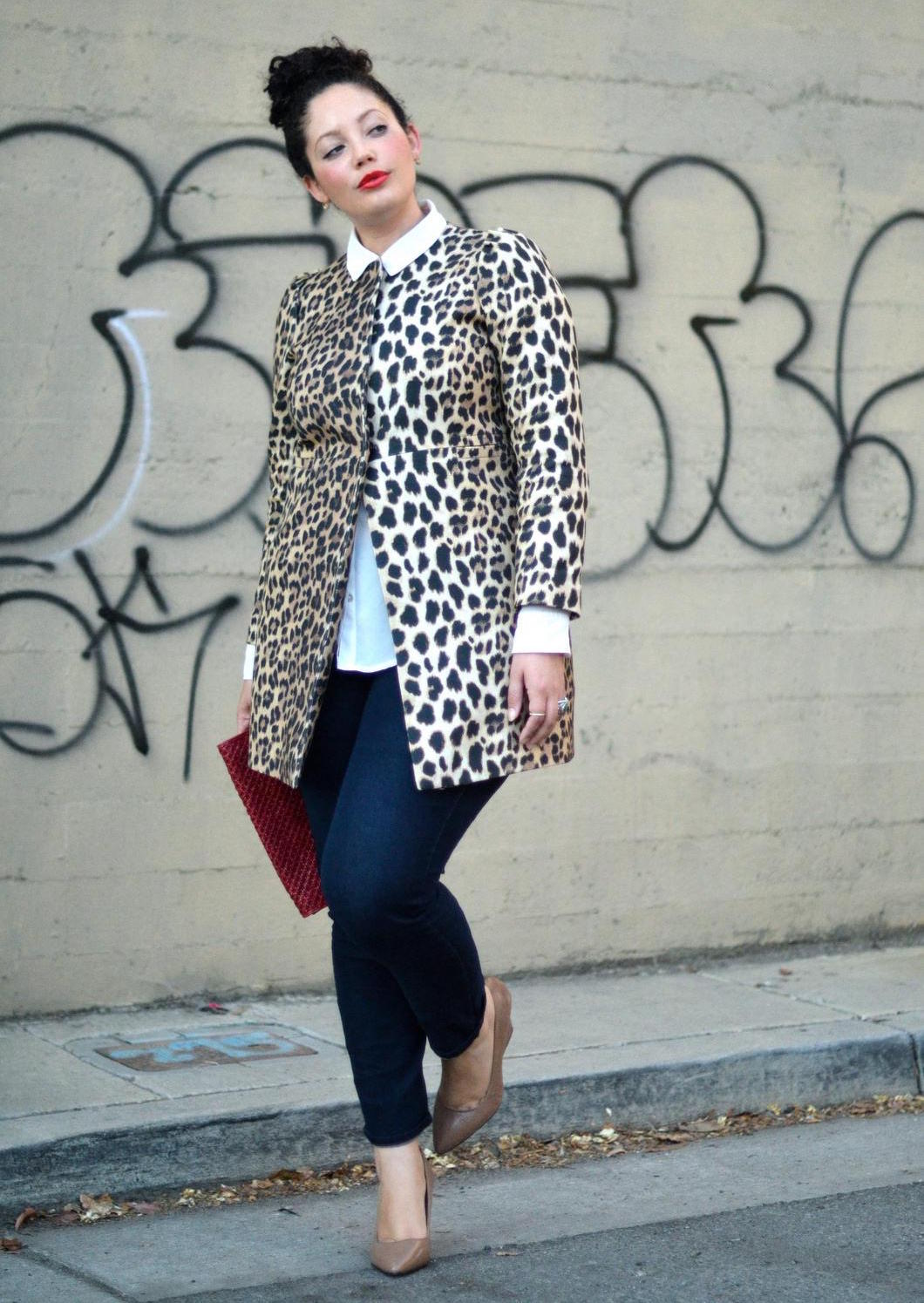 What are the most flattering washes?
Last but not least, let's talk about washes. The wash of your jeans is the cherry on top of the cake: it creates the finishing touch of your jeans and it really gives the optical illusion you want to define your shape. Generally curvy women should try darker denim washes for the slimming effect, but even lighter tones are ok, if chosen right. The important thing is to pay attention to bleached areas, so the right pair of jeans is darker on the seams, with bleaching on the center of the thighs to highlight and give the image of slimmer legs. Don't go too light though for a really bleached appearance, it can be unflattering. Black, indigo, dark grey, mid blue, and dark jewel tone colours are great.
Another aspect of washes you have to take into consideration is what designers and denim lovers call "whiskers" and these are usually found in the lap area, behind the knees (also known as honeycombs) and on the upper thighs. If the whiskers are too wide, they enlarge your hips, so it's best to choose jeans with mild whiskering (even on legs they are not recommended as they create the illusion of a wider thigh, so keep them minimal). I really hope this article can help you in the "urban jungle of denim shopping" in finding the most stylish and trendy jeans of 2017, helping you pick the best jeans for your curves.
Shop These Jeans Style at Shopbop.com & Revolve.com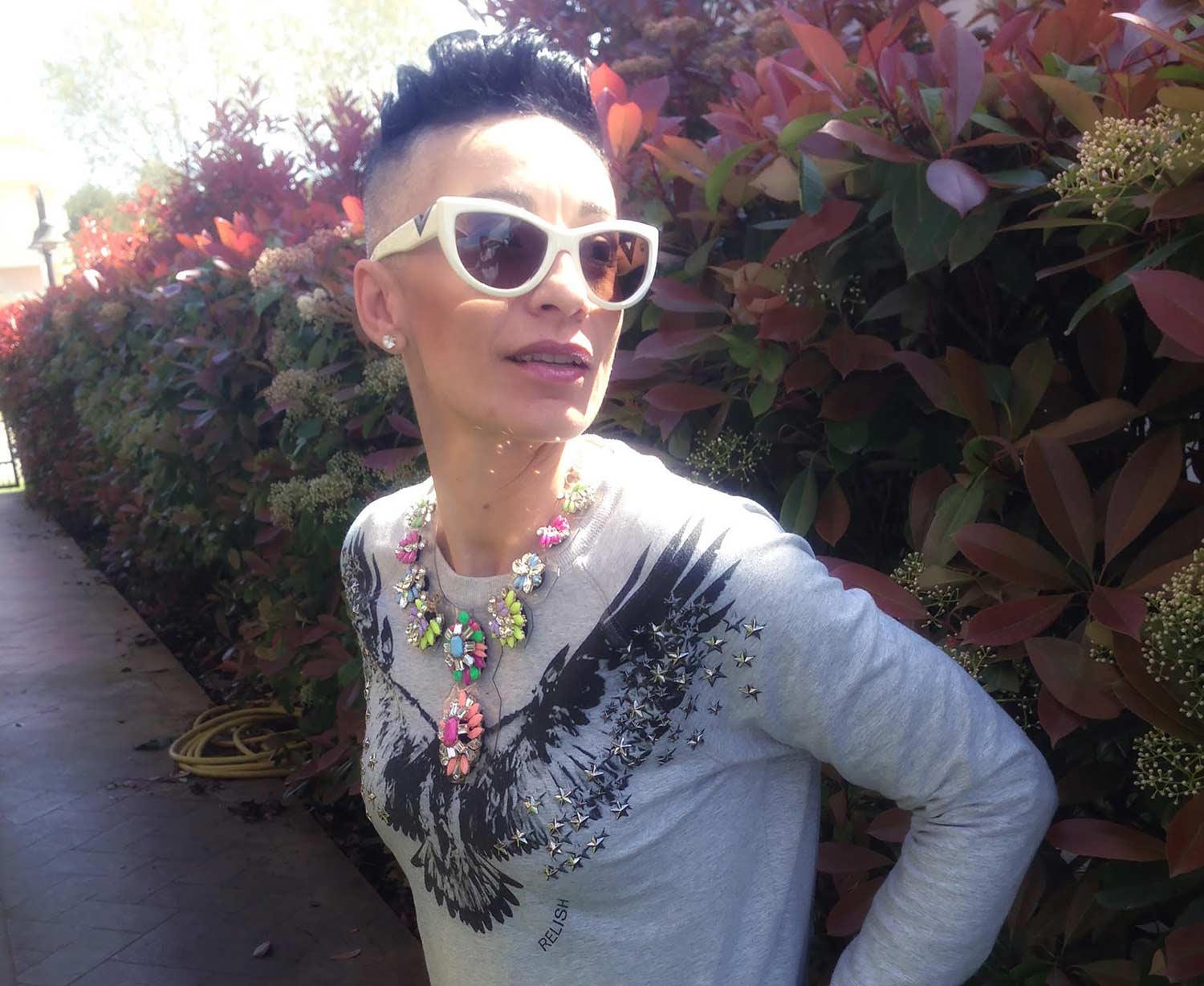 Author Bio: Alessandra De Simone is a fashion and denim lover from the wonderful country of Italy. She's an eclectic stylist, a literature passionate, a food enthusiast, and all time cat lover. You can follow her on Twitter @AlmaAlessandra and check out her Facebook @Adesfashion to follow her work.
Image Credit: Girl With Curves and March and May Blog.