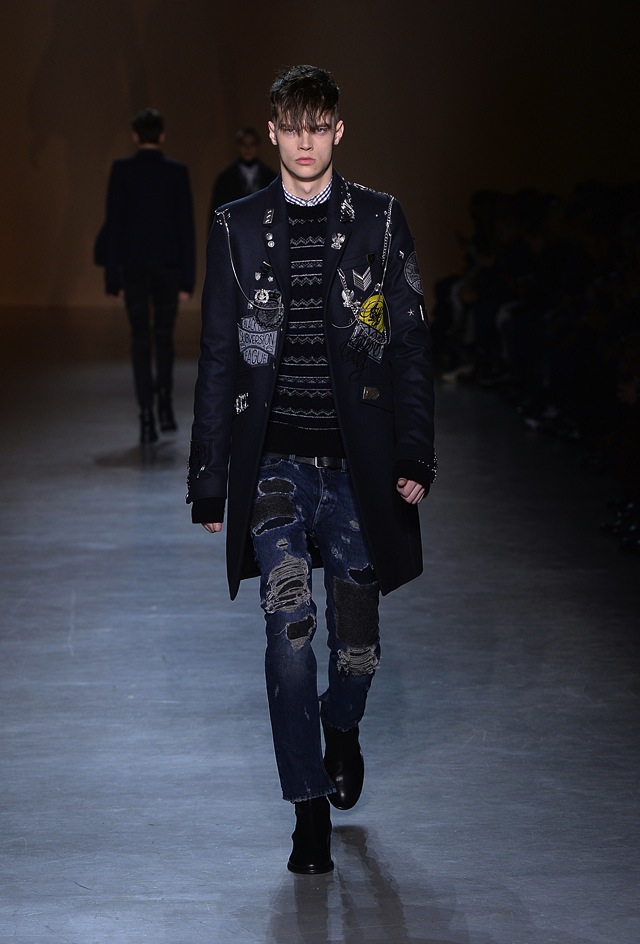 The new Diesel Black Gold Fall Winter 2015 collection hit the runway during Fashion Week and it couldn't be more filled with denim! Creative director Andreas Melbostad conjured up a singular look inspired by the different, contrasting forces behind the multifarious British tradition.
References to England's impeccable tailoring heritage are combined with the subversive, irreverent influences of the country's iconic youth subcultures. This is something that is definitely prominent in the fits and designs, something that as a Brit myself, I recognise quite well. Giving cohesiveness to the collection, disparate elements are blended together and unified by an intense research on materials and techniques, as you can see in the close up shots below in the gallery.
For the new Diesel Black Gold collection, textures are at the core of the lineup. The brand's iconic denim pieces are washed, coated, distressed and patched to obtain the same rich hands of traditional tailoring fabrics, such as tweeds, checks, tartans, houndstooth and Prince of Wales. You can definitely see this with the 5 key looks which are featured here, outside of the gallery. These are worked for signature outerwear pieces, such as a Donegal tweed trench with denim details and industrial zippers. How cool is that?
Moving onto the other pieces, tartan wool pants with applied pockets and zips are over dyed to get a darker, faded effect. Their punkish attitude contrasts with the sartorial sensibility of a coat and a blazer layered over a utilitarian nylon zippered vest and a crispy checked shirt looks awesome. Military references run through the collection injecting a sense of strong, assertive masculinity into wool jackets and coats, embellished with patches, chains and safety pins for a customized look, just like the outfit above.
Traditional British school uniforms are re-interpreted through the collections' signature irreverent lens, lending a rebellious attitude which graces striped blazers and rugby sweatshirts, adding graphic tones to the the palette of black, blue, indigo, charcoal, sage, military green and red.
You can see the full Fall Winter 2015 collection from the runway below as well as up close detailed denim shots and a sneaky look at behind the scenes too! You can really get a full grasp of the show, collection and ambiance here! Guys, what do you think? You can buy the current Diesel Black Gold collection online here and the current Diesel denim collection online here.
Runway Looks
Denim Details
Behind The Scenes