Denim Inspired Suits From Cavani
Guys, I thought I would share something a little different with you today! Being a jeans blog means that everything we share has a focus on denim, but that's usually in the form of casual pieces and the latest trends, as well as what the celebs are wearing, so when I saw these innovative denim suits from UK suit brand, Cavani, I had to tell you about them. Aren't they unique and classic at the same time? Something we don't often see!
For those of you new to the brand, let me tell you a bit about them first. Cavani was first founded out of one of the most fashionable cities around – Firenze (Florence), after a holiday to Italy in 2010. As you know, the bi-annual Pitti Uomo men's fashion event is held there and was a huge inspiration behind the label. After admiring the amazing suits and tailored pieces that men were wearing, Cavani was born once the founders returned to England, and the rest was history.
The Cavani concept is to add that Italian flavour to the UK, bringing that same level of quality and fit to their designs, making them a great place in England to buy crafted Italian style suits. All of their pieces are designed in house by their team of experts with many years of experience in the fashion industry. As you can tell, they've definitely done a great job at combining Italian heritage and fits with a modern, yet classic take on the three piece suit, especially when it comes to innovative ideas like using denim as an inspiration.
You might remember when we shared that blog post on Ian Berry and his denim inspired wedding, but I can't help but think these denim suits would have been perfect wedding suits for the occasion! Don't you? So let me take you through the Cavani denim suit collection so you can see for yourself how cool, yet wearable it is. Who said suits had to be boring? Check it out below!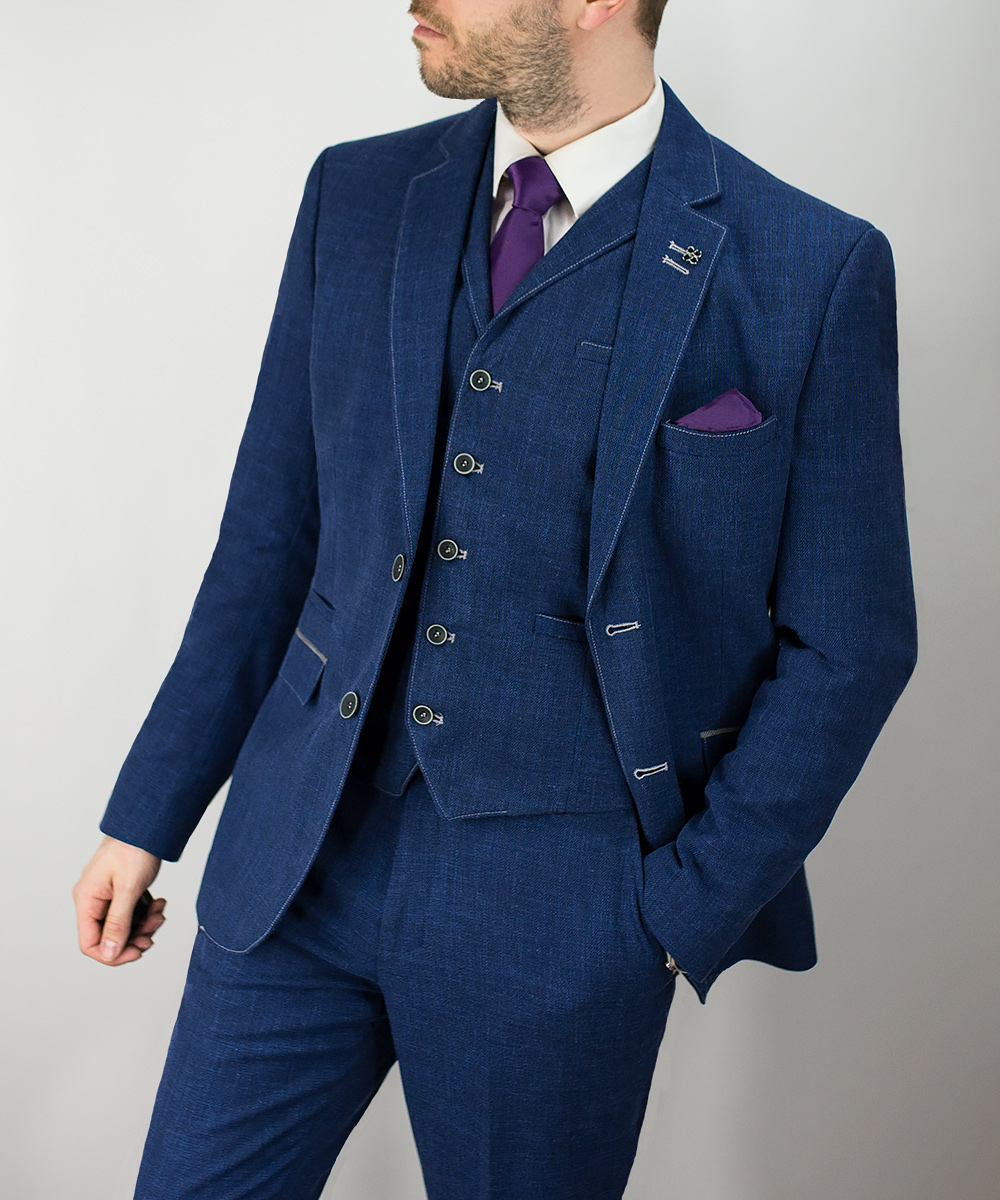 This three piece denim suit featured above is called the Miami Blue and I think it's my favourite of the lot! A striking indigo denim blue is perfect against a purple or burgundy tie, or if you want to keep things uniform, another shade of blue for the accessories might look great. It comes with the blazer, waistcoat, and trousers, so if you want to go all out on the denim, you can with this!
If you're interested in the blazer at the top of this post, it's called the Marina Blue, but it's currently just sold out as it's that popular, so stay tuned for it to come back in stock! If you want something a little darker, more on the navy side, yet still denim inspired, why not check out this Baresi blazer instead? It might be a great way to ease yourself into the trend!
Now for those of you out there wanting something a little more blue, with a mid wash denim, this blazer above is perfect for that! It's denim inspired as you can see from the material and if you had a similar wash pair of jeans, it would look like a full suit! As it is though, it's a great singular piece and looks good with black or dark indigo denim jeans, making the jacket the focal point of the outfit.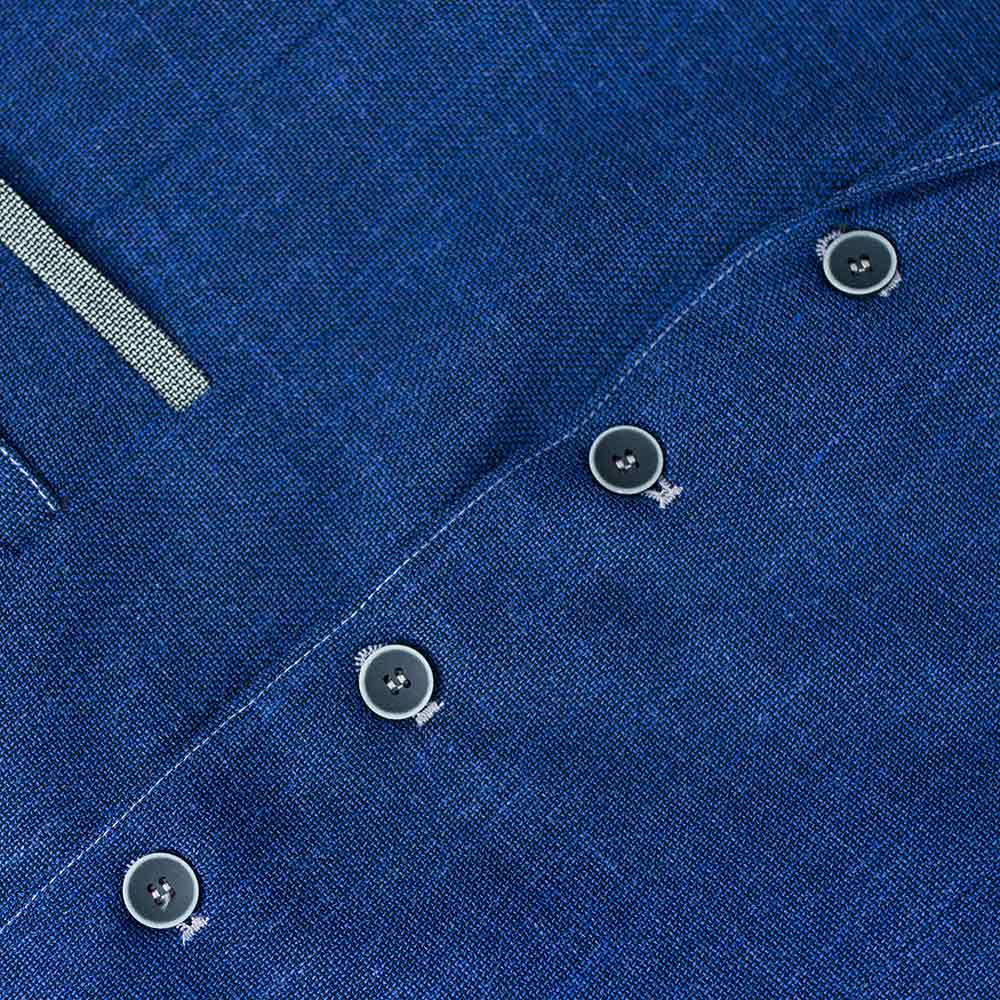 From what I have noticed, every Cavani suit and blazer comes with unique details, whether that's in the linings (which are often printed or feature different colour satin's) or the buttons (which have different patterns on them for different suits). The brand takes great care and pays a lot of attention to the small things like the details and that's what makes them great. I like that Cavani has chosen darker blue buttons to complement the blue shades of the fabric – it's a great match.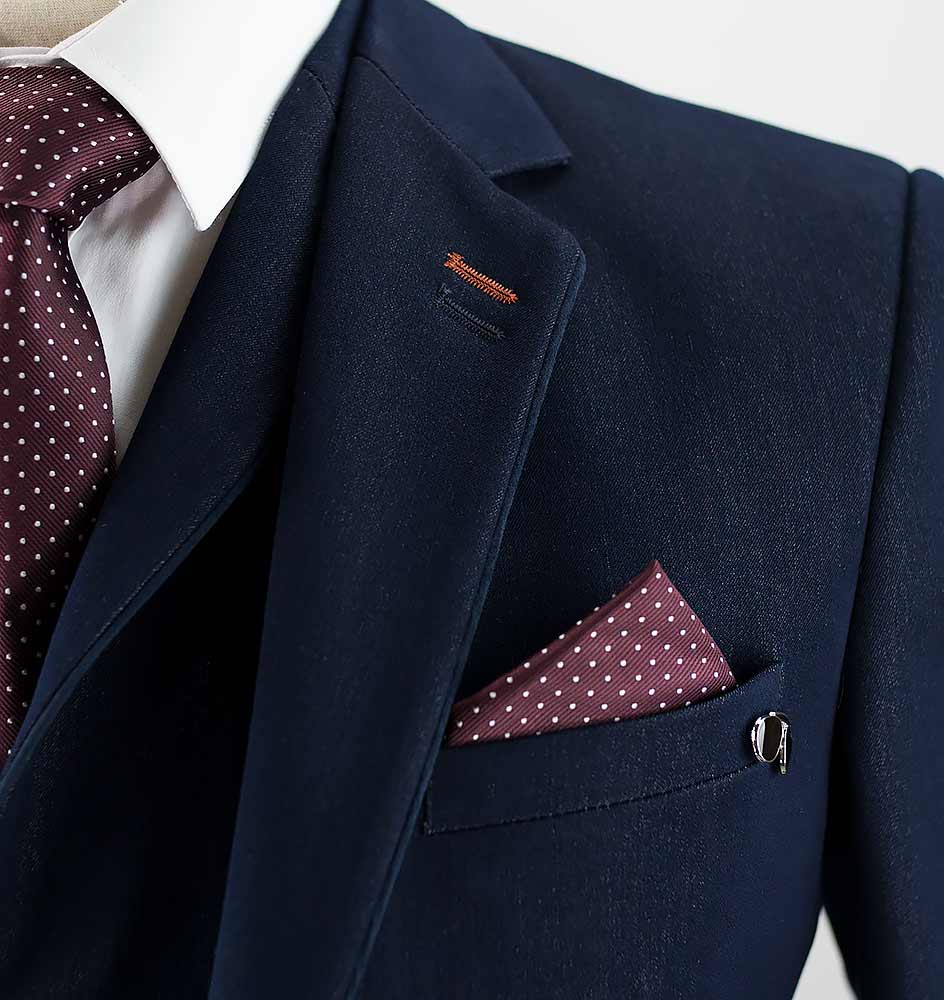 And if you want to see more details of the suits and blazers up close, you can see how good they look above with the lapel close up, as well as the images in the gallery below. Whether you're choosing a dark raw denim to keep things classic and similar to navy, or opting for something a little more bright and mid blue denim inspired to make a statement, Cavani definitely have options for you. I think denim suits are extremely unique and for us denim lovers here at The Jeans Blog, it's a fantastic way to spread our denim love to the work wear or formal events world! GQ wrote about making your jeans suitable for work, but you can now go one step further! What's your opinion on denim suits? Do you think they're a good idea? Or would you rather keep your denim for casual?