Over the past few years I've developed quite an enthusiasm (passion, if you will) surrounding premium denim. I connected with Lorna through one of her many blogs, and through our shared love of denim.
One of the things that I love about denim is how personal it is to the person who wears it. It tells a story – whether it's the movie stub you found in your pocket from the last time you wore them, or the knee-hole you stepped through one morning while you were rushing to get ready.
One of my most treasured, and favorite pairs of jeans happens to be a pair of 18 Year Destroyed AG ankle legging jeans (AG Jeans) that I have only recently 'broken' by accident, while away at school this past summer.
I bought them online, a year or two ago. I distinctly remember it being a big deal, because at the time they were really expensive (i.e. not on sale). It was a lot to spend, being a poor graduate student and all. One of the first things I recall about these specific jeans was the fit. If you have never tried on a premium pair of jeans before (or even if you've never tried AG before) there is nothing like it.
The length was perfect, no cuffing required! The fit was skinny all the way down. They didn't bag out at the knees after a few hours of wear. I was in love. To quote Oprah, they were kind of my first "Aha" moment when it came to denim, because after trying this pair on for the first time, I realized I didn't have to settle for a pair that was uncomfortable, too long, to stiff etc. I could finally embrace my somewhat shorter legs with a pair of jeans that elongated them.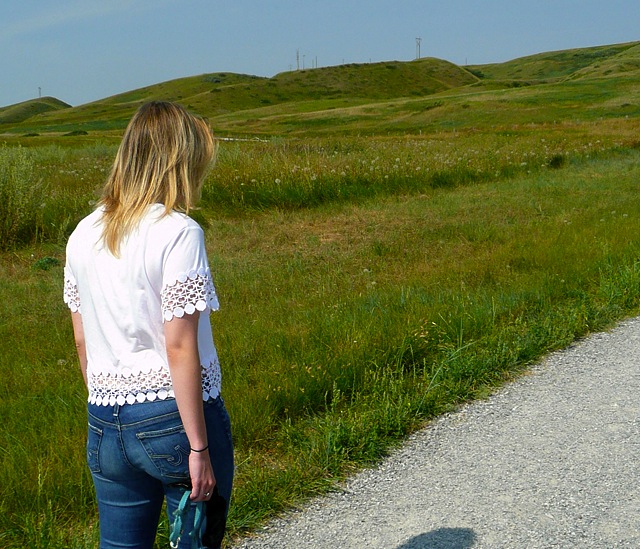 Having a somewhat large denim collection already, my AG leggings were the start of my new found love of AG denim. In my opinion, no one does the 'worn in' denim look quite as well as this brand does. I wore my pair as often as I could – they accompanied me on mountain hikes, and even turned up (along with my adorable pooch) in the 7 For All Mankind Denim Dossier one month, as one of a few instagrammers featured. They even survived an over zealous attack from a friend's dog, who managed to tear a small hole in the leg.
I'm sure every girl out there has her 'go-to' pair of jeans, and these were mine. They just always seemed to do the trick, whether I was at my best or feeling slightly bloated from too much salt (we've all been there). Since I bought them, they've been in my regular denim rotation, and worn pretty heavily- often with Toms, or stuffed into Hunter boots. On one occasion, they were worn with a cowboy hat, although that was a one-time occurrence. Hats are just not my 'thing'. I think if I had to narrow it down to what I loved most about these jeans, it would be that they felt as if I'd had them for years longer than I actually had. They also introduced me to one of my absolute favorite denim brands.
As I mentioned before, I have recently 'broken' these jeans, as a tragic result of mistakenly stepping through the left knee-hole (one of the many hazards of being obsessed with distressed denim). Having been left in the difficult position of having to replace a favorite pair of jeans, I took the advice of a fellow denim lover (Lorna), and have since ordered a pair of AG jeans in a similar style (11 Years Swap Meet). I am anxiously awaiting their arrival in the post, and have most certainly learned my lesson about exercising extreme caution when donning distressed jeans.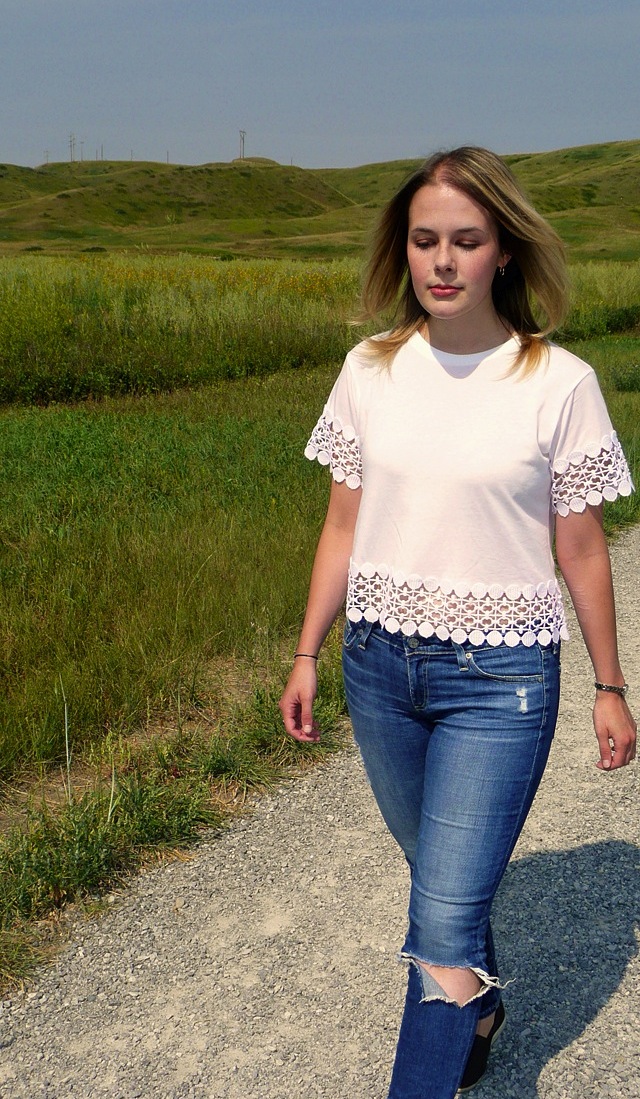 – A huge thank you to Jen for submitting her denim tales story and actually giving me the idea for this series. I hope you like her story and if you want to purchase the same jeans, you can do so by clicking here. I can vouch for how amazing they are!