When it comes to the Winter time, a lot of us trade in our denim in favour of something a little more warm – leather. I'm not just talking about leather jackets here (despite their popularity and amazing edge they give to an outfit), but I'm referring to leather pants. There's something about leather pants that just really enhance an outfit, and since leather is trending right now for Autumn Winter 2018, it's the fabric and style of the moment, so you want to be jumping on board!
We recently shared with you the J Brand Foiled Snakeskin Leather Pants, and those are being seen everywhere right now, but we wanted to keep it classic and go for the all round, trusty best friend, the black leather pant. You literally cannot go wrong with them, which is why I've rounded up 10 must have designer leather pants in black for 2019. Of course these are absolutely valid now too, but as Winter takes us into next year, it's more fitting to include next years date – however scary that might be to write it already!
Now the reason I have included designer leather pants is purely because there's a lot more option, plus the quality, feel, fit etc is usually second to none. If you're going to invest in a pair of leather pants, it's always best to get a pair of a great standard, much like a designer bag. Since a lot of the premium denim brands we love and buy our jeans from also do leather, it made sense!
For those of you who are vegetarian/vegan though and still want the leather look, I definitely recommend BLANK Denim to you as they have some of the best faux leather pants I have ever seen and worn! Or, if you don't want to go for the vegan leather fabric, the best pair of jeans I own with a leatherette/waxed coating that look amazing are the Citizens of Humanity Rocket in Black Leatherette. You cannot go wrong with these and they come with a much cheaper price tag!
Anyway, without further talking, lets get to the list! At the top I have included the famous J Brand Maria! The Maria is one of the the brand's most popular cuts and the leather version has been around for years. We have been seeing celebs left, right, and centre wearing the J Brand Maria in leather due to the high rise and flattering fit, so you will definitely love these if you're a fan of J Brand!
*Just click the item names below each photo to purchase them.
Next up is the J Brand Natasha, now these are more newer than the Maria, and they have a lot more unique details like the exposed button fly and the buttons on the pockets, so they have a lot more edge to them, with a higher rise. We have seen countless celebs in these too, so they're a winner if you want to make more of a statement with your designer leather pants. Does anyone remember Sara Sampaio in her J Brand Natasha leather pants?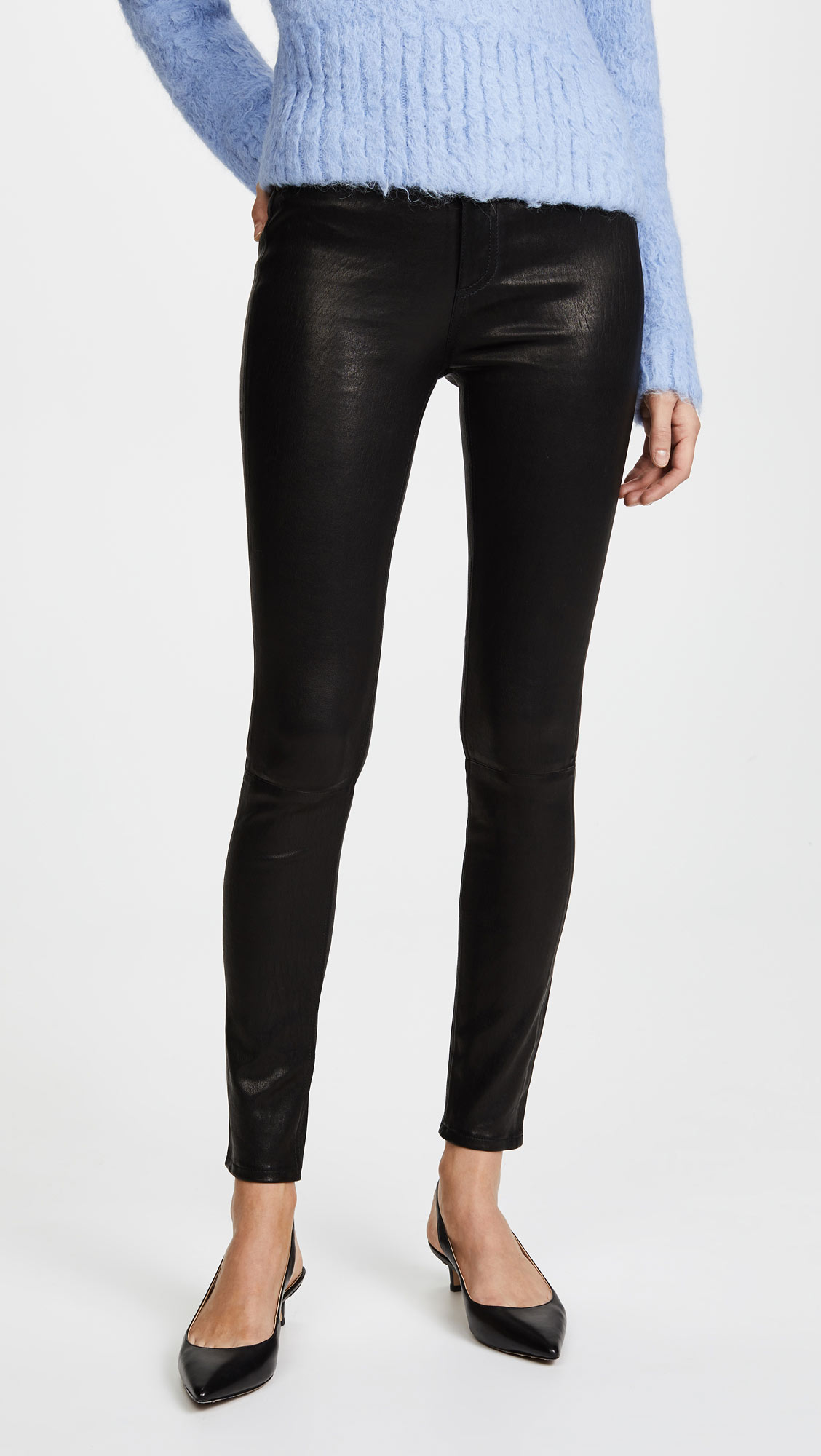 Rag & Bone have been making their leather pants for years, I even own their classic skinny in black leather, however one of their more popular designs is with a higher rise as leather can be a bit unforgiving in the waist department. These are a classic and if you are a fan of Rag & Bone in general, you're going to love the simplicity and great fit of these.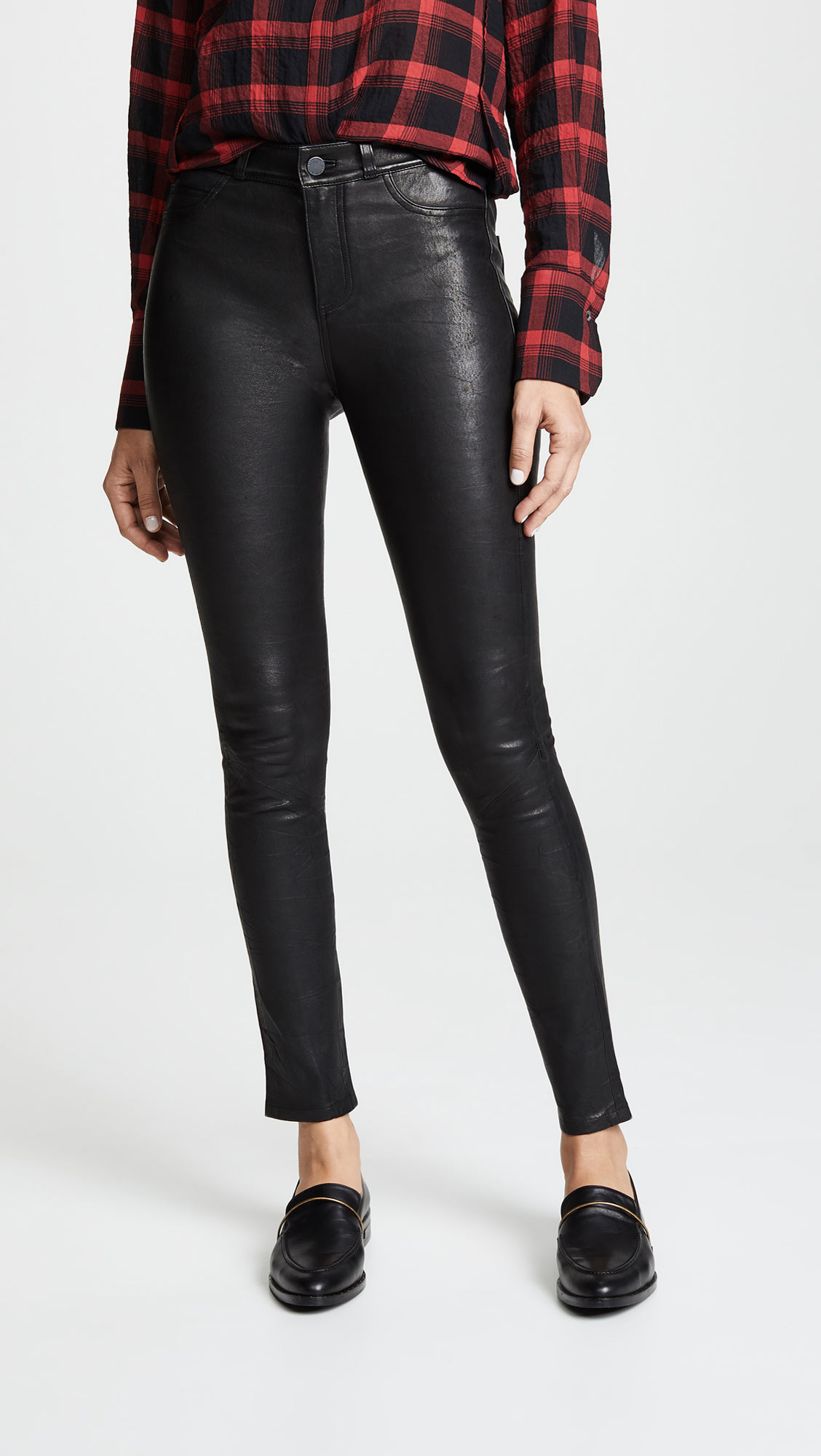 Perhaps one of my favourites on the list, the PAIGE Hoxton! I'm a huge fan of the brand and have been for years, I just wish the Margot came in it too! The Hoxton features a really nice higher rise, a great inseam, and a slim fit, plus I know from how many times Rosie Huntington-Whiteley has been spotted in PAIGE leather, just how amazing they are. Another pair that I recommend!
Now we have a pair of skinny black leather pants from Saint Laurent. These do come with a higher price tag again, but these leather pants are one of their most classic pairs! I've seen them in the Saint Laurent collection for years now and they always come back in stock! If you've got budget and you wear a longer inseam, these are for you! Classic, but stylish.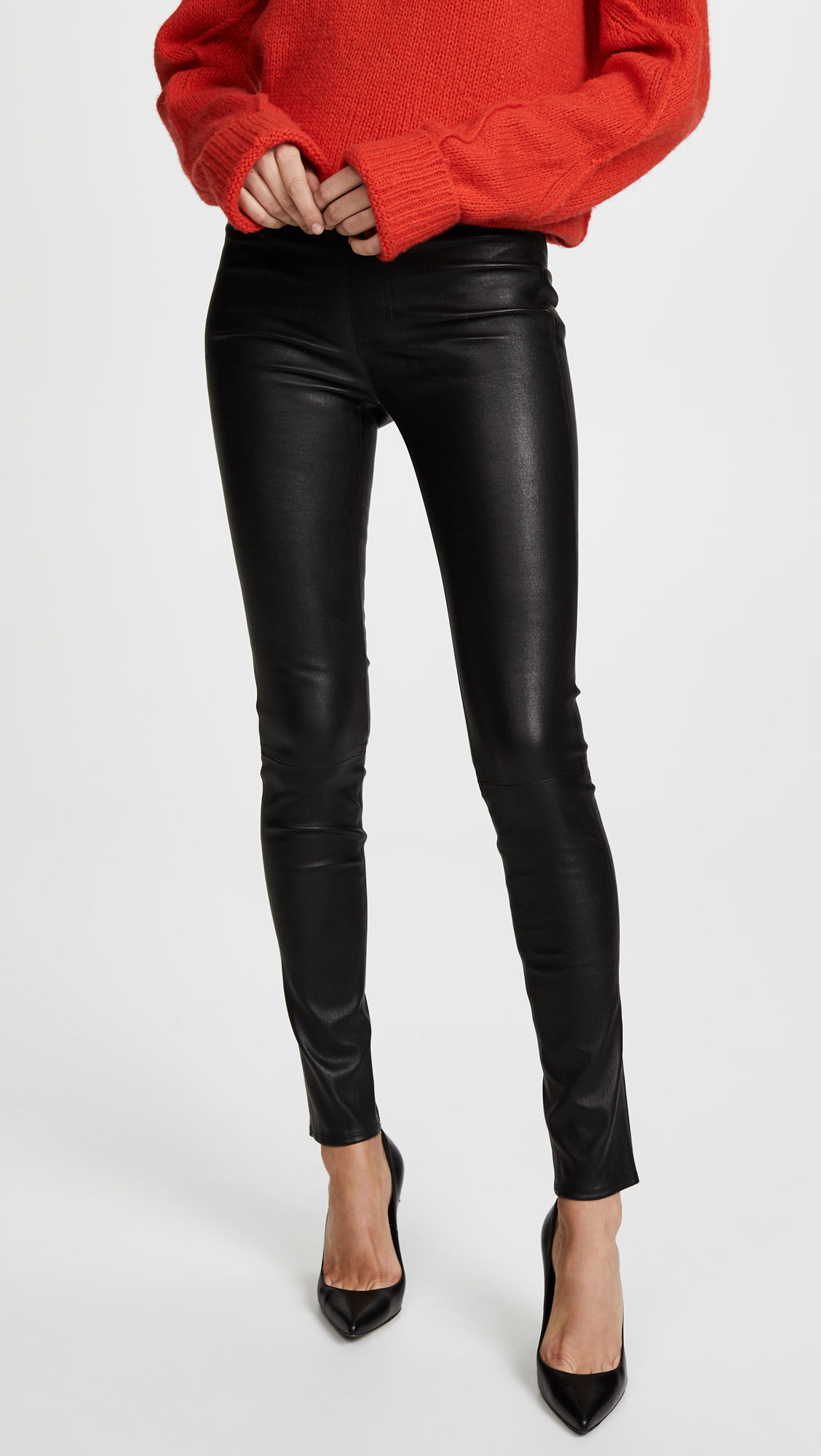 Perhaps one of the more subtle pairs, the Helmut Lang Leather Leggings are another pair of pants that have been around for years, and remain a must have. So many people love the legging fit as they have no back pockets and a skin tight fit, so they offer a lot of versatility and comfort when it comes to putting outfits together and ease of wearing. They're a more casual version that you can wear for day time, but can easily dress up in the evening too.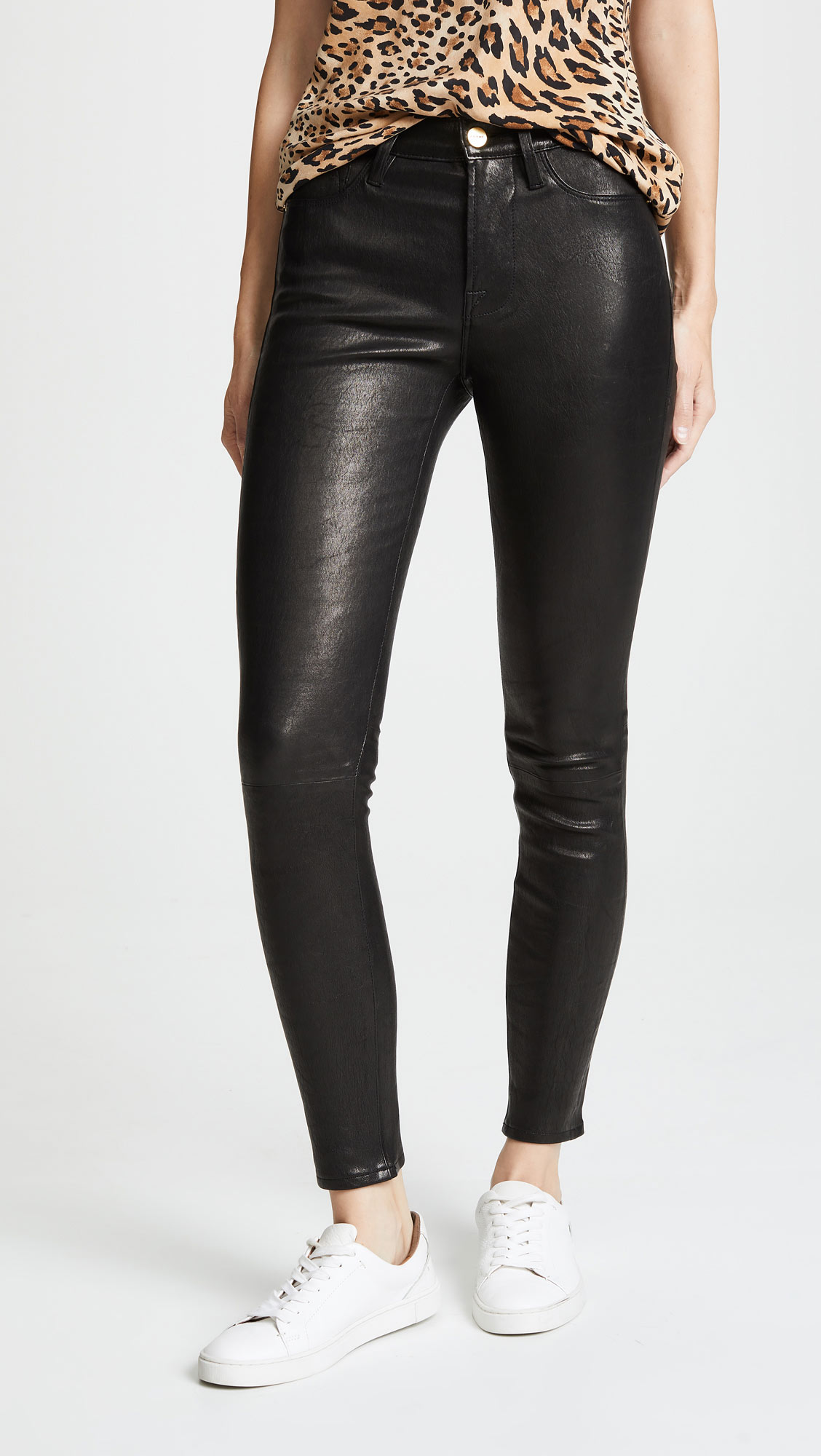 Now these are my favourite! Since I wear a shorter inseam (I'm blessed with good old short legs) a lot of the leather pants can be too long and have too much stacking at the ankles, which ruins the sleek look I like, however FRAME have got it just right – for me! These are their high rise ankle skinny, so the inseam is around 27″ and they're super fitted, sleek, flattering… These are definitely on my list of must haves right now!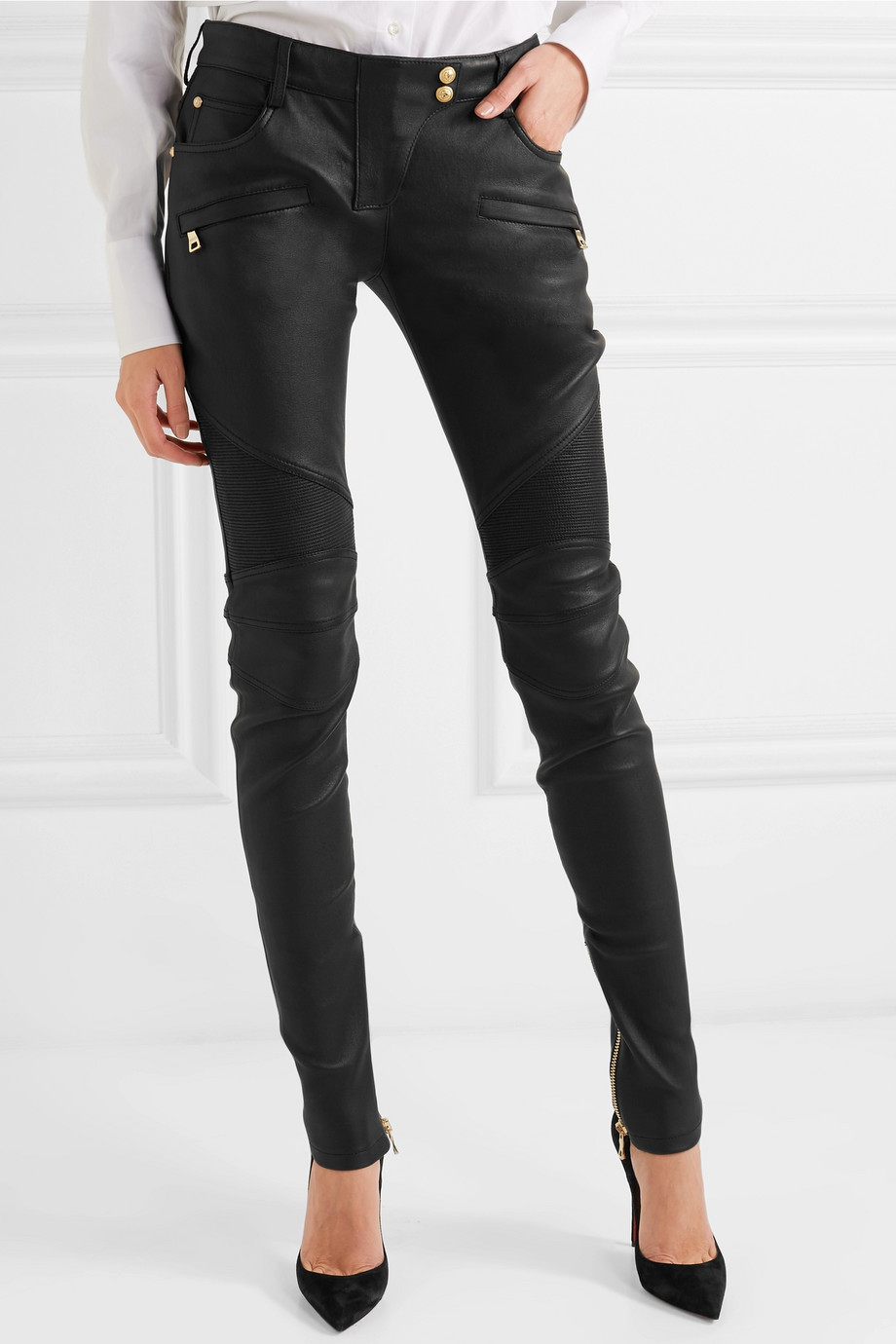 Balmain, Balmain, Balmain… How could I not include them? When I think of designer leather pants, my mind automatically thinks of the French fashion house for their iconic moto design. Their biker leather pants were seen on everyone a few years ago and they're still as popular today. They do come in numerous colours, but of course I've chosen black. If you like gold hardware, knee detailing, ankle zippers, hip zippers, and you want to buy the most expensive pair here, these are it!

The penultimate pair of designer leather pants for 2019 is by UNRAVEL. If you remember last year, all the celebs were wearing their lace up leather pants during fashion week and they were the topic of discussion by everyone. Well, they're still popular and trending, and their black pair is still a classic in their collection, so if plain black is just too boring and subtle for you and you want to go bold, I recommend UNRAVEL. How can you pass up that iconic lace up fly with the hip zippers and ankle zippers – it's a winning combo that everyone recognises!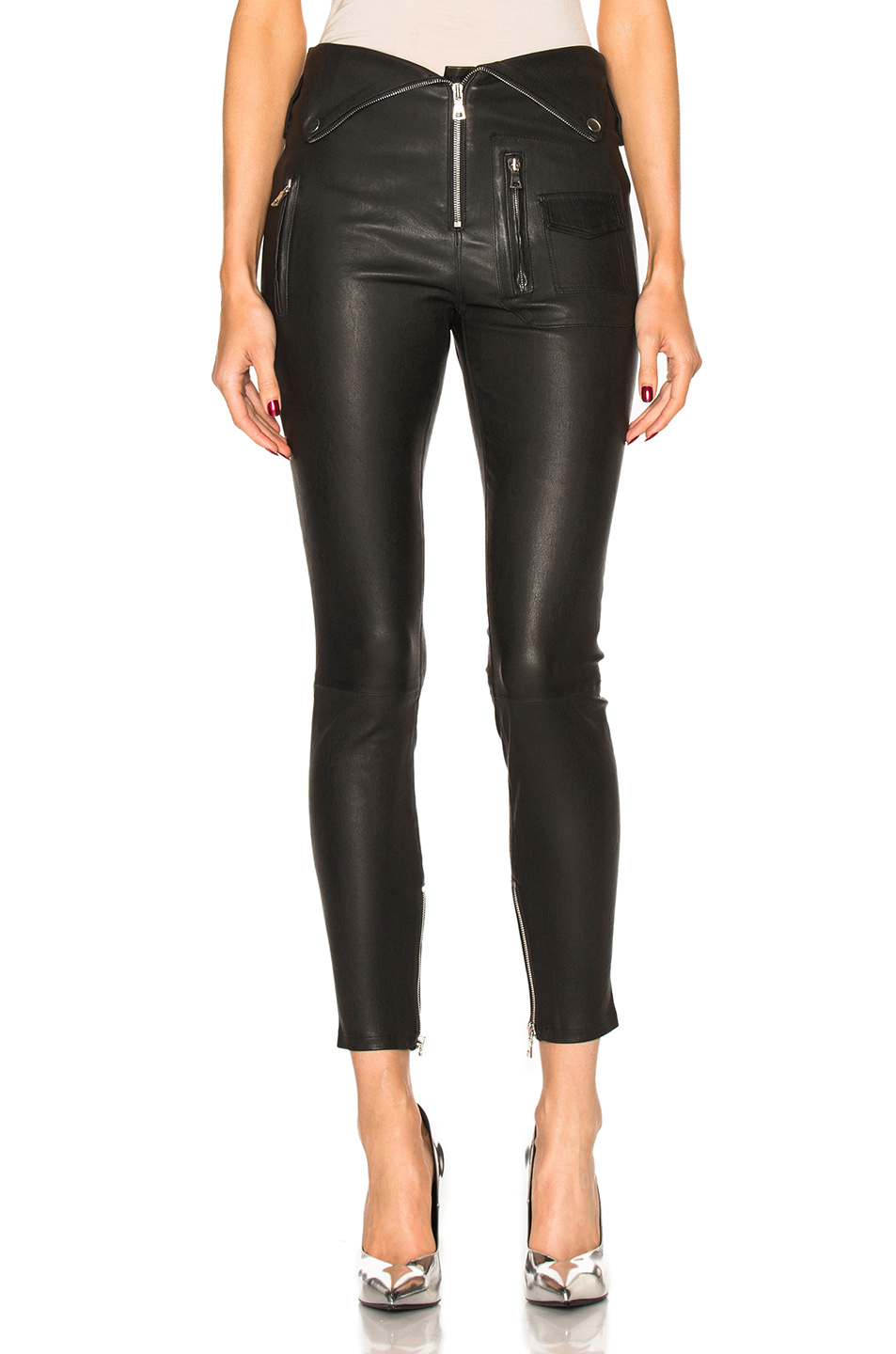 And last but not least, I've chosen RtA as these are so cool! Again, if plain black isn't for you because you already own them or can't do much with them, why not try something even more bold and opt for this pair? They have ankle zippers, a cargo pocket on the front, a vertical zipper on the side, an exposed zipper fly, and a two in one waist! Yep, that's right, you can either choose to have these pants zipped right up to the top which goes above the belly button, of you can zip them halfway and fold the waistband over to create the look above. I think this is really unique and such a cool detail, it makes me want these pants as well!
– So, which of these 10 designer black leather pants for 2019 is your winner?