SEP Skinny Means Jeans Denim Review
I first found out about SEP Jeans when I started seeing their cool skinny jeans on some of my favorite style icons on Instagram, like You Can't Quit Me Baby, among others, and I thought their jeans really fitted the rockstar aesthetic that I'm a huge fan of. SEP is a denim brand from Thailand, and their jeans are distressed, skinny, and classic, all at the same time, so check out my review on this white pair. I've also got some great detailed shots of the Remake126 Skinny in Blue, below!
Cut/Fit – These Vegas White Ripped Skinny Jeans are a classic, higher rise skinny men's jean. The rise measurement is 10.5″, the inseam is 32.75″, and the leg opening is 6.25″. These fit really nicely with the inseam this length, lending to a little stacking at the ankle. The rise is just right too, it's not overly high, which is good as I tend to prefer a lower rise on my jeans.
Sizing – I would say that these jeans run fairly true to size, if not a little bit big. I'm mostly a size 33 in jeans and I took a 34 in these, as they don't have in-between sizes, and due to the high amount of stretch, I could definitely take a 33 for a bit more of a snug fit, if they made it. I'm 6ft tall and 170 pounds, but I think white skinny jeans look better a little looser anyway, as it's more casual. The waistband is a bit loose and if I was to be wearing them all night, I'd have to pull them up a few times, but a 33 would fit just right, so that's why I say they're true to size.
Denim/Comfort – The comfort level on these Vegas White Ripped Skinny Jeans is amazing though! They're super stretchy, which gives them a very comfortable fit. I can sit, bend, drive, and there's no issues. A lot of the time men's jeans can be really restricting, but these are a pleasure to wear as the stretch is incredible! I'd say they're a medium weight denim, and for the price, you can't really pick any fault with it.
Wash/Details – These are a classic bright white, which isn't see through, as it's a thicker fabric, and they have some frayed edges on the hemline, as well as two knee rips that fit perfectly at my knees. There's not a huge amount of details on these jeans as they're simple and plain, so aside from the classic 5 pocket detailing, there's a little leather patch on the back of the waistband, and plain pockets. I've wanted a pair of white skinny jeans with rips for a long time, but finding the perfect pair (trying to replicate a Carl Lentz outfit) had been proving incredibly difficult!
Price – SEP is a Thai brand as I mentioned above, so these Vegas White Ripped Skinny Jeans retail for 2090 THB, which equals $62 at the current exchange rate. I think that's an amazing price for such cool jeans that have a nice quality to them! Usually we're spending around $200 on jeans, so it's nice to have a lower price tag on a pair of really cool jeans!
Overall Opinion – I rate these jeans a 9 out of 10, as I think they're extremely cool looking! A bright white pair of skinny jeans with knee rips, for $62, that are comfortable and stretchy? What more could you ask for really? My only issue would be that I would love for them to come with shorter inseams as well, for those of us who don't love stacking. And for those of you interested in my boots, I'm wearing the Saint Laurent Nut Lukas.
Click here to buy these jeans online at SEP Official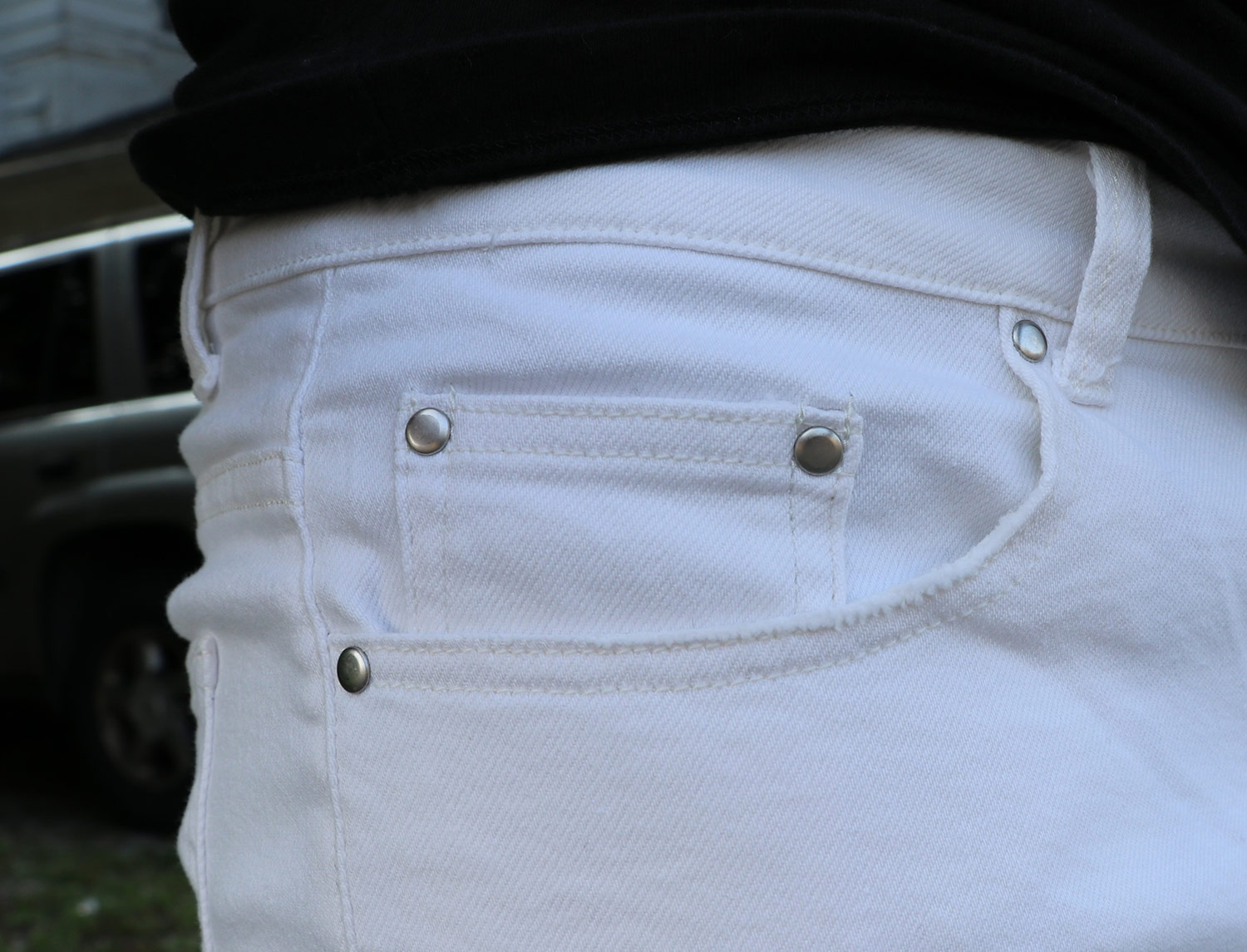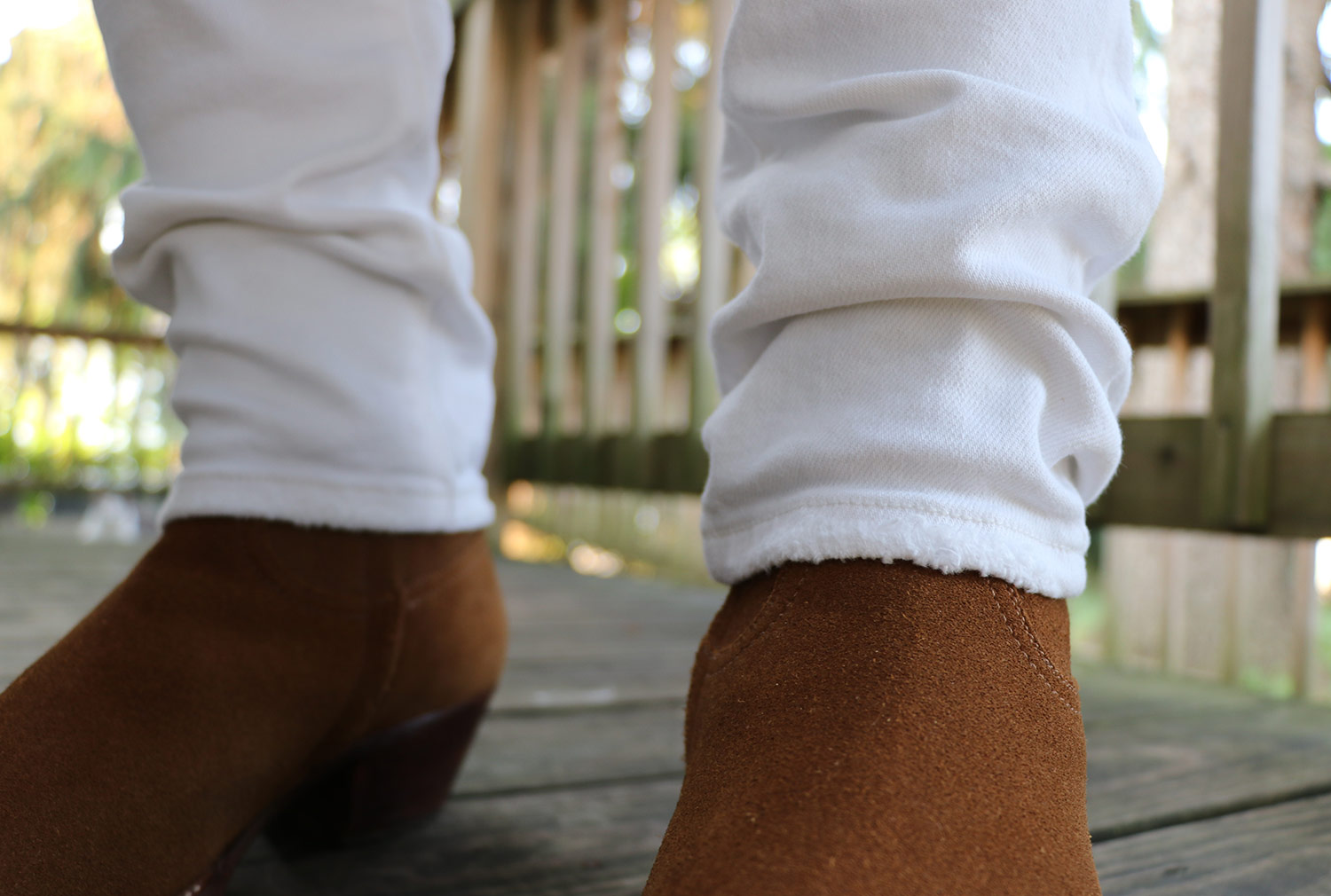 Here are some laid flat shots of these jeans for you too!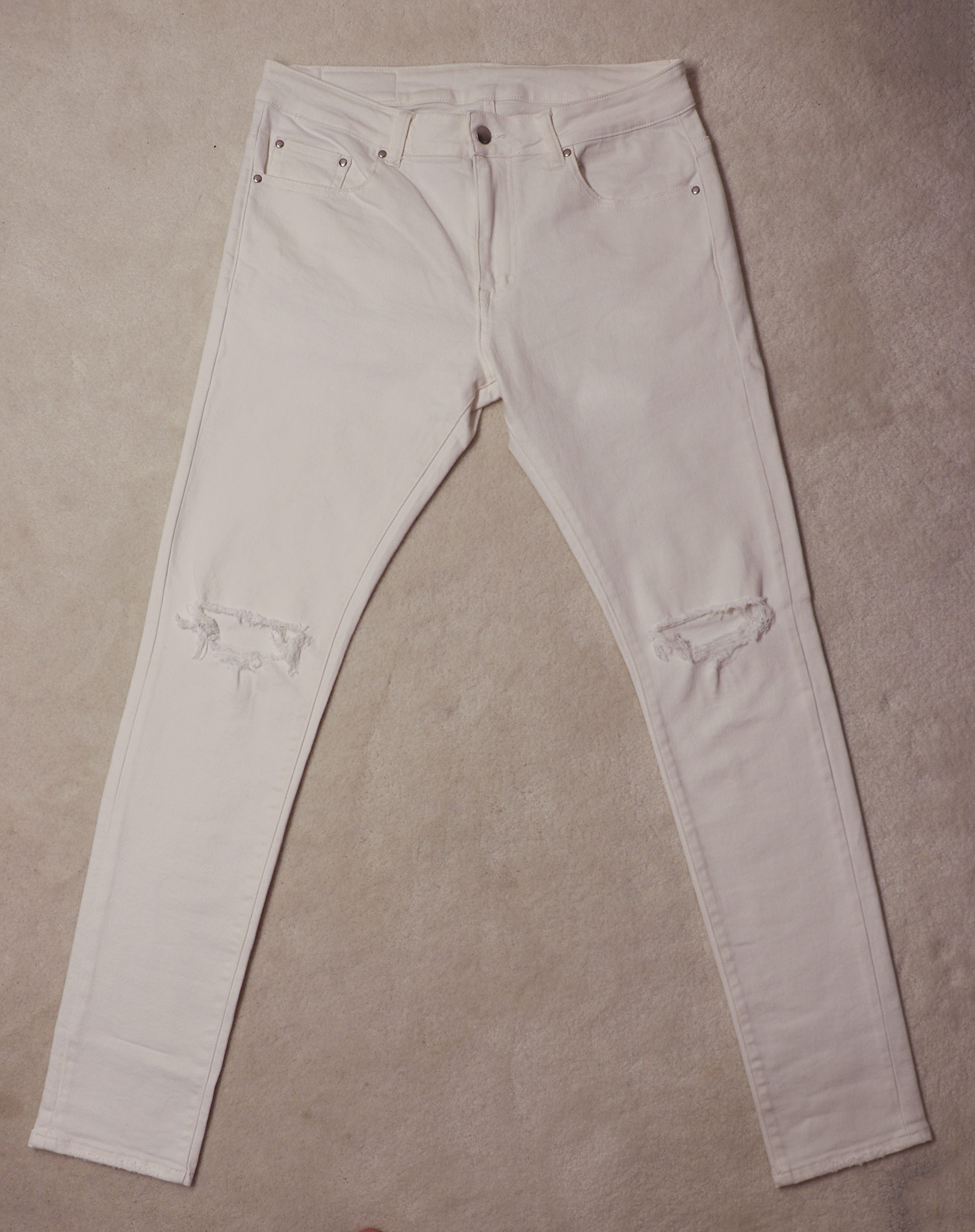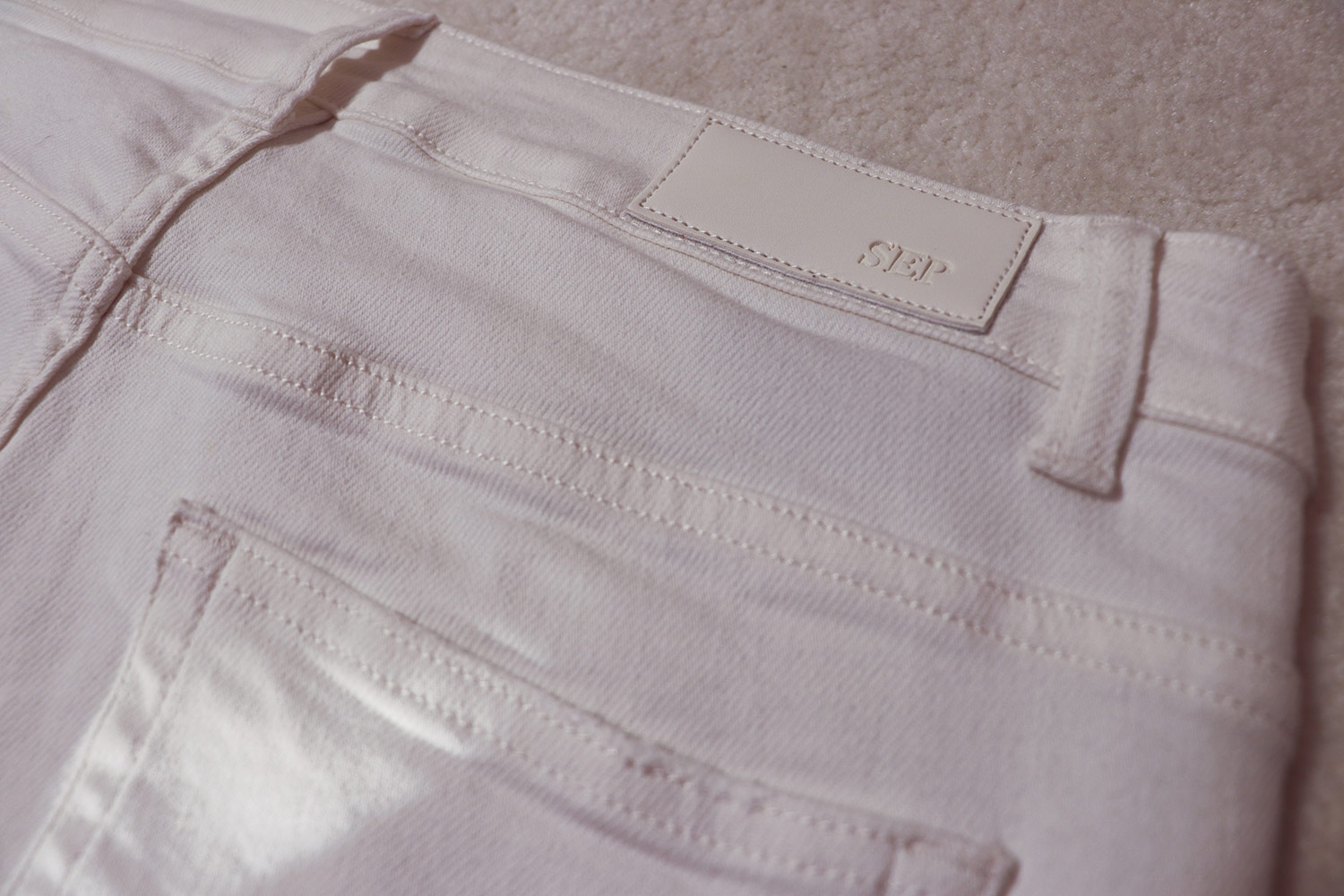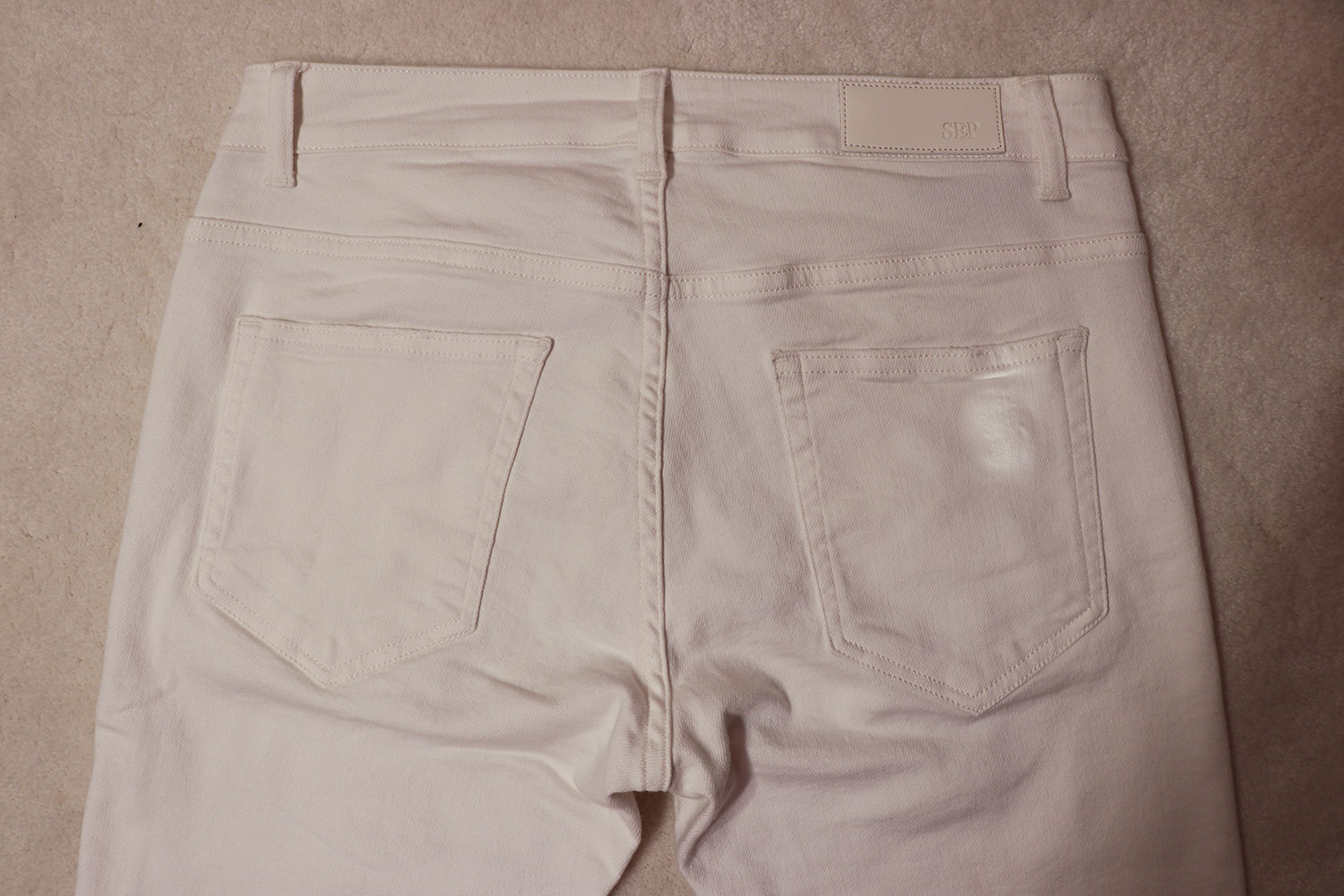 Below, here we have the Remake216 Skinny Root, also in size 34. I wanted to show how cool these jeans are in flat images so that you can see the wash properly. It's a blue with faded, sandy undertones to it, and 3 rips on the legs. I think the dirtiness that they have on them is ideal. The inseam is a lot longer on these jeans though, so they stack quite a lot, as part of the style. If you're taller, these will work great for you, but if you're on the shorter side, the stacking might be too much. These retail for around $62 as well, and look great with boots! The rise is 12″, the inseam is 34.75″, and the leg opening is 6.5″. So which pair is your favorite out of the two?
Click here to buy these jeans at SEP Official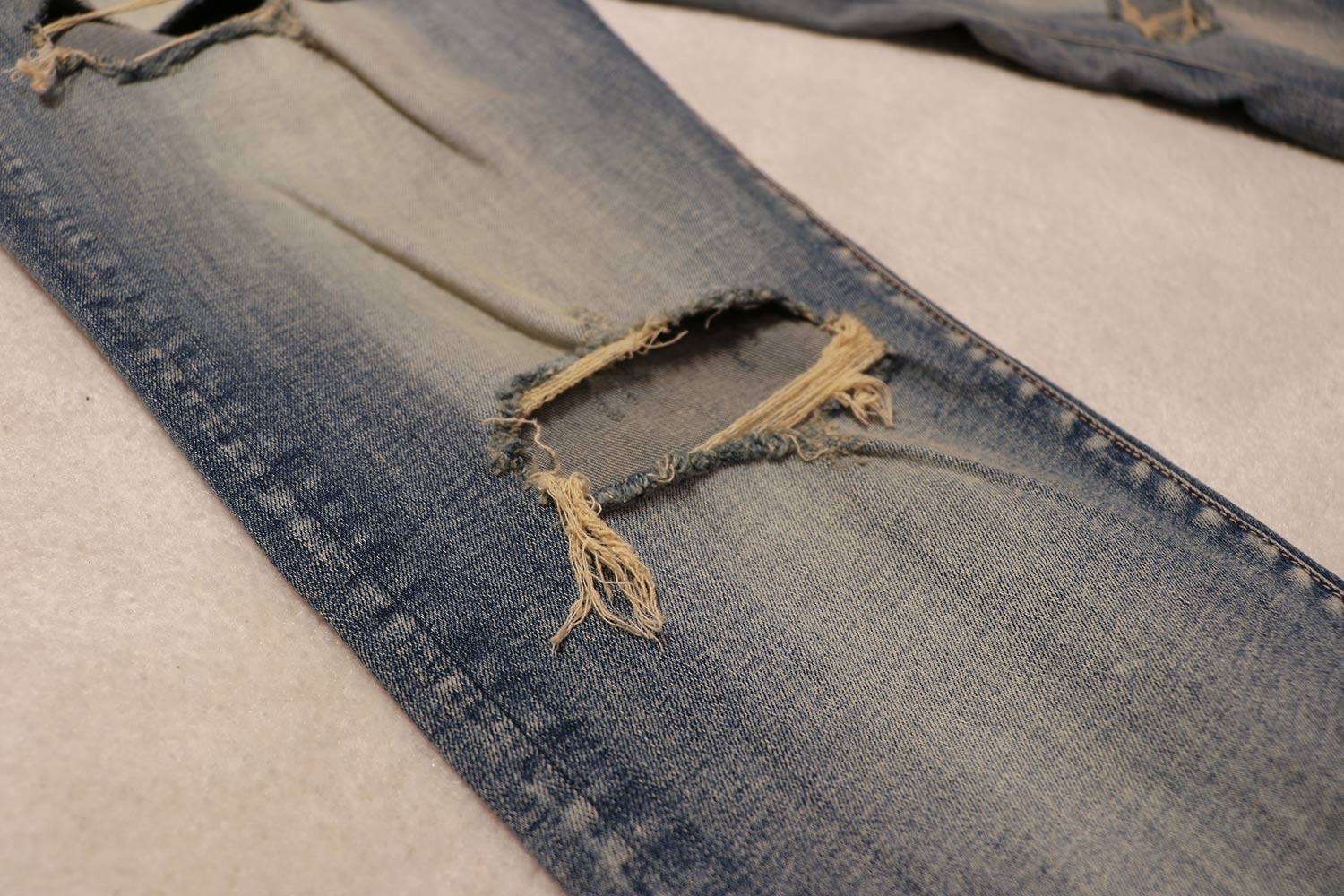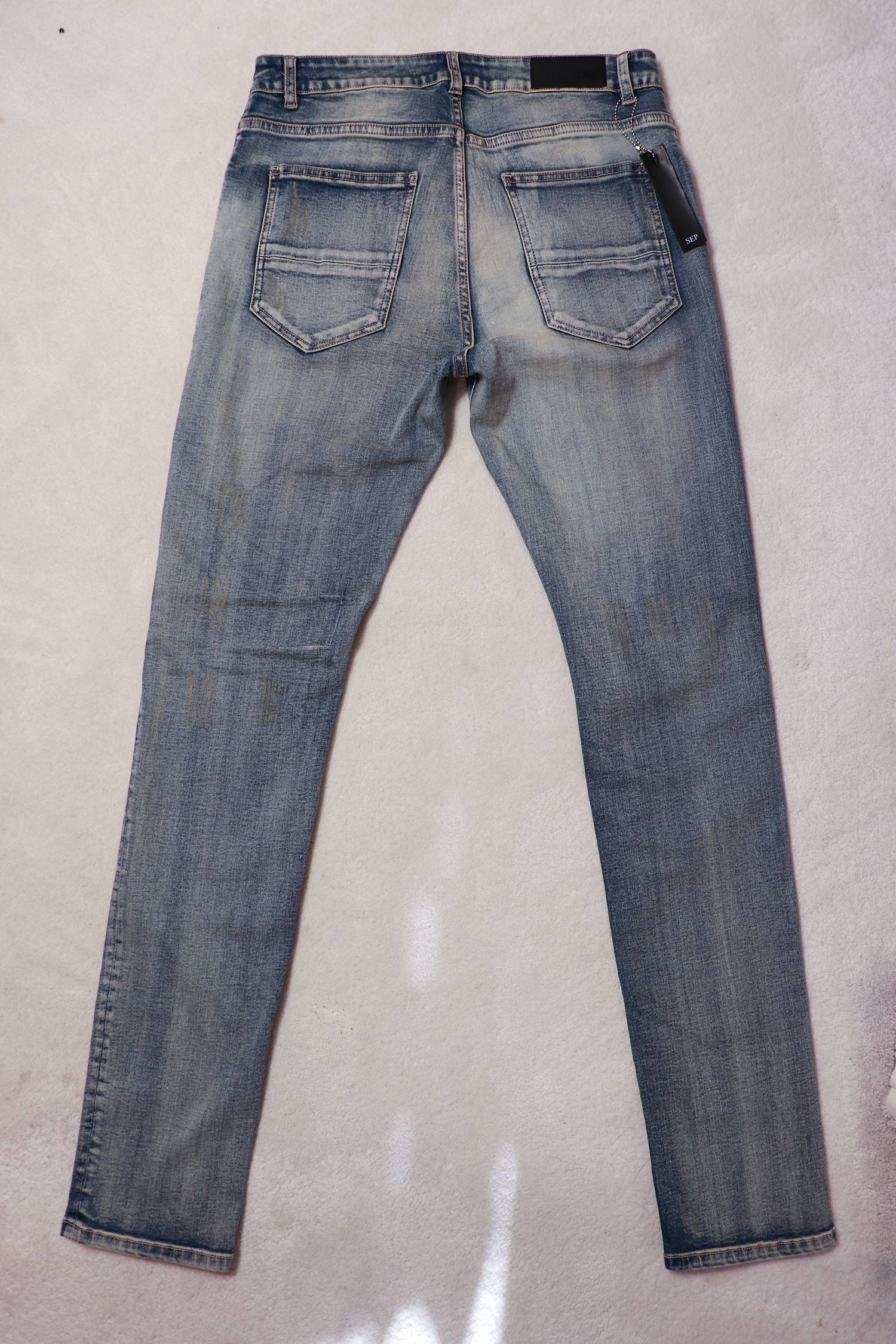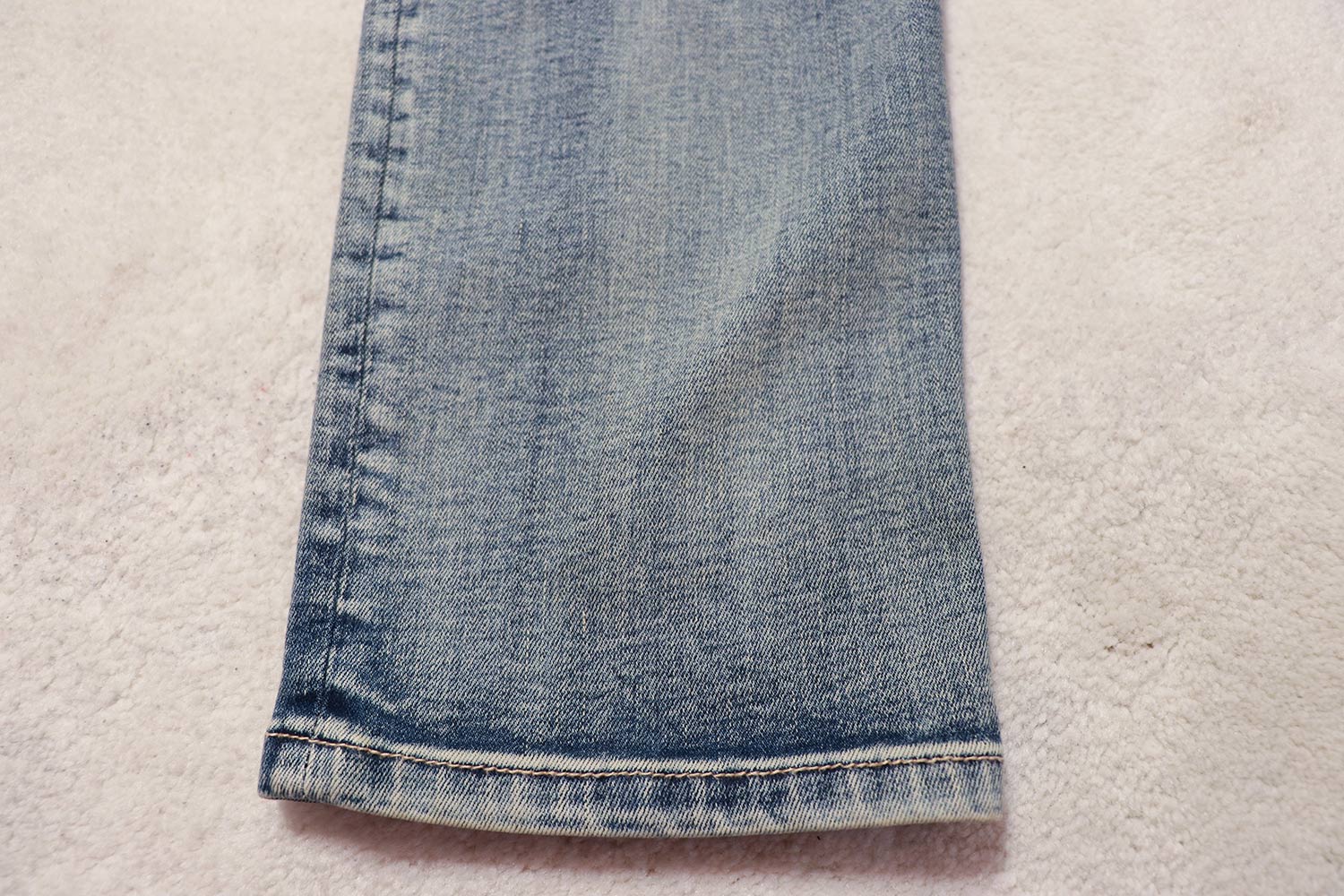 *Jeans courtesy of SEP, opinions all my own.