Paige Margot Cropped Jeans with Frayed Hem in Solo Review
It's been quite some time since I did a denim review for you, so I'm excited to be bringing these back into the mix now! I'm hoping to make it a regular section again, and first I am starting it off with a review on these PAIGE Margot Cropped Jeans with Frayed Hem in Solo. I originally saw these jeans about a month ago online and thought they were pretty. I've been a fan of PAIGE for many years now, it must be almost a decade I've known her and the brand, so let me share my honest opinion with you on this specific pair of jeans as I hadn't yet tried the Margot before.
The Fit – The Margot, for those of you who aren't familiar with it, is the brand's highest rise skinny jean. The rise is 11″, the inseam is 26″, and the leg opening is 10.25″, which you can see makes it extremely high, but with a skin tight fit. I'm usually used to a 9″ rise, so going up an extra 2 inches made all the different in comfort and hiding any muffin top actually. I've included a photo of the rise below for you so you can see how much it comes up and I think it gives great hip coverage. I definitely like it – a lot. The inseam could be a tiny bit shorter for me, but as I'm quite short, you all know that I end up wearing cropped lengths as full lengths. It would be the perfect length if these jeans didn't have frayed hems, but when it comes to frayed hems, I like them to be an inch or so above my ankle bones, but that's a small detail since I am not blessed with long legs.
So, I love the rise height and the skinny fit all the way to the ankle, but next up is the back pockets. I'm usually always a fan of the PAIGE back pockets as they're positioned nicely to be flattering and enhance the butt, however with this pair (and I am guessing that's to do with the rise being high) aren't as flattering as I would like. So many brands move the back pockets up higher when they have a super high rise jean and I never know why. I think they should be kept at the usual height to continue flattering the butt, putting them high like this gives a flatter appearance as the bottom of the pocket should be inline with the bottom of the butt cheeks. It's not awful by any means, but compared to my other PAIGE jeans like the Verdugo, the back pockets aren't as good. You can see what you think from the photos. From the front they look perfect, but the back isn't as perfect, but it's not a deal breaker for me at all as I plan on wearing these a lot.
Buy these PAIGE Jeans at Shopbop.com for $229
The Size – As I didn't want these jeans to be too tight as they're not TRANSCEND denim (I was concerned about stretch), I went with a size 28 so that they would be comfortable. I would say I could definitely fit into a 27 and they would be quite fitted and probably a lot more flattering on the butt, maybe. I have some room around the lap and some space in the waistband, so I would say these run true to size for PAIGE in general. Given my stomach issues and tendency to bloat etc. though, I love them in the size 28 as they're super comfortable and not restrictive, which means I will reach for them often. If you want them fitted though, go for your normal PAIGE size. If you need a comparison, size down one from Citizens of Humanity Rocket jeans as I am a 28 in those with a tighter fit, so I would be a 27 in these with a tighter fit. Let me know if you need anymore sizing help!
The Wash – The wash on these Margot Frayed Hem jeans is called Solo and it's very much what stood out to me when I saw them. It's a mid to light blue with whiskering on the lap, faded thigh and butt areas, and a frayed hem. The jeans also have a few little tiny abrasions over the front and back, in some areas, giving them more of a vintage look. You can see in a couple of the photos what I am referring to and although I would prefer to have no abrasions as they can be mistaken for a flaw, I think the blue denim is gorgeous! It's that ideal shade for Fall for tucking into boots and for matching any sweaters with. It's extremely versatile and I think the raw hem is very nicely done too. It's going to be ideal for boots actually as there's no stitching around the hemline to create bumps in the boots, but also wonderful for Spring and Summer to show it off with heels or flats.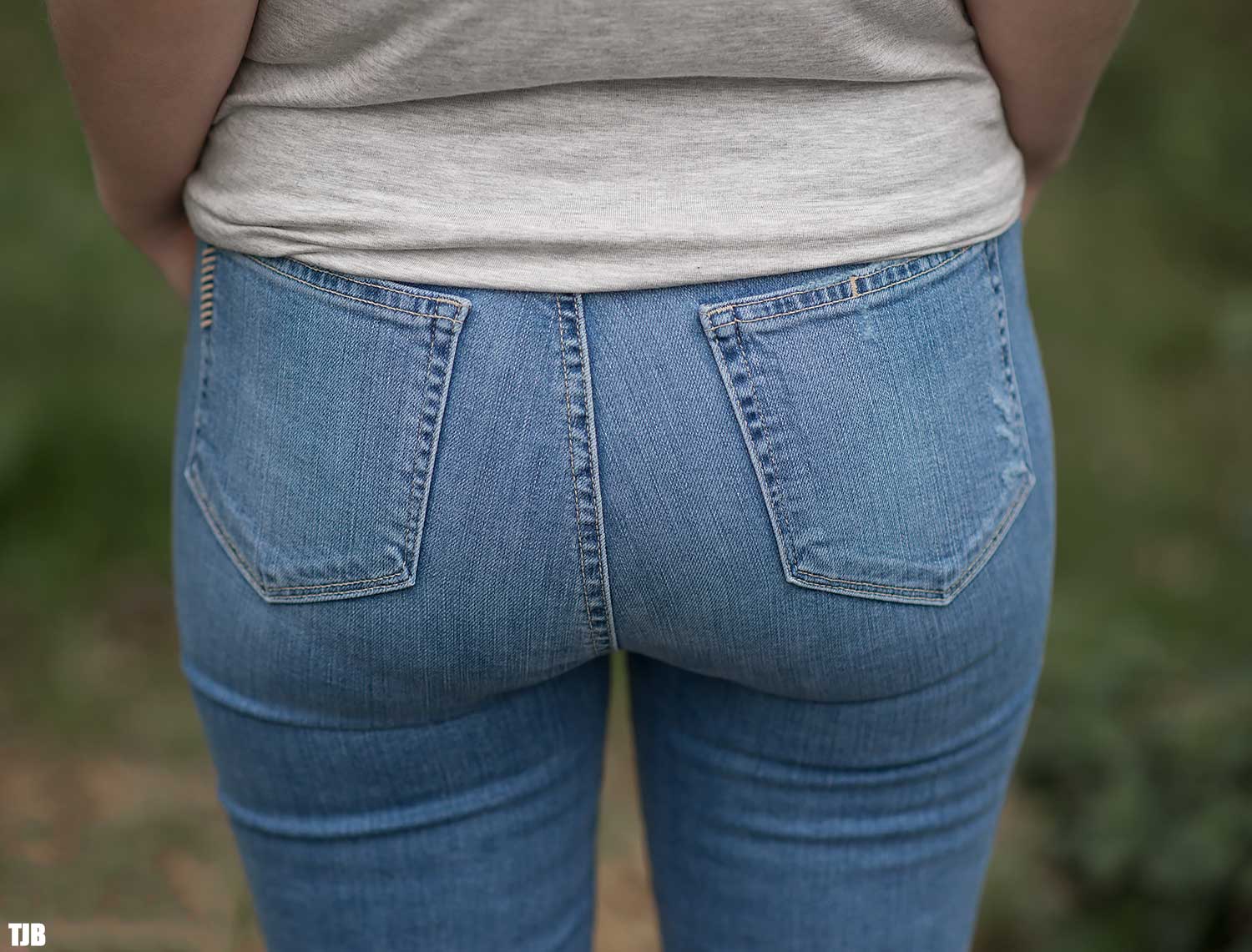 The Denim – The denim fabric itself is a super stretchy, lightweight, soft denim made up of 92% cotton, 6% elastomultiester, and 2% elastane. It's incredibly stretchy like a legging, and so smooth against the skin that you can't really tell you're wearing jeans. Mine are that comfortable that I could sit in them all day and wear them all day without feeling restricted. Based on comfort alone, I recommend these jeans to you! It's amazing just how much more advanced denim technologies are today and creating something soft, stretchy and easy wearing is so simple these days!
Overall Opinion – I'm a bit mixed with these jeans as there's a couple of things I would want to change for my own personal preference, but there's so many positives that outweigh them. Starting with the negative, the back pockets are too high up compared to usual PAIGE jeans so I don't find them as flattering on my butt, however they could work for someone with more of a smaller tush, and the little abrasion marks over the jeans are small enough to be confused with flaws in the denim, so I would either prefer them bigger or not there. Now the positives are that I adore the rise, it's so concealing and looks good, the skinny factor is perfect, the inseam is ok and doesn't stack which is good as frayed hems should not stack, the Solo blue is stunning and perfect for outfits I have in mind, and the denim is so comfortable and stretchy. The price is $229, so it is a little steep, but if you do like buying premium denim, these are a great choice! What do you think?
Buy these PAIGE Jeans at Shopbop.com for $229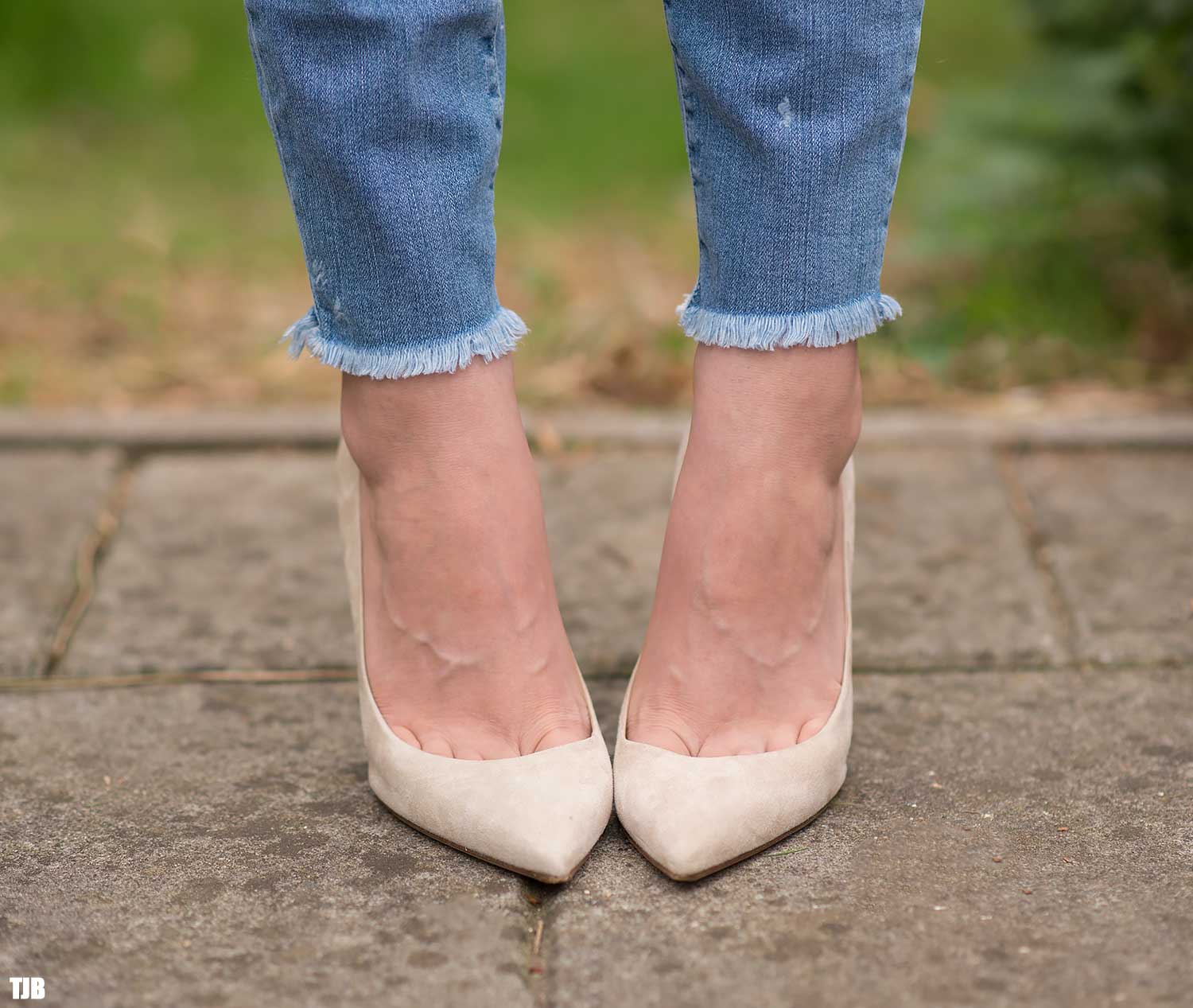 Jeans courtesy of PAIGE / opinions are all my own.