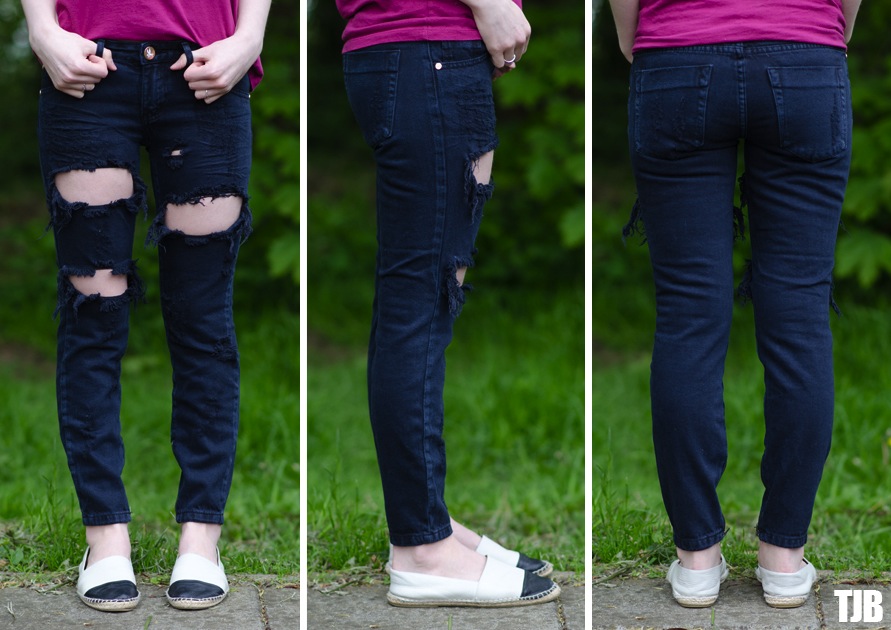 I got the One Teaspoon Freebird Jeans in London which is a washed out black from Revolve and as it's my first time actually trying the brand (finally!), I'm happy to share my thoughts and my review on them with you her on The Jeans Blog. I've always loved how easy and casual One Teaspoon jeans actually look, especially when it comes to their denim shorts, but I think there is a sense of uniqueness to their jeans too. There are not many jeans on the market that look like One Teaspoon does and it makes them instantly recognisable whenever you see a celebrity or person on the street in them.
Starting with the fit of these jeans, they are 100% cotton so they aren't stretchy at all, however the denim is a little thinner and for 100% cotton jeans, I do find they run big. I usually need to size up a whole size to a 27 in rigid jeans to get them to fit, but I took these in my usual size of 26 and they fit me perfectly. So definitely stick to your regular jeans size when ordering this pair! They have a 7.5 inch rise and a 25 inch inseam, so they are a cropped jean with a low to mid rise, which makes them fit nicely. They taper down into a 10 inch leg opening which also has ankle zippers on the inseams to help them go over your feet. If I don't undo these zips then I can't get them on. So even though it's a nice design element, the zips are also really practical.
I'm usually quite weary of 100% cotton jeans as they don't always have the movability factor, which is why I always love stretch jeans, but after wearing these for a while I was really impressed at how much I could actually move around quite freely and not feel too restricted. I'm not saying these are as comfortable as stretch jeans, but they are definitely comfortable for rigid jeans and I would be happy to wear these for quite a few hours at a time. The only thing that did bother me a bit though was the length. As I have shorter legs, the inseam on these is actually supposed to be cropped at 25 inches, but they fit more like a full length on me which is why they aren't as tight at the ankles as I would have liked. But that's not something I can help since I can't magically grow the length of my legs!
Getting to the London wash, this is what attracted me to the jeans in the first place. I'm really into black denim at the moment but I'm lacking a lot in the distressed black denim area, so I thought these jeans were a great opportunity to add that to my collection. I really like washed black as it gives you that casual vibe that clean black denim just doesn't, so coupled with the huge amount of rips and distressing all over these, they are the perfect easy going jeans. As you can see they feature 3 massive rips on the thighs, a couple of little ones and then some distressed areas too, making them a great jean for the summertime as I imagine they would be too cold in winter. After all, One Teaspoon is an Australian brand and we all know they have great weather all year round!
So those are my views on these jeans. I really like them for that effortless vibe they have to them and a nice washed out black shade, but I also like them because they have quite a nice fit and the fabric was nicer than I had anticipated. My only negatives are the length being a little awkward for my legs (but that's my personal issue) and them not having any stretch to them. I know though that if these jeans were a stretch denim, the rips and shreds wouldn't sit as well and they wouldn't have the same effect. So all in all, for the cheaper price point compared to most jeans on the market these days, these are really nice! Have any of you tried One Teaspoon? Buy these jeans online at Revolve Clothing for $130 or £90.95.