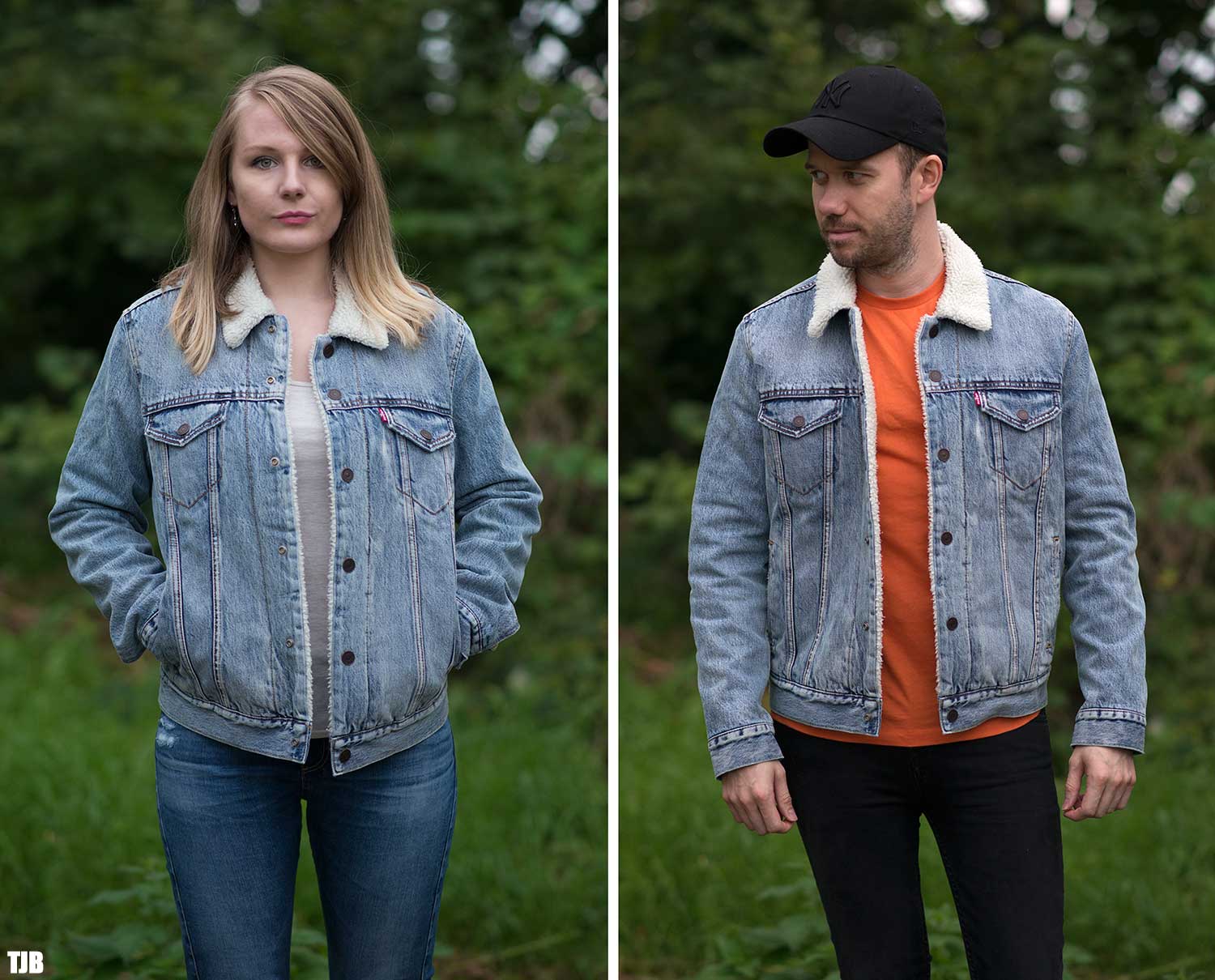 Levi's Type 3 Trucker Sherpa Denim Jacket Review
Since you all enjoy a double review that includes the same product on both men and women, we thought we would share one on something slightly different to a pair of jeans this time – the Levi's Sherpa Trucker Denim Jacket in Fine Line. I had personally been looking for the perfect Levi's sherpa or borg lined denim jacket for years. I would scour the vintage shops and look online all the time, but none had a wash that I loved and if they did, they always fitted like a sack on me as most men's were size large or bigger. All of that changed though when I tried out this one after Adam bought it for himself, so check out both of our reviews below!
Shop this Levi's Denim Jacket at Levi.com

Adam's Review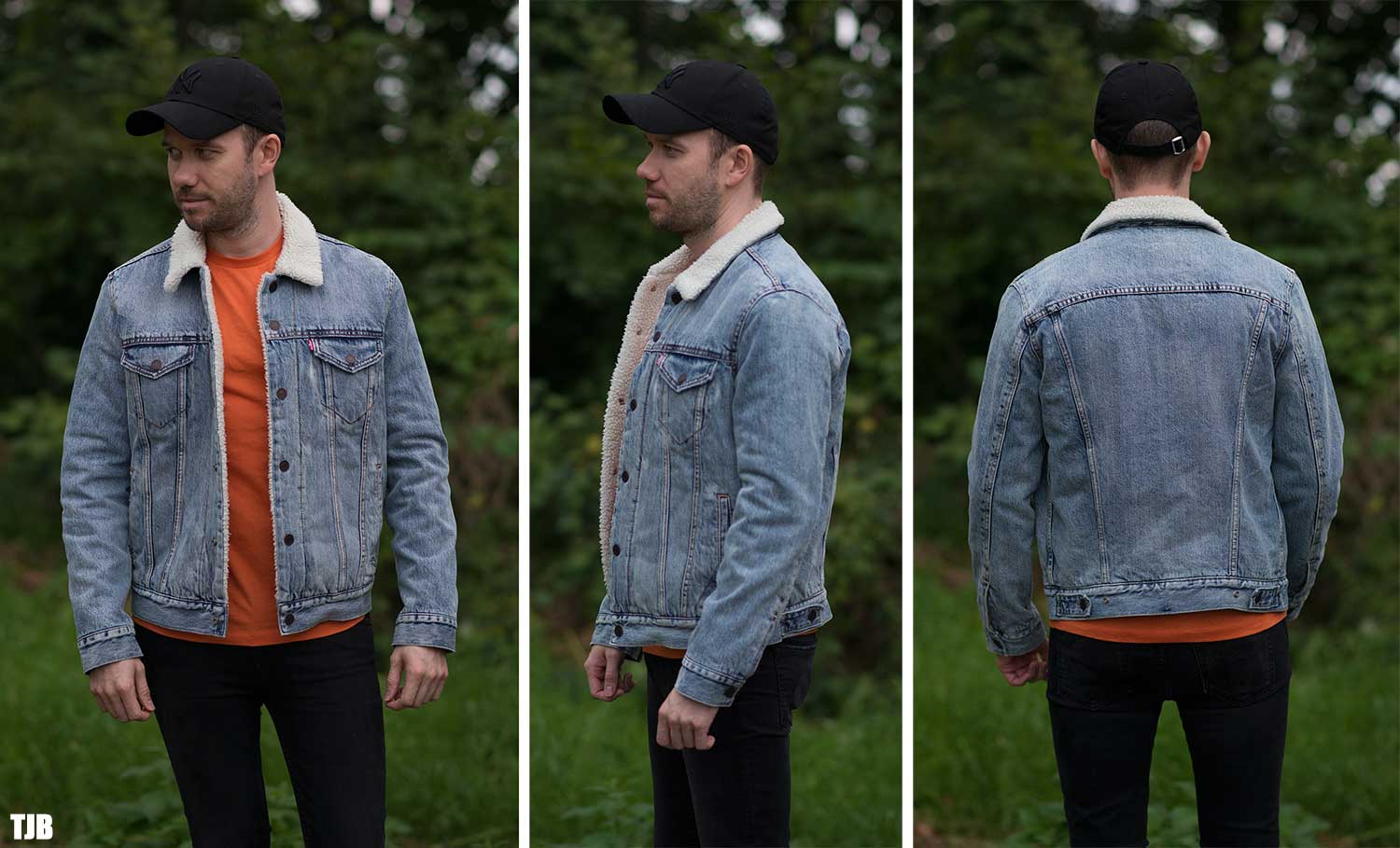 The Cut – The cut is a typical fit from a Levi's denim jacket – quite sleek, but thanks to the addition of the added lining, it has more of a boxy fit. However, this doesn't really detract from the overall look of the jacket when worn, still giving off that timeless style that only a Levi's jacket can provide. The length of the jacket falls perfectly just below the waistband, not too long or short. Sleeve lengths are pretty much spot on, sitting ideally on my wrist.
The Sizing – My normal style Levi's denim jacket is a size XS which fits nice and snug (just how I like) but the sherpa model is only available as an S as its smallest size. This decision was undoubtedly due to the extra padding from the thick lining. This works out up to a point, it is fairly snug within the main body of the jacket (which contains the lining), but the arms are unfortunately sans lining so they suffer in the transition. They are not cut as closely as I would like, so I have a slight amount of bagginess. As it's more of a winter jacket, this can be alleviated with a thick sweater.
The Wash – The wash is a lovely stone wash style colour, yet thanks to the years of experience from Levi's, it is not the typical flat and plain stone wash which most brands adhere to. No, this jacket contains plenty of depth to the colour, featuring darker areas around the stitching and pocket areas and in contrast the raised areas are a much lighter hue to produce a very realistic and much more natural effect. However, not all washes are created equal, as with the majority of pre-distressed denim clothing, the wash can vary wildly per item, sometimes even within the same batch. However, the jacket I received is definitely one of best versions I've seen! So if at all possible, order 2-3 to choose the best one!
The Details – There is not much to say about details which hasn't been said before with a Levi's denim jacket. Always opting for that timeless look, the overall design rarely changes throughout the years. The same is true of the details, featuring the Levi's branded studs and buttons across the design. This sherpa denim jacket also contains 4 pockets, 2 of which are situated on the chest and the remaining pair to the left and right for your hands.
Overall Opinion – I've had me eye on a sherpa denim jacket for some time, it's something I've always wanted to add to my collection, but I had never found a suitable model, especially with a wash I fell in love with. In fact, whenever I had inspiration to own one, I usually resorted to vintage models, but even that was never successful. Either the wash wasn't up to my standard or it was too large a size (just like Lorna's issue). This latest model from Levi's with their new line of washes has thankfully allowed me to finally add one to my wardrobe! Just in time for the cold weather too! The cut and fit is good combined with a beautiful wash and Levi's are definitely onto a winner!
Shop this Levi's Denim Jacket at Levi.com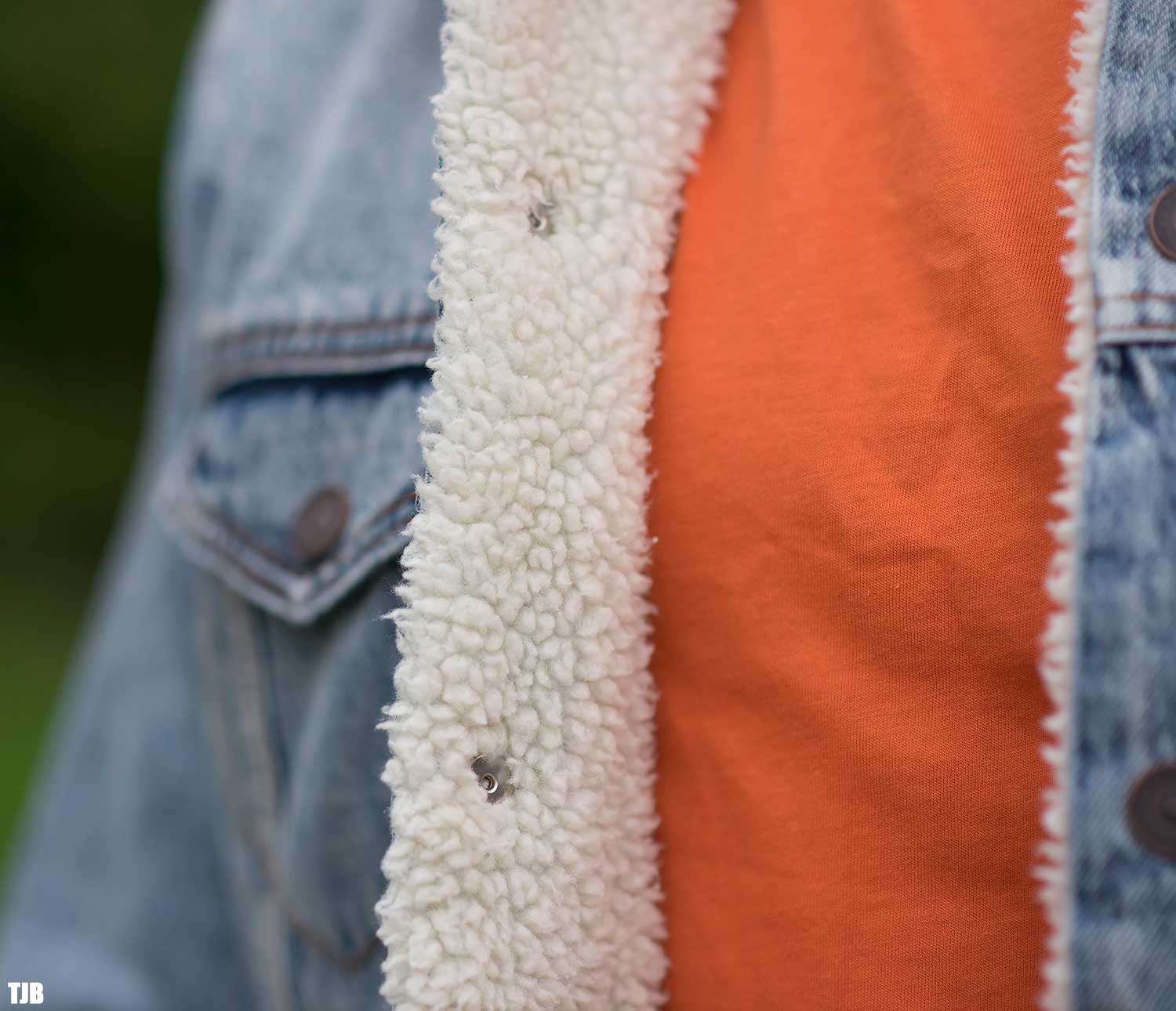 Lorna's Review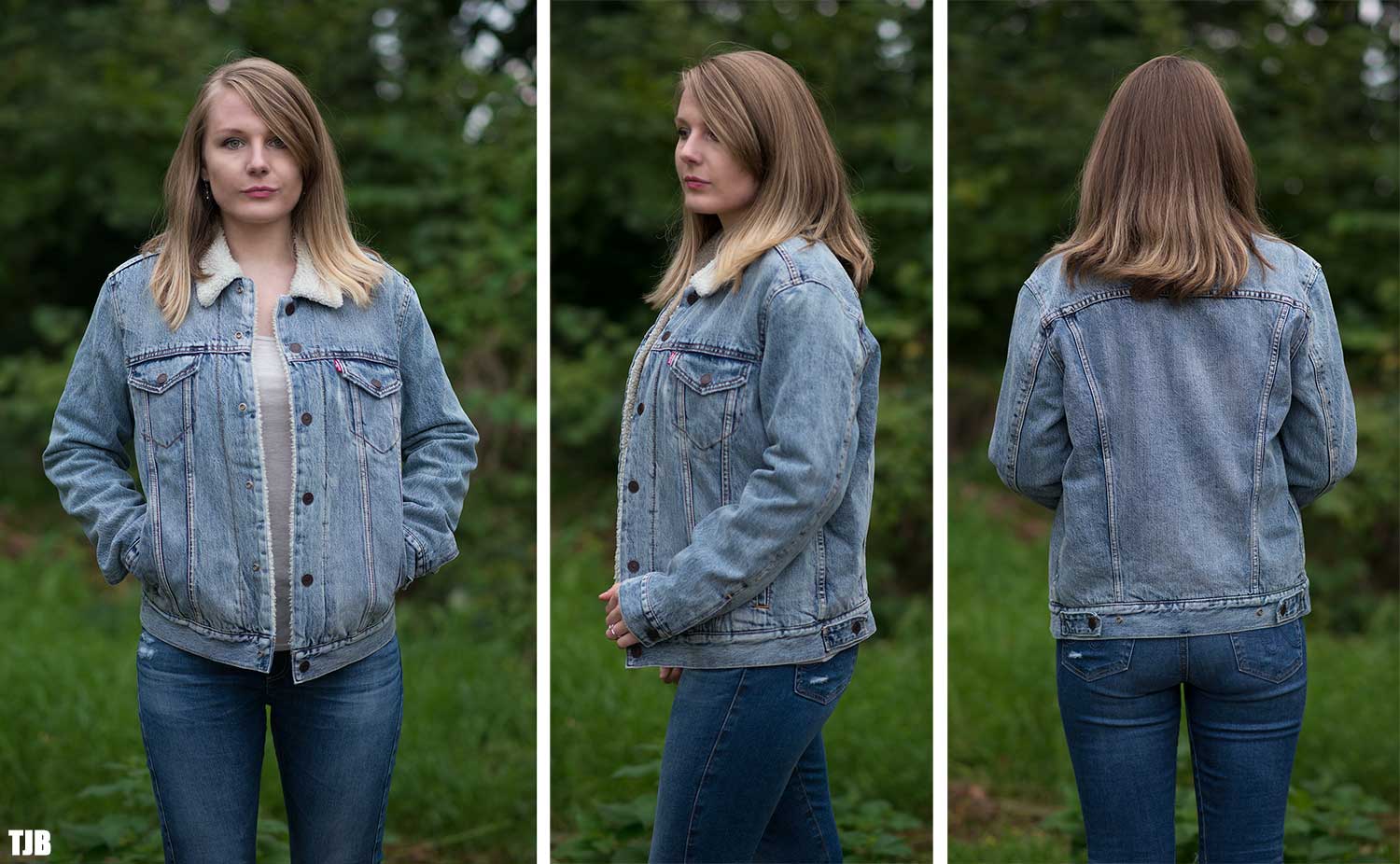 The Cut – Since this is a man's jacket, it is cut oversized on me. I know that Levi's do a women's denim sherpa jacket as well, but the washes are never up to scratch in comparison, plus they are always too short on me, since I have a longer torso. I chose to opt for the men's version because the length is ideal and the wash is better, but I also think the cut in general is better. It's got that vintage appeal to it and a boxy look which is just what I was looking for. It's classic, but unisex in my opinion.
The Sizing – I took this Levi's denim sherpa jacket in size S as it's the smallest size that Levi's do in this jacket (as Adam mentioned). However, I did find that these run different though. Adam originally bought this jacket and that's when I fell in love with it, so I ordered one myself and when it came, it was actually much smaller in fit, quite noticeably. So comparing the two jackets, you would think they were different sizes. The one that I ordered was slightly darker in colour too, so I'm not sure if the darker wash has something to do with a slimmer fit in comparison to a lighter wash and a larger fit. So if you do order one, like Adam said, order a few just to make sure!
Since the one I ordered was a slimmer fit, I didn't like the way it hung on me. It was that awkward in-between size which looked like it was too big, but not oversize. I gave it to Adam to try on and it actually fitted him a lot better than his one, as he wasn't hugely into the slightly bigger fit. So as it worked out, he and I swapped denim jackets and I went for the slightly bigger, lighter blue size small and he went for the slightly smaller, darker blue size small, as shown in this review. It worked out perfectly as I love the way that mine actually looks oversized and intentionally big now, not awkward.
The Wash – I wasn't overly in love with the wash on the jacket that I bought, but I LOVED the wash on Adam's, so I'm really glad we swapped. It's a beautiful light blue with stone wash to it, but it looks vintage and really authentic. There's not much to say that Adam hasn't said, but it truly does look amazing and I don't think you could tell that it's not a vintage jacket with this wash. But as mentioned, they vary greatly in colours, so again, order a few and choose the best one.
The Details – There's the gorgeous wash, the Levi's buttons, the iconic little red tab on the left of the chest pockets, the off white sherpa lining, the seams down the front, and the little adjustable tabs on the bag. There's lots of little minute details like this that make the jacket a complete, overall beautiful piece. There's no embroidery or stand out details, just lots of subtle ones, making it easy to review.
Overall Opinion – As I mentioned, I have been looking for one of these jackets for years! My quest for the perfect one was never met and I decided that vintage wouldn't be the answer for me. Since Levi's released this absolutely stunning jacket (and I got 20% off with birthday discount on ASOS), my need for one is finally fulfilled. I'm lucky that I got one of their better washes, and the fit is oversize enough to look cool, but not so big that it swamps me. I love everything about it! I would like the arms to be slightly slimmer (like Adam said), but as it's a man's jacket that's not something that they would probably do. Overall though, I'm really happy with it and can't wait to wear it when it's cool enough! What's your opinion? Did you like this double Levi's Sherpa Denim Jacket review?
Shop this Levi's Denim Jacket at Levi.com