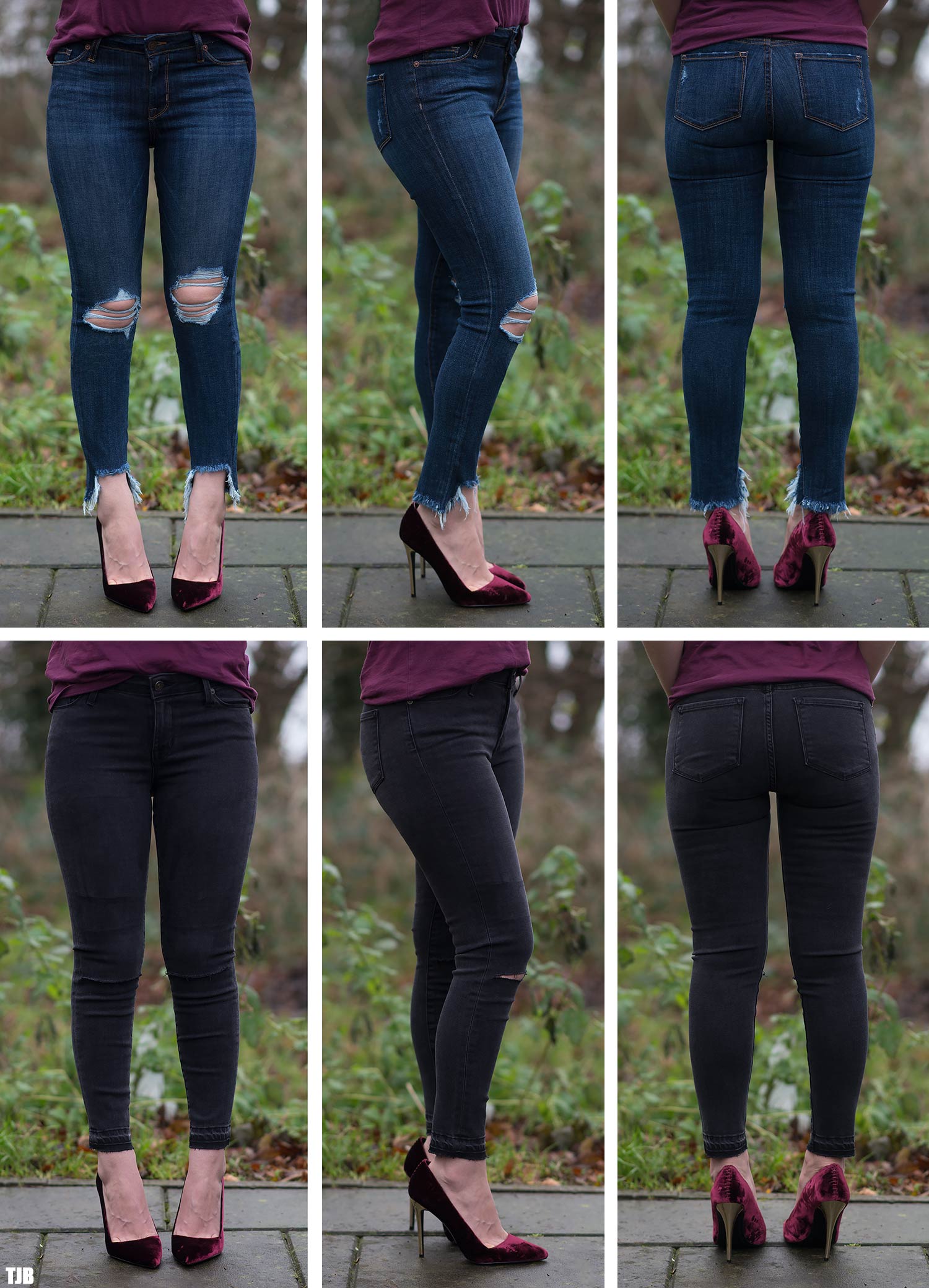 Bleu Bleu Skinny Jeans Double Review
My first denim review of 2018 is on a brand that you might not have heard of before – Bleu Bleu. They were founded in 2013 and make premium denim jeans in Los Angeles, California. They used to originally only be available in select boutiques and high-end showrooms across different states, but they have now made their jeans available to purchase online and ship anywhere in the US for free.
I wasn't familiar with Bleu Bleu at all and that's probably because I'm in the UK myself, so I've not frequented the local boutiques and seen their selection, but when I found out about the brand last year, I thought they looked fantastic and couldn't wait to try them. They only use the highest quality material and ensure their jeans have the best look, fit, and lifespan, whether it's the first or hundredth wash. This is the kind of information I love to hear as often once you wash jeans, they're never the same.
So for my denim review on Bleu Bleu, I'm testing out 2 pairs of their jeans and combining it into one double review for you. I've got the Virginia Blue Mid-Rise Skinny Jeans and the Linda Black Shadow Mid-Rise Skinny Jeans, as you can see above. Bleu Bleu state that all of their pieces are washed, crafted and detail-finished by hand, using experienced tailors and seamers, which are all hired locally. Other than a few garment pieces and textures, such as fasteners (buttons, zippers, and rivets) 100% of their clothes are hand-made in Los Angeles, California. That's great since it is the home of premium denim!
Before I get to the reviews, Bleu Bleu are giving you readers 25% off your entire order! The discount code is JEANSBLOG and you just apply it at the checkout, or click here to use the link with the discount already attached to it. The code can't be combined with another discount code (one code per order only), but any items marked as 'sale' are eligible. So if they mark an item 30% off, you can add an additional discount using the code.
Bleu Bleu Women's Virginia Blue Mid Rise Skinny Jeans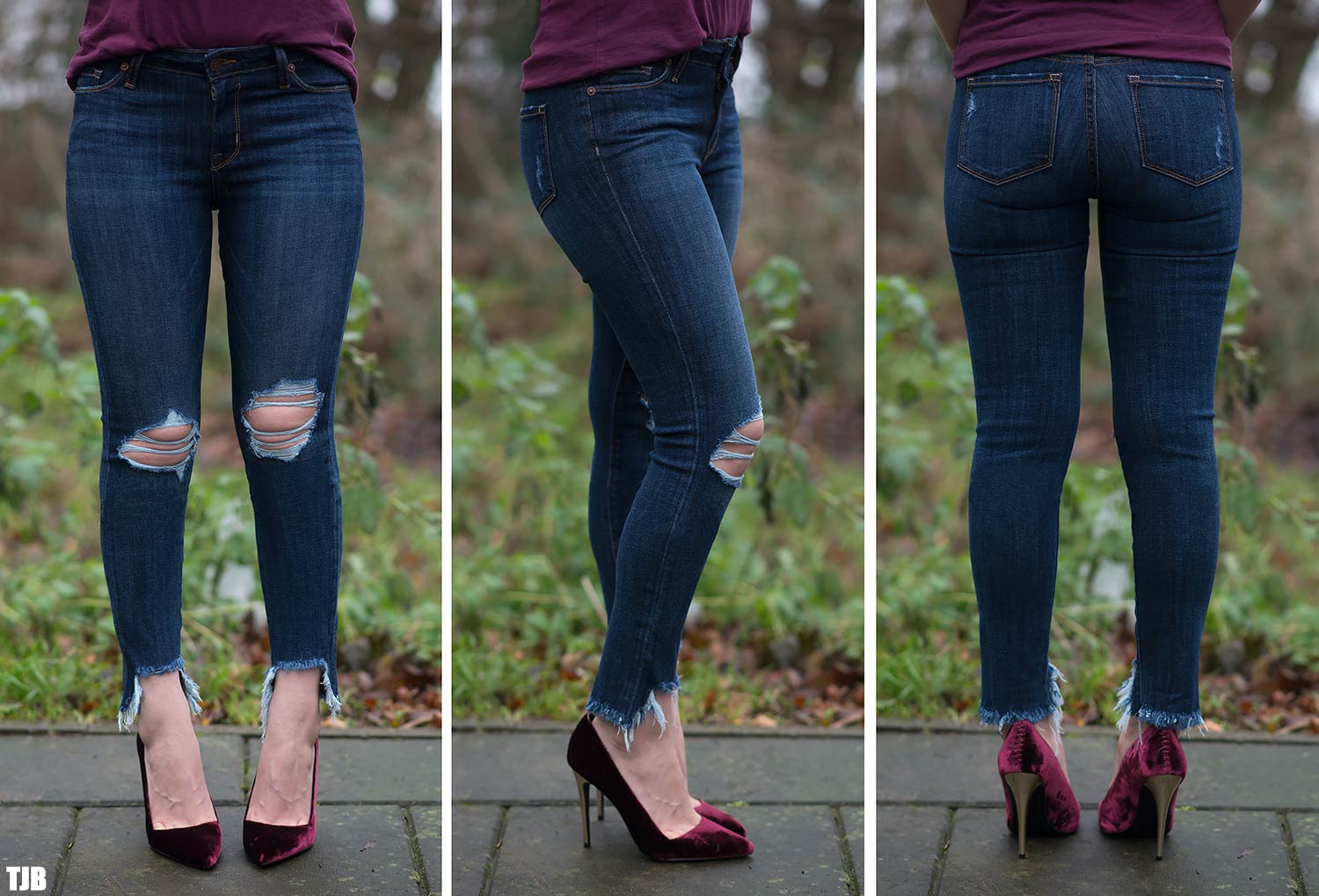 First up is the Virginia Blue Mid-Rise Skinny Jean which feature ripped knees and a high-low frayed ankle hem. Since blown out knees and this type of raw hem is on trend at the moment, I think these jeans are perfect for anyone looking for a high quality, fashionable pair.
The Fit – These jeans are somewhat between a mid to high rise in my opinion as they have a 9″ rise to them, so depending on your height, it varies where they will sit. They come with a 28″ inseam and a leg opening of 10.5″, so as you can tell from the measurements – they're quite a cool skinny jean. As I'm short though, the inseam is a bit long for me with the high low frayed detail, so do keep that in mind if you're petite and need cropped inseams as this type of hem is designed to sit higher up the leg. I did have to pull them up a bit to get them to sit higher to show you how they should fit properly. Other than the longer inseam, they're extremely flattering as you can see. They accentuate the hips, the back pockets are a great size and shape, placed perfectly to give lift to your butt as well.
The Size – For these, I took them in a size 27 which is my usual standard size in most premium denim brands. I found them to fit true to size in comparison to brands like Hudson, Paige, 7 For All Mankind etc, but slightly bigger than MOTHER or Citizens of Humanity. So I recommend your normal size in premium denim and they should fit just fine!
The Denim – These Bleu Bleu jeans are made from a standard 98% cotton and 2% spandex blend, so they're a stretch denim. They are thin in weight though so they're not stiff or uncomfortable at all. I actually found them quite comfy to wear and the denim definitely feels like a great quality as you can see from the close up photos.
The Wash – The Virginia Blue wash is actually really pretty! It's a deep, intense indigo shade of blue that has a distinct vintage look to it. It has chevron detailing down the inside leg and whiskering beneath the functional front pockets. The button, the rivets and leather waistband patch are in dull red copper, while the top stitching is gold brown with tan accents, so it contrasts against the blue of the wash. There's subtle fading down the front of the thighs and little abrasions on the back pockets. The obvious points are the 2 blown out knees with the shredding across them (which actually sit on my knees!), and the high low frayed hem which is a fancy detail. It's my first time trying out this trend actually and I've found it to be quite cool.
The Details – These jeans are pretty minimal since it's the wash that gives them their appearance. As I mentioned, they have the blown out knee and frayed hem detail, but the pockets are plain, there's no visible branding other than the small leather patch on the back, and there's no signature stitching etc, so they're very sleek and minimal. I love that about jeans as I'm past all the flashy branding on most things, it's just not me.
Overall Opinion – My overall opinion of these jeans is great actually. Since it's my first time trying Bleu Bleu, I didn't know what to expect, but after reading up on the brand and checking out their designs, I felt quite confident I would like them and I was right. The quality is great, the fit is really nice, and the aesthetics are great. My only complaint on this particular pair is that it doesn't come in a petite version for us ladies with short legs, but maybe that's something the brand can look into for the summer as you can't really hem a pair like this. For those of you who aren't short though, these will be awesome for a statement pair of jeans!
Click here to buy these Virginia Blue Jeans for $385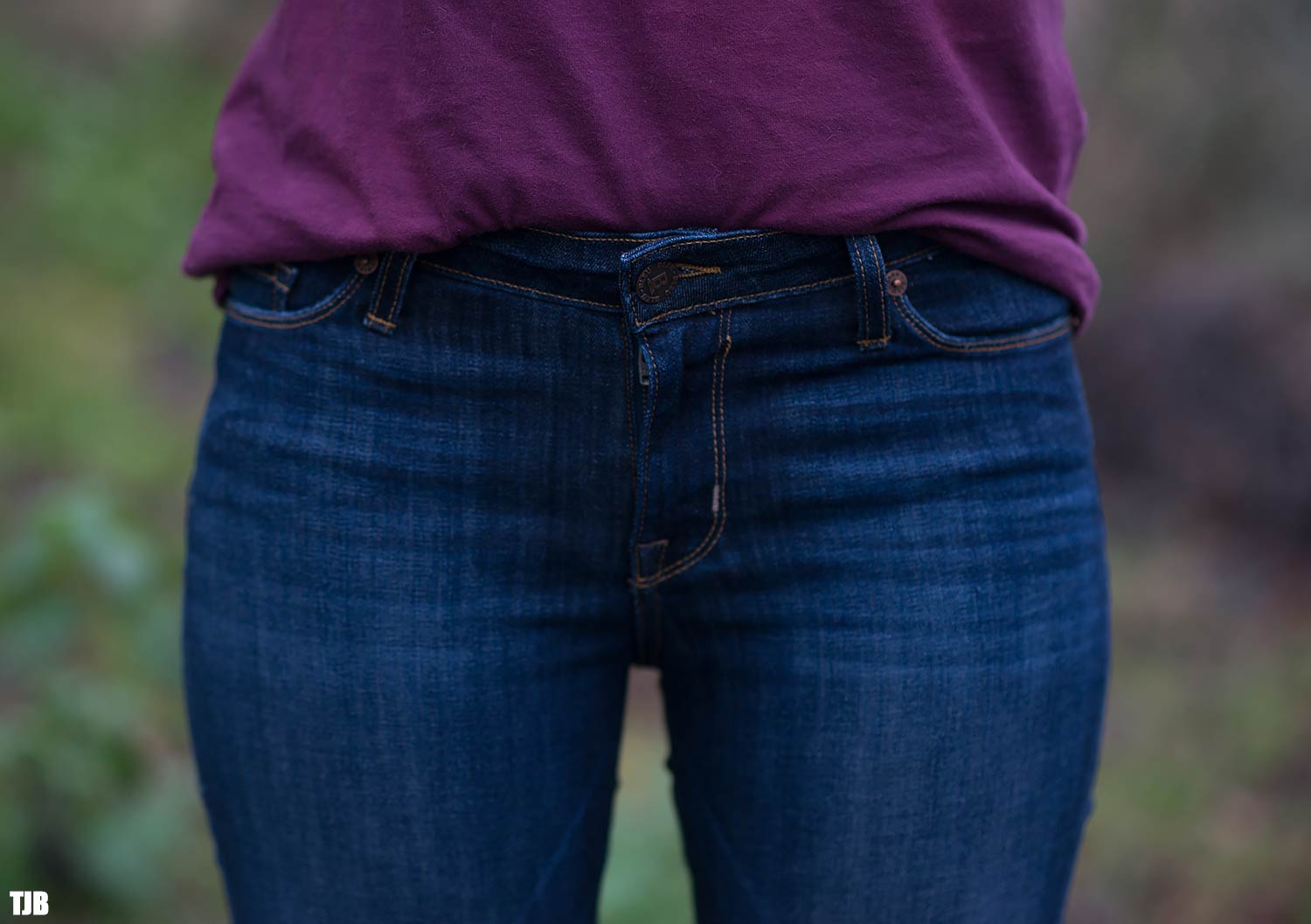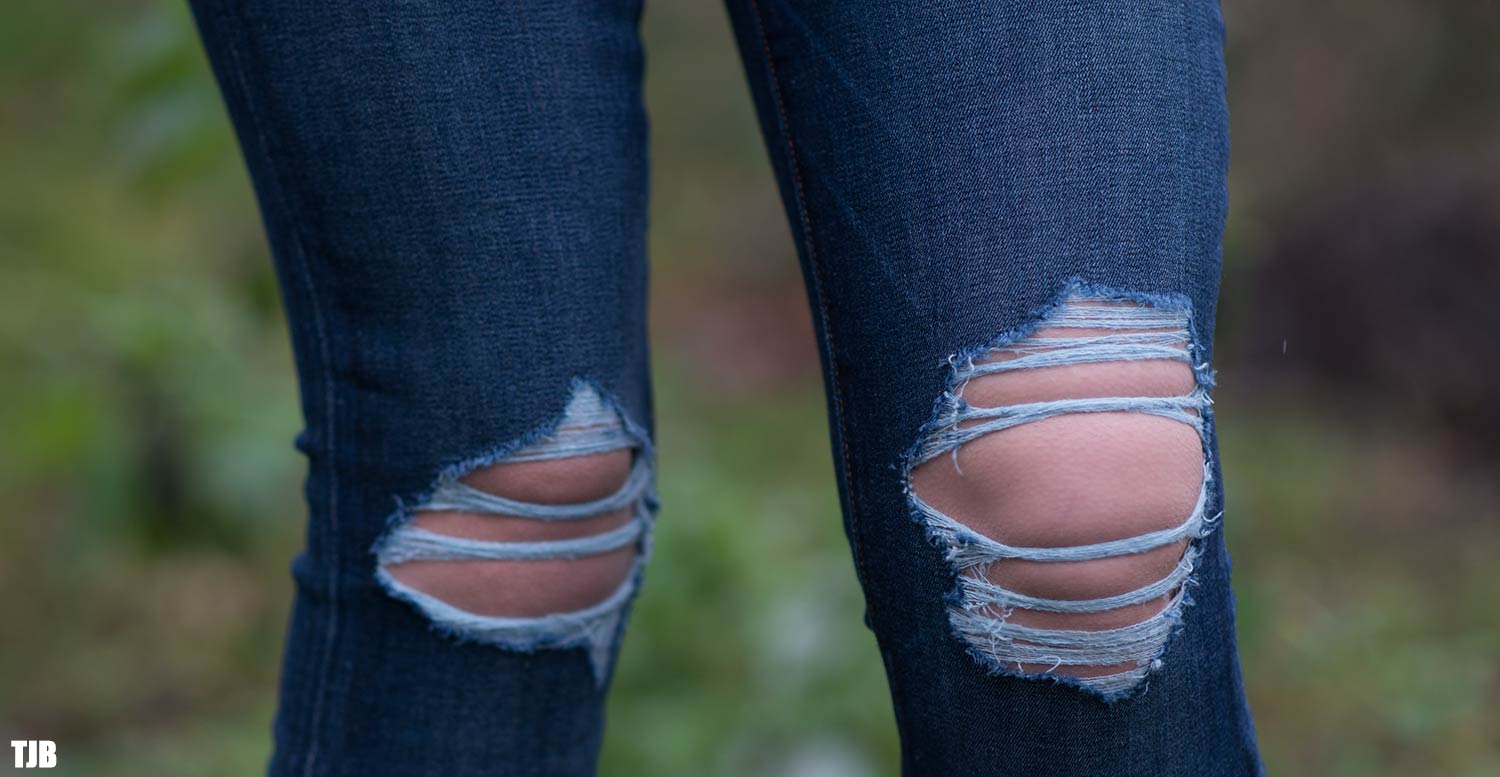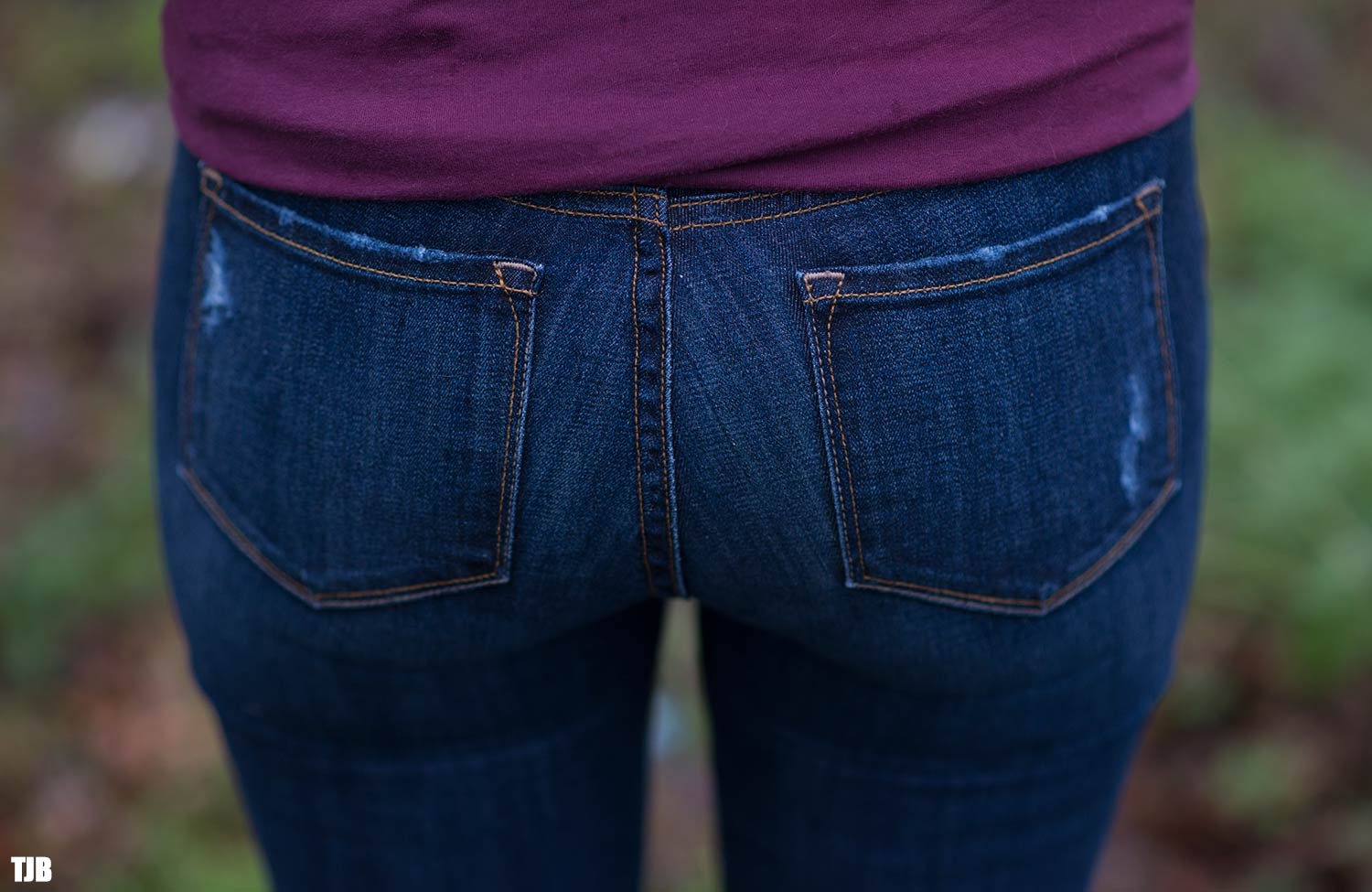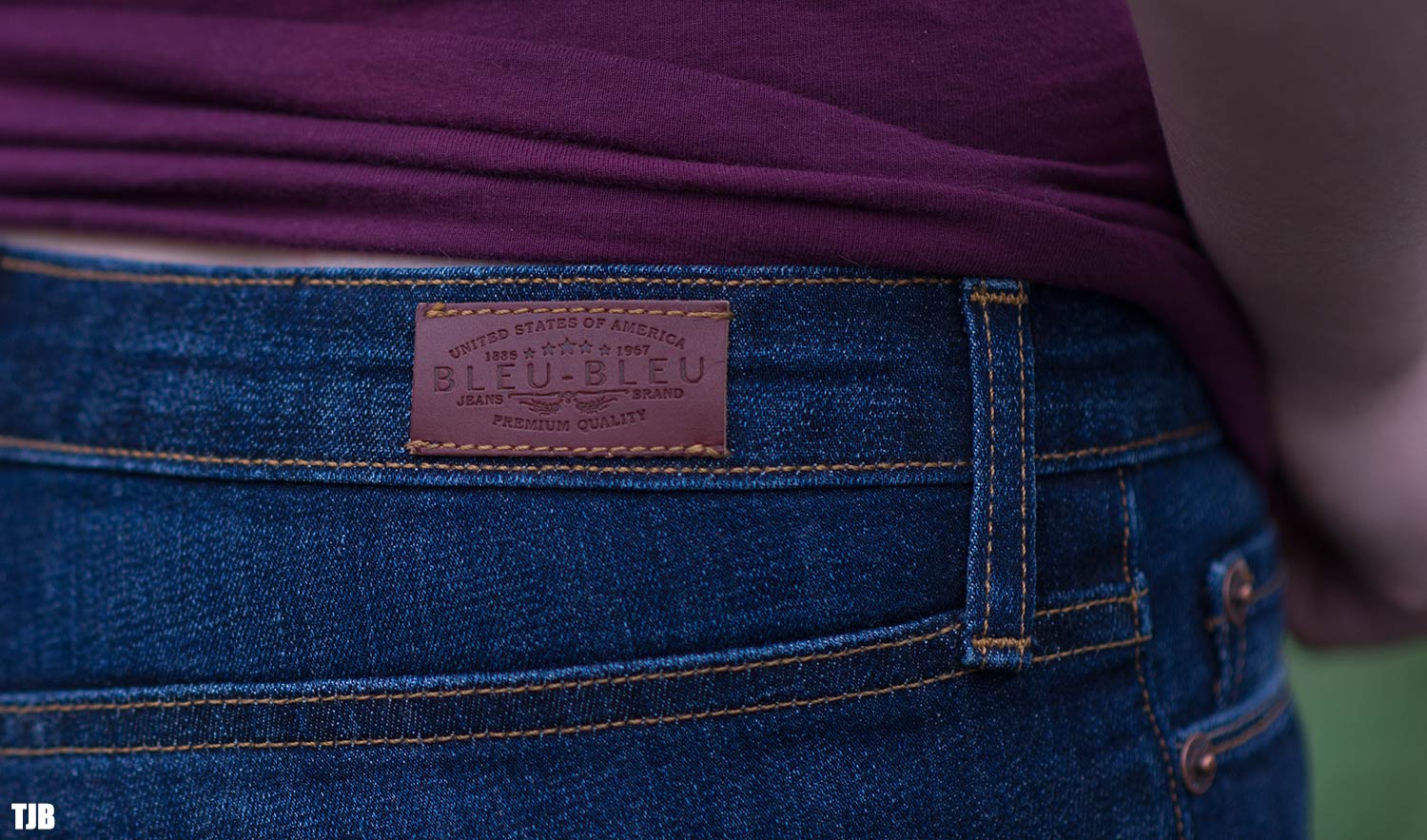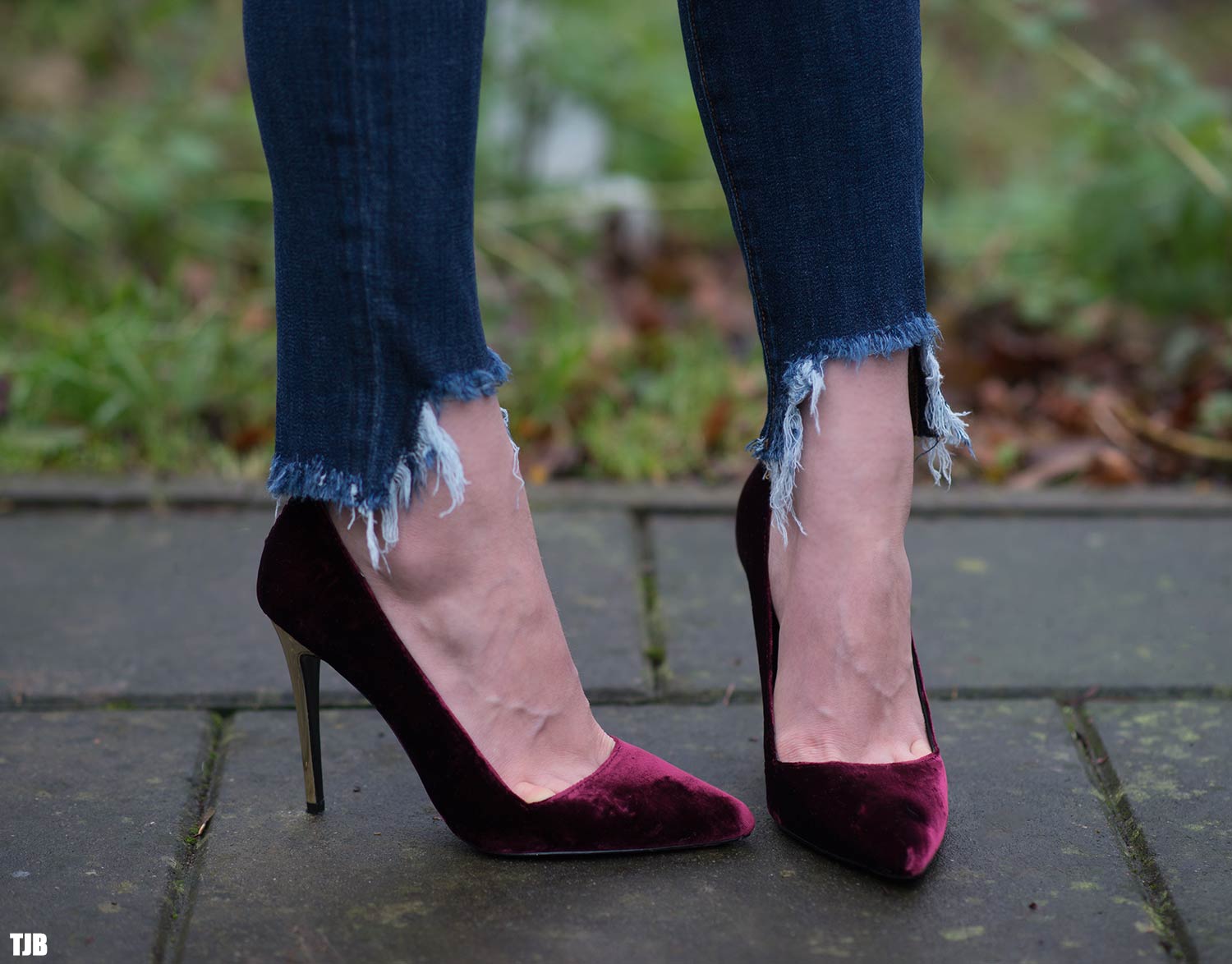 Bleu Bleu Linda Black Shadow Mid Rise Crop Skinny Jeans
Next up are the Bleu Bleu Linda Black Shadow mid-rise skinny jeans. They're obviously made from the brand's premium denim and feature slashed knees, a cropped length and a frayed hem. These are actually my favourite out of the two, so let me tell you why.
The Fit – These skinny jeans are more of a cropped mid to high rise skinny, so they're a fantastic ankle jean for me. They have a 9″ rise like the other pair, but come with a 25″ inseam and a 10.5″ leg opening. The shorter inseam of 3 inches makes a huge difference for me! As you can see, the hem sits above my ankle without pulling them up and they're sleek all the way down. The back pockets are perfectly sized and placed, as I mentioned before, so the continuity of the fit throughout their jeans seems good.
The Size & Denim – Again, I took size 27 in these and they fit fairly similar to the Virginia Blue above. I would say that these might be just a touch smaller, but you don't notice that because of the denim. It's a really lightweight and stretchy fabric, made from a composition of 75% cotton, 22% polyester and 3% spandex. It's extremely stretchy like a legging and very comfortable to wear, so I can't fault these at all for their denim and sizing. I plan on wearing them a lot more! I could happily wear them all day without feeling irritated or like I want to change out of them.
The Wash – I was originally attracted to the Black Shadow wash for the washed out, grey undertones it has to it that look powdery. Unlike most black denim where one side is black and inside is white or gray, these jeans have the black shadow colour inside and out. They have 2 slashes at the knees, although due to my shorter legs, they sit just below my knees, and a pretty neat raw undone/released hem. They also feature gun a metal button and rivets, a black leather waistband patch, and tonal top stitching, so it all blends in with the black wash. I think it's perfect for those casual days of t-shirts and jeans with some edge.
The Details – Again, much like the other pair, there's no signature or stand out details other than the leather patch. Even the stitching on this pair is tonal, so they are minimal and plain all over, meaning they're extremely versatile. I think you could dress these up or down, depending on how you want to interpret the released hem and slashed knees, but they're very casual and comfy.
Overall Opinion – I actually like these Black Shadow jeans the most from Bleu Bleu, if I'm comparing between the two. My reason for that is the inseam length is perfect for me, the fit is really sleek and flattering, so much so that I want to wear them all the time, and they're incredibly comfortable and stretchy to the point that you can wear them all day. My only issue is the fact that I'm short and the knee holes aren't right in the middle of my knees, but that's an issue I have with my height. I'm shorter than the average girl with much shorter legs and a longer torso, so it's an issue with almost every brand that I've ever tried. They're fantastic though and as you can see from the photos, incredibly flattering! I recommend them! They're very similar in fit and feel to my GRLFRND Candice Jeans in Love Hangover actually, but with different knee and hem details, so if you have those, you will know what to expect!
Click here to buy these Linda Black Shadow Jeans for $375
– What do you think of Bleu Bleu Jeans? Have you ever tried the brand or are you planning to?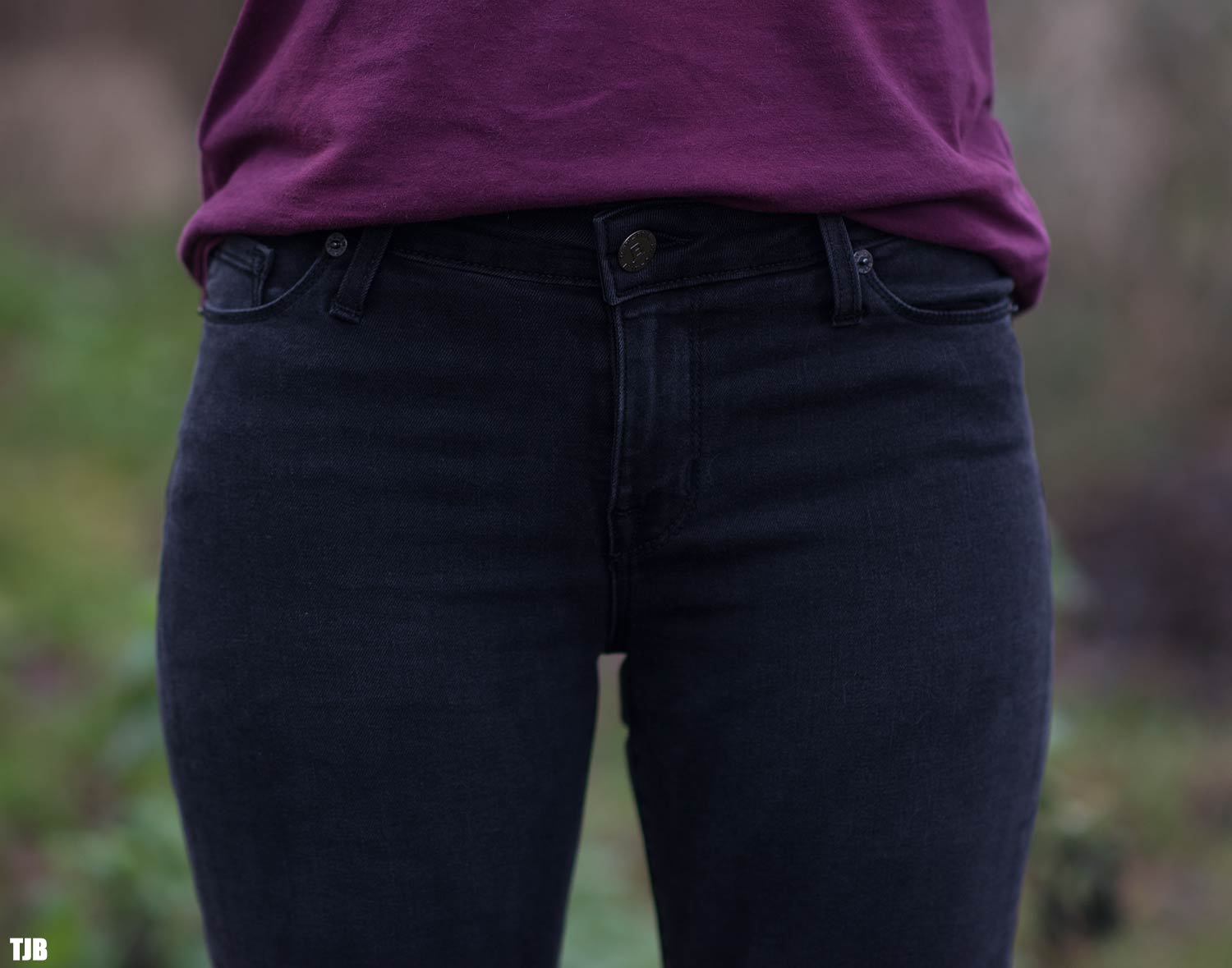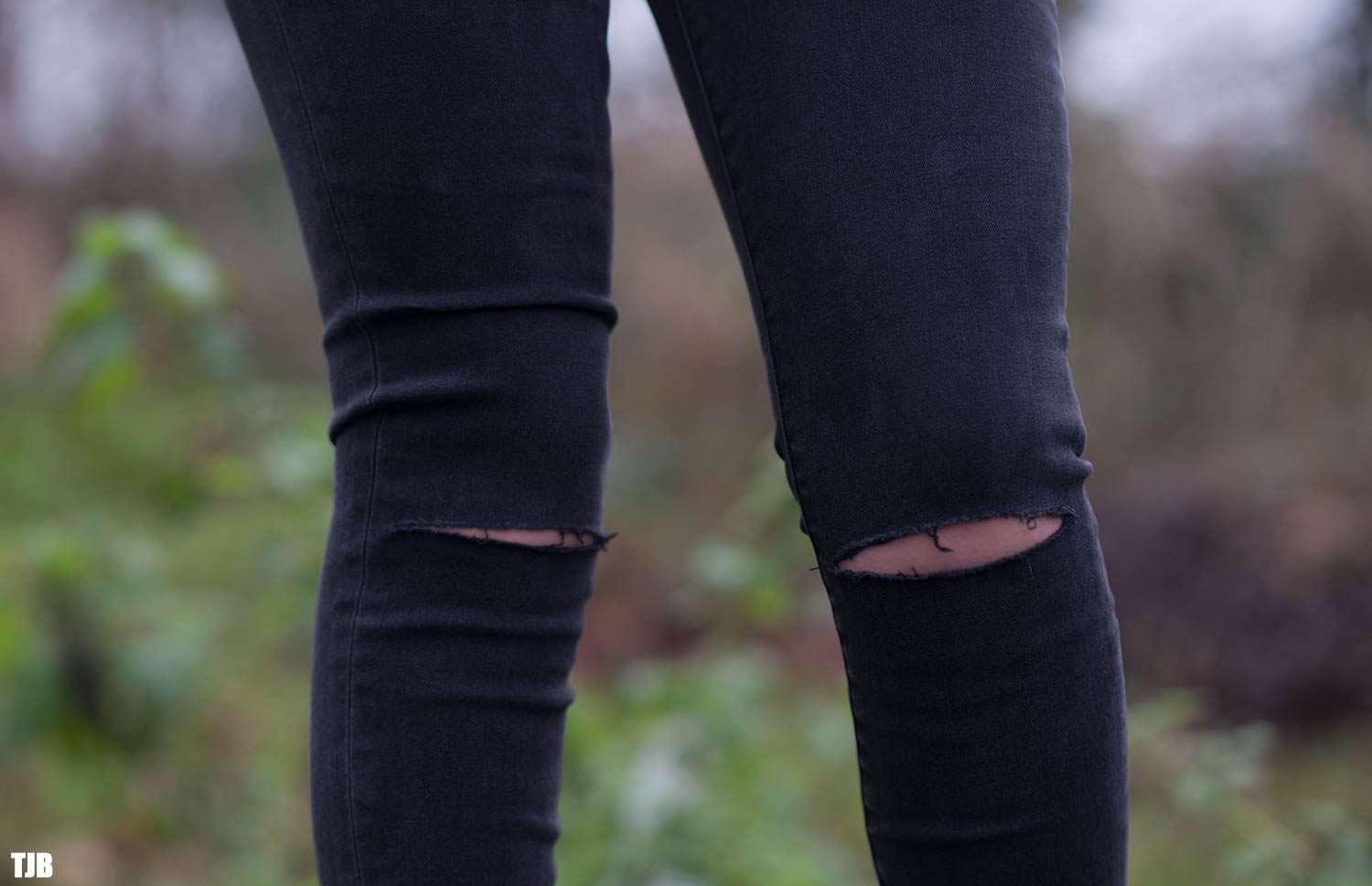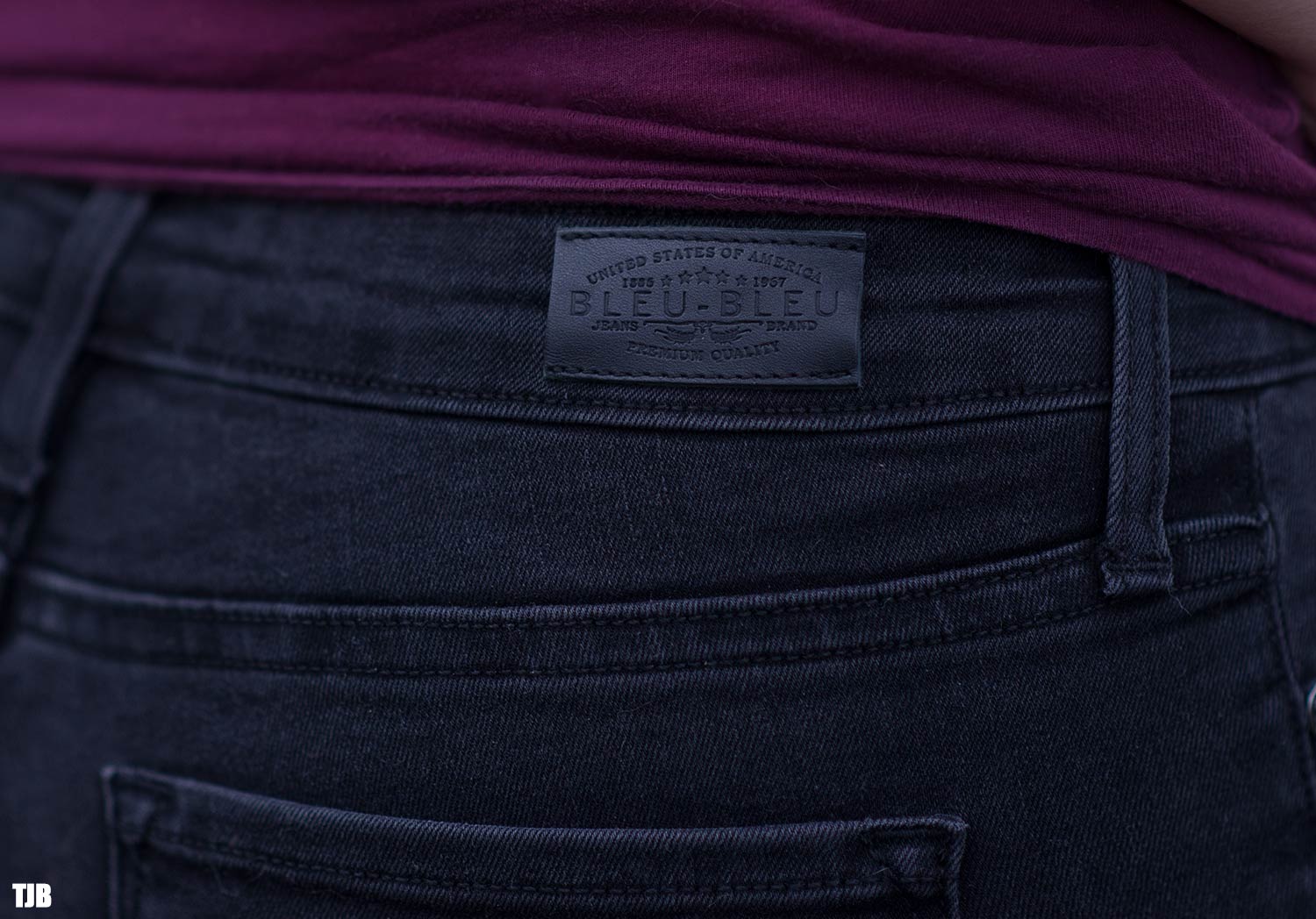 Jeans courtesy of Bleu Bleu / Opinions all my own.