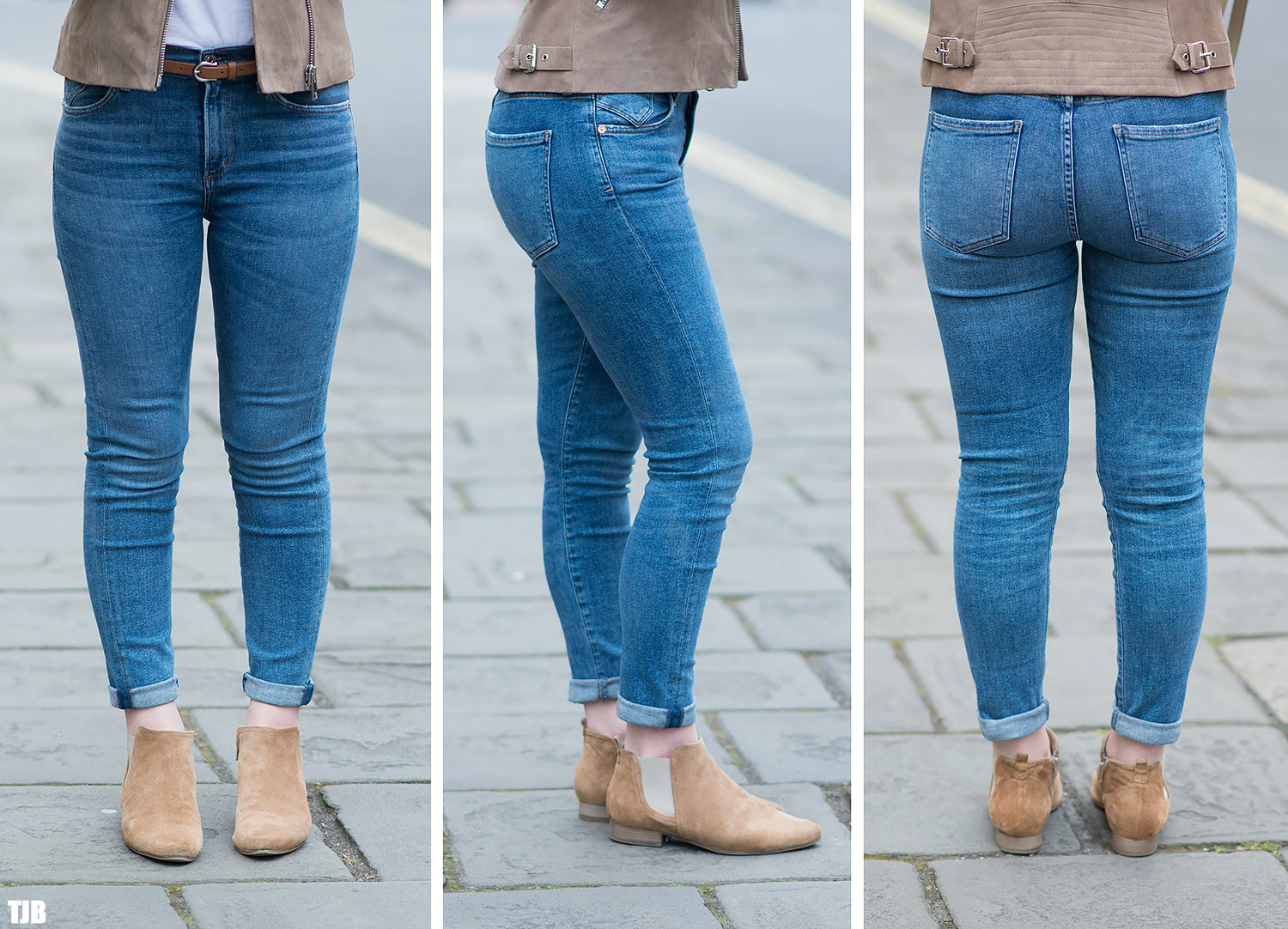 This is my first venture into the brand AGOLDE and I was really excited to try them. Since I'm a fan of Citizens of Humanity, in a very big way, I had a feeling I would love AGOLDE too since they're a brand from the same company, and I was right. For my first pair, I tried the Sophie Hi Rise Crop Skinny in Adore and I literally do 'adore' them, if you'll excuse the pun! So, lets get to the review.
The Cut – The Sophie is a high waisted, cropped skinny jean. It features a rise of 9.75 inches, an inseam of 26.5 inches and a leg opening of 11 inches, making it the perfect cropped skinny to tuck your shirts into. When these are un-cuffed on me, they hit just at my ankles which is literally the most perfect length they could be. I had to roll them up though as I was wearing ankle boots for the outfit.
The back pockets are on the larger side, as you can see, but they are really symmetrical, nicely placed and quite flattering too, so I'm definitely loving AGOLDE for that! I would compare them actually to the COH Rocket Crop, I think there's quite a big resemblance in the cut, and the way that they fit, so if you like the Rocket, I'm pretty sure you will like the Sophie!
The Sizing – My usual size is a 27 and that's what I took these jeans in. They fit quite tight and snug, so I would say they run quite similar to the COH Rocket too, in terms of sizing, so definitely go with your normal size. I'm not sure how much they will stretch out though as I've only worn them twice so far.
The Wash – The Adore wash is made up of a 98% cotton and 2% spandex denim blend, making the jeans quite sturdy and thicker than the usual thin, jegging denim that I'm used to. They have a very authentic feel to them and as the denim is thicker, you don't need to worry about any lumps and bumps showing. But with regards to the Adore blue, it's just stunning! Can you see that honeycombing behind the knees and the whiskering on the lap? When I first saw these, I was in awe at the beauty and detailing, especially for the price of $158. In premium denim that's a bargain! They have slight faded areas on the thighs and butt, but mostly are the same blue all over except for the whiskered areas.
The Details – These jeans are minimal all over and don't feature any signature stitching or details as such, other than the shape and placement of the coin pocket. As you can see in the photo, it sits outside of the front pocket and is a lot higher up than usual, which I think is quite quirky. Other than that, the rivets, buttons, stitching, are all very complementary and fitting with the wash.
Overall Opinion – My overall opinion of AGOLDE is extremely positive so far. I love the way the jeans fit, and the fact the inseam is completely perfect as that's something that is usually off for me and my short legs, plus I think the wash is simply stunning in every way possible, there's not a fault to be had with these, especially with the price point, so I have no negatives what so ever. I'm getting used to wearing jeans again which are a little thicker in the denim, like these are, but if they came in an ultra thin denim too, like the Hudson Barbara in Hideaway, I would be all over that! But I do love the Sophie so much that I just purchased them in white as well! What do you think of these jeans?
Shop these AGOLDE Jeans at AGOLDE.com for $158

Jeans courtesy of AGOLDE/Opinions all my own.