Start your own denim brand with Sewport
Have you ever wanted to create your own denim brand, but you didn't know where to even begin? I know I have, numerous times, but it just seemed like so much work and I didn't have a clue where to start. That might be made a little bit easier now though since I was recently introduced to Sewport, an online platform helping brands find clothing manufacturers, which is designed to help you out and take some of the hard work away! They have the ability to bring increased visibility to new brands and emerging designers, help you turn ideas into products, and give you a community to connect with others, which I think is great. Finding the right manufacturers is often the hard part, so having them under one roof and matching up with the right one will definitely save time.
So, how did Sewport come about? It was quickly brought to their attention that both manufacturers and brands repeatedly face the same problems in the industry that hinder young entrepreneurship and stops start ups from flourishing. New designers have no connections in the industry and lack practical experience when it comes to speaking to manufacturers, whereas factories are frustrated that potential clients do not understand the concept of minimum order quantity and are surprised that sometimes there is a need for third parties and sub-contractors. With that in mind, Sewport was founded and now you can find everything under one roof on their platform and they will help you navigate through the production stages too. As this is a unique and original concept, we caught up with Boris Hodakels, the founder of Sewport, to find out more about the platform and how it can help you aspiring denim designers create your own jeans brand. Check out the interview below!
The Jeans Blog – Starting up a denim brand can be incredibly difficult on your own, how can Sewport help with that?
Sewport – It sure is. You need a design or to know how to design fashion items, cut patterns, source your fabrics. Then when you have all of this you need someone to make the sample for you, and if you approve the sample, produce it in bulk. Without getting into too much detail here, there are different layers of specialists involved en route from your concept to product waiting to be sold to your customers. What we do at Sewport is allow people to have all of this consolidated in one place – on a convenient platform where you can start at any stage and source any specialist, company or factory to do just about any service. Imagine a convenience store with all the sections.
TJB – How can you help with the manufacturing?
In the same way, brands can publish their projects which attracts manufacturers of the right type matching their business capabilities with what you need. It saves a ton of time vs emailing and phoning up tens or hundreds of companies looking for that right one. Instead, let the clothing manufacturers come to you. Isn't this great? And the best part is, as you publish your project and they agree to it, they already know what you need in terms of product or quantity. Now that does save a lot of time and leaves only some details to be discussed.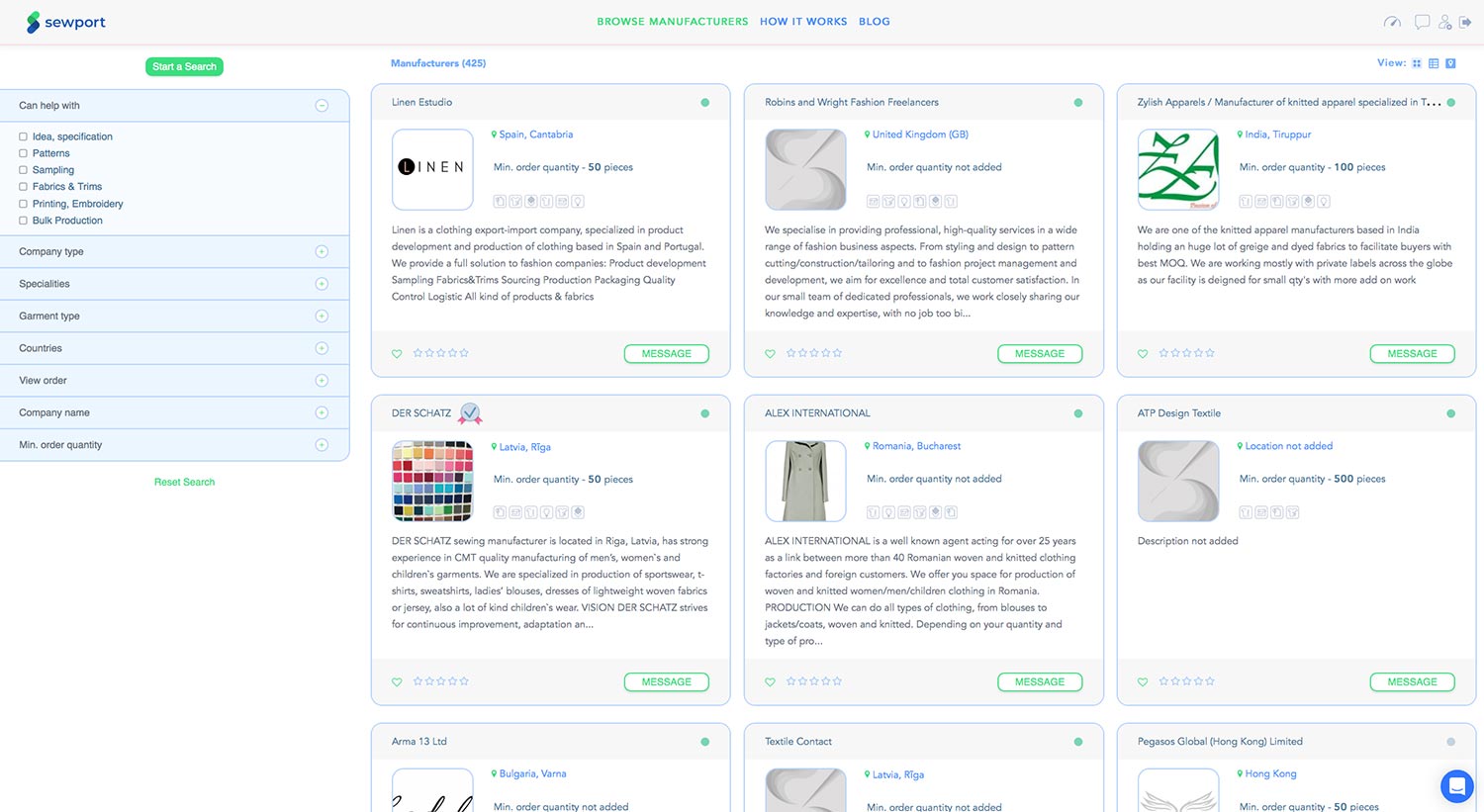 TJB – That's cool, it reminds me of LinkedIn, but for manufacturing. What are the important things to consider when working with some of the companies you connect a new designer with?
I have to say that different designers have different needs, obviously. The single best thing to consider then is if they understand what you need and if you understand what you need yourself. Be decisive about the project. Can't decide on style, colour, fit or trims? It's best you figure this out prior. Clothing manufacturers, if you work with them directly on Sewport, really just want to produce your items, they don't want to spend days or weeks designing them with you. You need a sampling studio or a tech pack designer for that. They want definite affirmative orders. Understanding this will make things smooth and easy for just about anyone.
Apart from that, consider that a sample will not turn out right the first time. Make sure you take a deep breath and provide feedback on improvements rather than losing your cool because they did not get the exact same item you had in your head.
TJB – That's useful! What would the process look like when using Sewport to start your own jeans brand from scratch?
Simple. Our users need to complete a straightforward question guided form where they describe what they need in 6 sections of product development. An elementary form really. We figure, if you can't go to the extent of putting your requirements on paper and filling a form out, you are not ready to run your garment business yet, so it's an important entry step. A 2-minute effort will be the minimum input.
When the form is completed, it can be published for other clothing manufacturers to view. We notify the most relevant ones by the criteria and data we take from your enquiry, as our matching algorithm works in the background to have factories and specialists contact you with their offers and fight for your business. You can also search out the most relevant companies or services for each stage as we show a checklist of specialists you will need and you can get the results on that search instantly and engage with them first. Then once you find the best fit based on the criteria that are relevant to you, e.g. location, price etc. you can order the services one by one from various specialists and companies step by step, or by finding a company that can do the whole process for you. We do have individual specialists for each step or companies that do full production too.
As you receive proposals, the terms, prices and payment terms can and should be negotiated as we allow users to pay through Sewport securely.
TJB – That sounds amazing. If someone isn't quite ready yet, do you have any tips that would be really helpful to someone setting up their first jeans brand?
Start with an idea. Then do a mood-board. Then make a sketch. Then get someone professionals to make a Tech Pack for you. Don't work without a tech pack. We have specialists and individual freelancers who can do the tech packs and professional designs for emerging brands. Would you dare to build a house without blueprints thinking "ah I'll sort everything as we go along?" In the same way, your clothing manufacturers are your builders, and they need those blueprints.
My second tip is sample until you are entirely satisfied with the way the product looks and feels. We have obsessive people who want the ideal result – I respect that, I'm wearing one of their items as I'm sitting here now. Why? Because they smashed it! That's what customers love in a new brand – style, fit and quality. Without those 3 I doubt a new brand will have returning customers.
TJB – Getting more complicated, what are the rough average industry margins for pricing for denim brands? I've heard before that it's a lot.

I hope this is not a secret I am giving away. This will probably shock some people and we are not talking about the absolute cheapest brands that work unethically, but probably 200%-700% in retail and 70-150% for wholesale.
This is the cost of making vs sale price.
Consider marketing, storage, shop space and owners and assistants labour costs cut in on the margins, but hey, with margins like these, if your brand takes off you are going to become very profitable.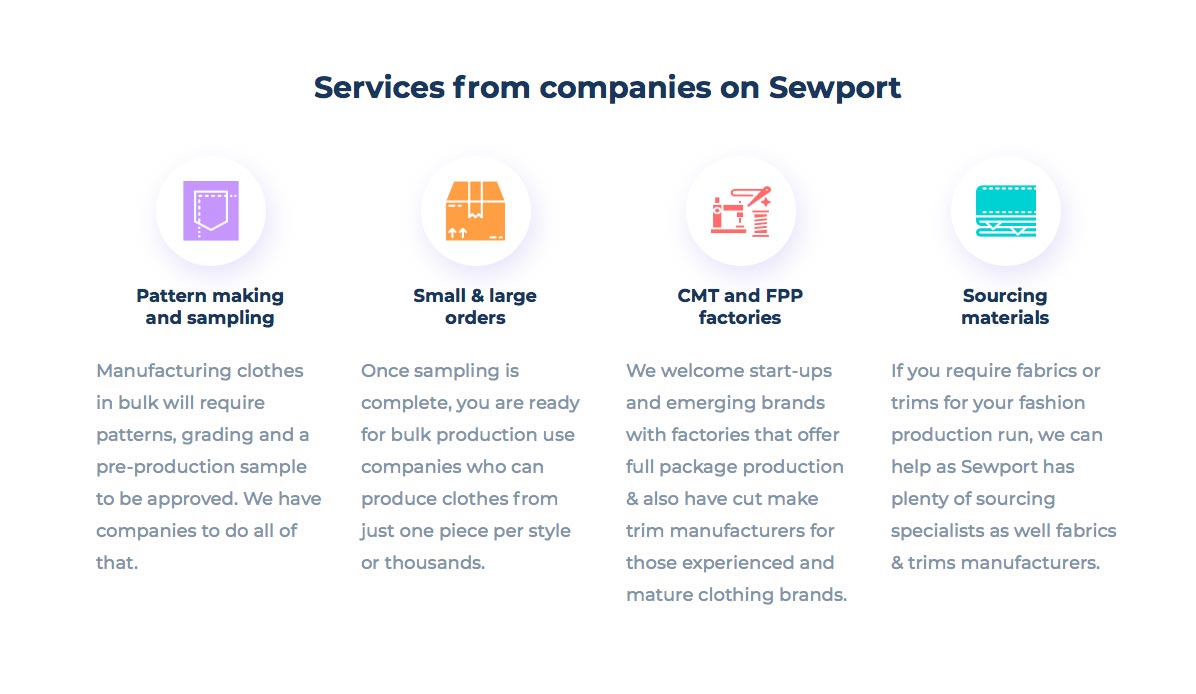 TJB – If one of our readers is looking to start their own jeans line, how long do you think it would take from design to production when working with you?
Working with close to home companies like EU for EU and US companies for the US will definitely improve lead time.
On average from what we see, and we see a lot:
– An idea to technical illustration – 1-2 weeks (including amendments)
– Pattern making and Sampling – 1-2 months
– Re-sampling or Sample amendments – 2-4 weeks
– Bulk production (depends on order quantity) – 6-12 weeks
TJB – Lastly, once production is finished, where would they go from there? Do you have other jeans brands you have helped as an example?
We do not handle any selling activities as we are a production platform. Building a brand is a different space and a different endeavor. We help build products and this is what we specialise in. We can help you get the finished product, you then just need to sell it.
TJB – Thank you very much, Boris! That's been really insightful and interesting.
So there you have it! If designing jeans is something you really want to do, or any clothing brand for that matter, definitely check out Sewport as they can help you with everything right up to the production of the clothing. All that's left for you to do then is to get your item in shops, or sell it on your own website. They literally take away so much of the hassle and effort that comes with creating a brand, especially denim, so I think it's a great step if you're in the process of trying to get your designs into samples, then into production. What do you think of the company? A platform to connect you to clothing manufactures all over sounds ideal to me.