I got the chance to catch up with the lovely Erika Stromqvist of STRÖM Brand Denim to see what the brands about, what her inspiration was, what's coming up for the new season and more! We have been spotting STRÖM Brand on a lot of celebrities lately, so I can see it taking off this year! It's already stocked on their own website with a price point of $179 – $300. As a denim blog owner, I can always appreciate the work and effort that goes into making a brand, so I'm quite excited to see where STRÖM Brand will take us! Check out the interview below!
The Jeans Blog: So for those who aren't familiar with STRÖM Brand, could you tell us a little about your brand in just a few short sentences?
STROM – STRÖM Brand is a Swedish/American denim based contemporary collection brand. Born in Sweden, Created in Los Angeles, and Made in America.
TJB – What inspired you to create the line?
STROM – Working in the fashion industry for 17 years and identifying a void in the market regarding what today's contemporary woman wants and needs.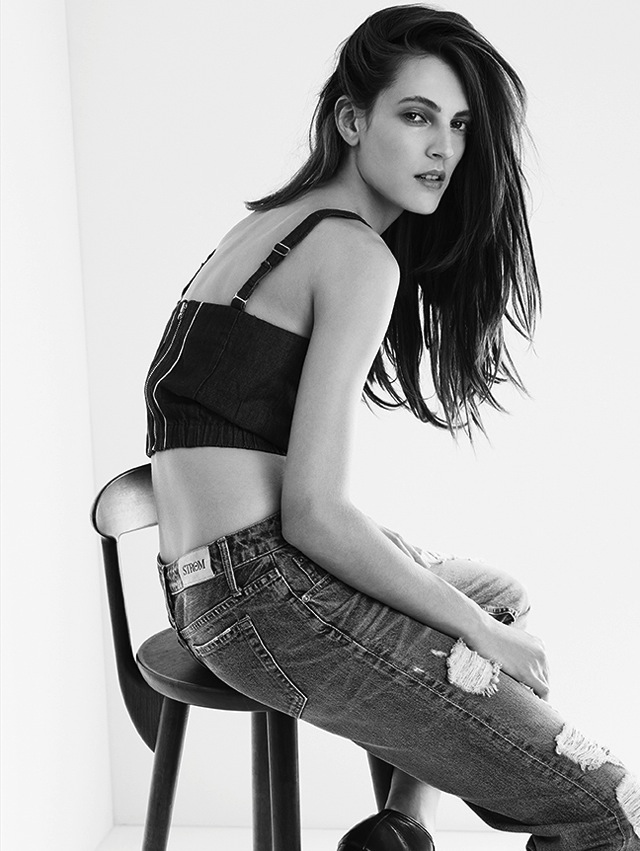 TJB – How does it differ from the others on the market?
STROM – I live and breathe denim so we definitely have heart and soul in our product. We manufacture everything here in the US and pride ourselves on working with only the finest fabrics and trims. I wanted to create a line that the women I was surrounded by and looked up to all those years in the world of high fashion would wear.
TJB – Could you tell us about your new SS'15 collection?
STROM – I used a lot of lighter weight fabrics that drape nicely on the body, selvedge denim and silk/cottons to create a nice balance between big volume and structured/constricted shapes. I stay away from themes for my collections, instead I take a more instinctual approach to what I feel in the moment.
TJB – What do you hope will be the most popular style from it?
STROM – Of course I have personal favorites but I stay open minded. I would like to see women move into more of the looser style bodies though I think it's very feminine and chic .
TJB – Where did you get your inspiration from for SS15? And who would be the ideal  STRÖM Brand girl?
STROM – My inspiration comes from many different places and spaces. My crazy mind! And any woman/girl who works hard for her dreams and dresses for herself and no one else – that's my ideal girl!!