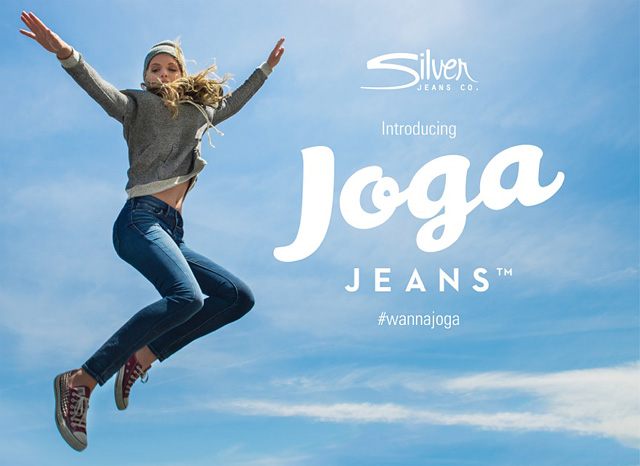 I got the chance to chat to the lovely Michael Silver of Silver Jeans Co. about their denim brand, history in the industry, their favourite jeans and of course, their brand new invention, Joga Jeans. These are a hybrid stretch jean, mixing sweat pants with denim and to the untrained eye, you wouldn't even be able to tell that they weren't a real pair of jeans! You can do yoga in them, hence the name 'Joga', and you can also wear them for the day and evening! You should definitely check out this exclusive interview from The Jeans Blog with Silver Jeans Co.! There's also a really cool video at the bottom of this interview showcasing the new campaign for the Joga Jeans! If you love them, don't forget that you can purchase Joga Jeans online at their website by clicking here too! Let us know what you think of them!
TJB – For those who aren't familiar with Silver Jeans, can you tell us a bit about your brand?
Michael – We are a 23 year old denim brand, part of a 93 year old family-owned company, Western Glove Works, that has been making jeans since 1921. We are privately owned and proudly Canadian. We pride ourselves on crafting every jean we sell with a passionate commitment to great fit, fashion and fabrics. We distribute all over the world and currently produce over 4,000,000 jeans a year.
TJB – What inspired you to start the brand?
Michael – We were a traditional family-owned manufacturing business that made jeans for other stores, licensees or other brands. 23 years ago we decided to take our technical expertise and love of jeans and put in all into a jean baring our own name.
TJB – What's your favourite thing about designing jeans and do you have a favourite jean you have designed so far?
Michael – Certainly our original "famous" jean the Frisco, one of the first woman's flare jeans with a contour waistband and hand sanding and abrasion comes to mind. We sold several millions of those and it really launched us. We try to make jeans for the average body type and average fashion sensibility. We never claim to be the ultimate fashion leader, but we love translating the current fashions trends into a more reasonable budget for everyone. Today I live in my Joga Jeans™, they are certainly the most comfortable pair we have made in our 23 years as a brand!
TJB – Where did the inspiration come from for that jean?
Michael – We wanted to offer people the ability to be as comfortable in their jeans as they are in their yoga pants, sweats or leggings. But we wanted it to look like the traditional jeans like we have been making for generations. Not everyone wants to look like they just came from the gym in their sweats, but we wanted then to feel like it. There have been some fantastic innovations in fabric over the last few years and we are finally able to find fabrics that looks and acts exactly as denim, but feel and stretch like knit .
TJB – Technology and fabrics are changing constantly, does this make you excited?
Michael – The innovations in the denim industry in the last 3-4 years have been fantastic and now denim mills are working on fabrics that allow the average consumer to enjoy what had only been available to the high premium denim market. Knit denim is not new to the premium market, but the average consumer was unaware due the high price and exclusivity of many products at retail!
TJB – Can you tell us more about your brand new invention called Joga Jeans?
Michael – We know there are lots of jogging style jeans with drawstring waists or knit bottoms. Additionally there are lots of jogging pants just using a "denim "looking fabric. Our intent was to create a true five pocket jean that, until you feel it, was completely indistinguishable from a regular denim jean.
TJB – The concept reminds me a lot of some other hybrid sweat pants and denim jeans on the market, like you mentioned, but what truly makes these different?
Michael – Firstly we use a specially created knit denim that has all the positive attributes of denim. It abrades, it fades, it allows us to hand sand and whisker. They have all the same stitching as a regular jean. We did not want to create a new fashion look. They have no clues to suggest they are sweats and they are not trying emulate yoga pants either.
TJB – What's the best thing about Joga Jeans?
Michael – Besides the previously mentioned authentic look to our Joga Jeans™ they can be worn in settings where sweats or leggings are not typically appropriate, dress up occasions, Joga Jeans™ with a nice camisole or top or blazer. Another great factor is the price! Joga Jeans™ range in price from $78 to 90 and that makes them far more affordable than many of the premium brands which retail at $150-350 dollars.
TJB – Lastly, please add anything else you want to mention!
Michael – We believe that the entire consumer has to try them on and they will no longer be changing into sweats or yoga pants, they will find out like I have, that they can essentially live in their Joga's!
TJB – Thank you so much!