Denimocracy always has some innovative and new designs with every new seasons collection. Based in downtown Los Angeles, the premium denim brand knows what its doing when it comes to fit, new technologies, washes and more! I got the chance to chat to Mary Ellen Moschetti, Denimocracy's CEO, to ask her about the brand, how it started, what inspires her and more! If you love denim then you should definitely read this interview! One of my favourite pairs of jeans/pants that I own is the older version of the Denimocracy Anarchy Knit in Onyx as they are so stretchy and comfortable, I can never get enough of them! You can also check out this Fall 2014 video on YouTube once you are done reading the interview!
The Jeans Blog – For those who aren't too familiar with Denimocracy, could you tell us about your brand?
Denimocracy – Denimocracy is a premium contemporary denim brand made in downtown Los Angeles using top of the line fabrics. We're known for our fashion and novelty styles with unique washes. We are also known for our Anarchy knit skinny, our best seller, available in classic black and the latest fashion colors and prints. They are constructed exactly like jeans but are super soft and fit your body like a second skin.
The Jeans Blog – What inspired you to create the brand?
Denimocracy – We wanted to create great fitting denim for all. We wanted to provide the customer with the most comfortable, easy fitting bottoms that feel like a second skin…comfort meets fashion.
The Jeans Blog – You have the Anarchy Knit jeans, which I love and are super comfortable, what inspired you to design these?
Denimocracy – We wanted contemporary knit bottoms that ultimately take you from the office, to your travels, to relaxed weekends at home. Our knit bottoms look like jeans and offer style and comfort that will get you out of your yoga pants!
The Jeans Blog – What would you say makes Denimocracy different to the other denim brands?
Denimocracy – Our denim and knit skinnies are the most comfortable bottoms you'll ever put on. Once you try them you'll be addicted.
The Jeans Blog – What would you say is your best seller so far?
Denimocracy – Again hands down our Anarchy collection. We also produce great classic denim such as the Luxe Skinny in rich washes and fun, playful denim shorts, but the Anarchy is our most popular style.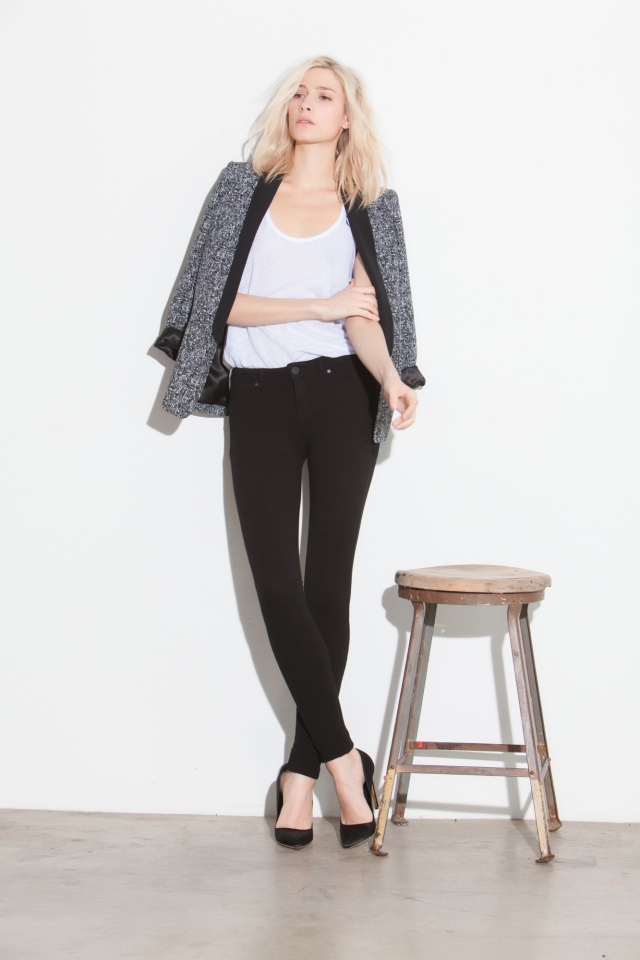 The Jeans Blog – Can you tell us what we can expect from your Fall 2014 line?
Denimocracy – The high rise is the new basic. We have the amazing Mason High Rise for under $100 in our Fall 2014 collection. Monochromatic prints are also big – our Anarchy in Night Owl has a great tonal metallic feather treatment on black, and our Luxe Skinny in Indigo Wanderlust is a tonal paisley on deep indigo blue. Metallics are also a popular fashion trend – our Anarchy Knit Skinny in City Lights has a beautiful metallic gold finish. Also the washed down leather look is one of this year's favorites – our liquid knits and denims look like leather but offer the comfort and breathability of a knit.
The Jeans Blog – Do you have any brand new styles that you are excited about/your personal favorite?
Denimocracy – I love the Anarchy Knit Skinny in Onyx Liquid Denim – the leather looking finish is amazing, comfortable and definitely on trend.
The Jeans Blog – Where did the inspiration for the Fall 2014 line come from?
Denimocracy – The Fall 2014 collection is inspired by treasures found at a trendy flea market in Los Angeles. Inspiration is taken from ornate tapestry rugs that tell a lifelong story: rich dried winter flowers, utility railroad stripes, and vintage jewelry in gorgeous jewel tones. Styles, fabrications, and treatments reflect a bohemian flare combined with a modern aesthetic. The color palette contains rich and rustic hues such as scarlet red, indigo navy and chestnut brown.
The Jeans Blog – Can you give us any clues as to what we might find in the SS15 collection?
Denimocracy – Look for playful punch colors in hot coral, limeade, and festival pink, pretty eye shadow colors in soft metallics with a powder finish, bright denim blues, distressed colors, and retro silhouettes. We have also developed a new interpretation of our best selling Anarchy offering a vivid knit indigo.
The Jeans Blog – Lastly, please add anything else you want to that wasn't covered!
Denimocracy – We are proud to make Denimocracy locally in downtown Los Angeles in the heart of denim manufacturing. Making our product in the US is important to me because we need to support our local economy. I love what the Los Angeles community contributes to the end product from the washes, dye houses, sewing, and trims. Being based where our goods are produced allows us to control these processes and the premium quality of our product.
The Jeans Blog – Thank you, Mary Ellen!