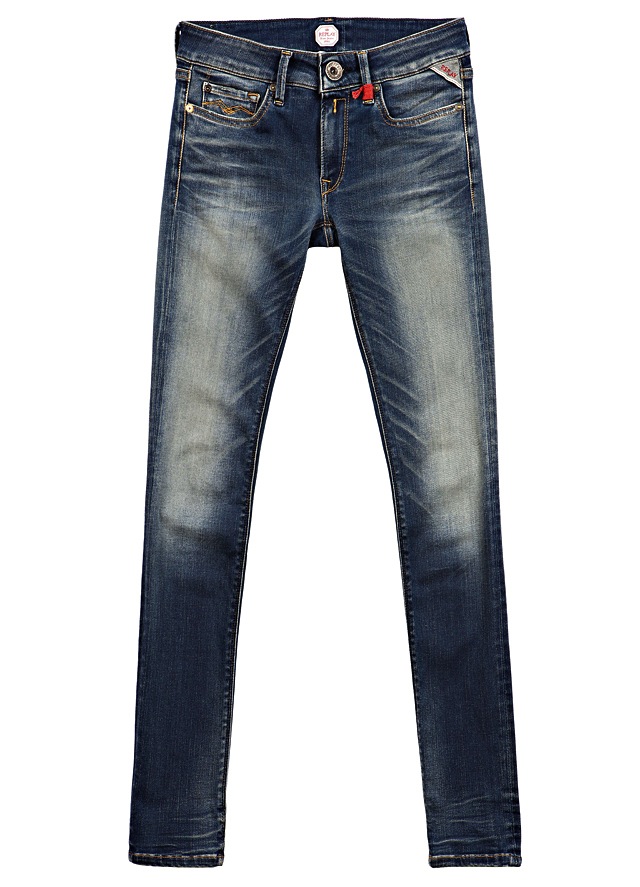 I got the chance to ask the Replay Design Department some questions about their new Hyperflex Denim. We recently saw Kate Moss wearing a pair while out with her husband in London and Alessandra Ambrosio is the face of their Hyperflex campaign, so I had to find out more about the jeans. As you can probably tell from the name, the Hyperflex jeans are Replay's newest super stretch, full movement jeans, so I wanted to find out what makes them different to the similar yoga style jeans on the market! The Hyperflex comes in both men's and women's cuts and washes, so I'm hoping we can feature them more here on new denim blog, The Jeans Blog. Check out the interview below!
The Jeans Blog – So tell us what the Hyperflex denim is exactly?
Replay – Hyperflex is a new range of innovative denim from Replay. Their main feature is the amazing flexibility and 100% stretch material that never loses its shape. They also offer great support, perfecting the overall shape of the body.
TJB – What inspired you to come up with the idea?
Replay – Research and development have always been core to our company. This new fabric excited us since the very beginning because we immediately understood we were dealing with an extremely innovative and super cool product.
TJB – Can we expect it to be a staple for Replay, coming in different washes each season?
Replay – At the moment, Hyperflex is available in three different washes. We've had a great response, so we are planing to continue offering new styles and washes. December will see the launch of Hyperflex in monochrome colours. For SS15, Hyperflex will be available in pop colours such as yellow, coral and blue.
TJB – Will we be seeing Hyperflex in different fits?
Replay – Hyperflex comes in 3 fits for women: the skinny, with distinctive biker inspired detailing, the super skinny five-pockets with snug push-up bottom and the straight leg. Guys can choose between a skinny low waist five-pocket jean and a slim fit regular waist style with softly tapered leg.
TJB – What makes the Replay Hyperflex fabric different to other super stretch jeans on the market?
Replay – The secret and innovation of Hyperflex is the special way in which the fabric is created, using a thread made of 3 layers: the core of the thread is the Lycra for elasticity; Poly defines the middle, protecting the Lycra from breaking with wash and wear; the top layer of cotton is what gives the jeans their authentic denim look.
TJB – Thank you! I hope we see more of them soon!