I got the chance to catch up with Scott Morrison of 3×1 to find out about their brand new Southampton Boutique which they just opened! They have their New York City flagship store which everyone knows and loves, plus a brand new Paris location, but it was time for the brand to expand. I also asked a few sneaky questions on what denim styles are going to be popular for them in the coming months! Check it out below! You can also shop 3×1 online by clicking here.
The Jeans Blog – So, can you tell us about the new store?
Scott – The Southampton space is very clean, modern, minimal design modeled off our NYC flagship in Soho, but with a bit more of a summer/beach feel. It's complete with our signature denim wall and an alterations shop in the back room.
TJB – What made you decide to open it?
Scott – We started looking early in the year for a space in Southampton in large part due to the fact that our customer is out East most of the summer and its a great chance for us to service them, and bring the 3×1 concept to a new audience.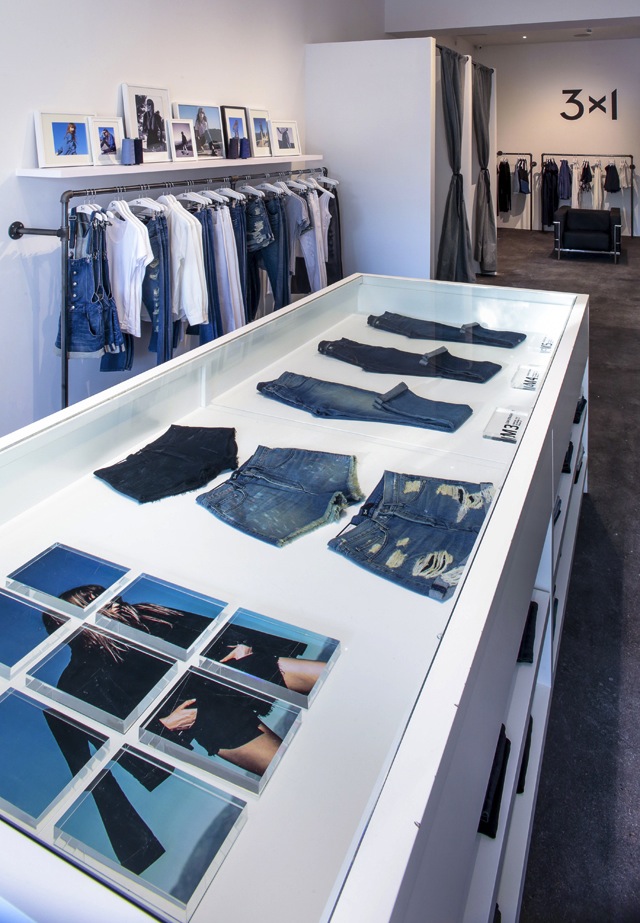 TJB – How will it differ from your other store?
Scott – The Southampton shop does not have the true factory component like Mercer, yet we are still offering our signature custom and bespoke services.
TJB – Could you tell us what type of bespoke and custom services you do? What can a customer have done?
Scott – We offer custom and bespoke services for both men and women. 3×1's Custom Made products ($525-750 USD) are made to order, and include time with a consultant to determine the customer's preference of back pockets, thread theory, and most importantly, denim. The on-site Bespoke service ($1200+ USD for the first pair) allows patrons to work individually with a bespoke specialist and pattern maker to create their own pair of jeans from start to finish. Custom and bespoke services will be completed within 2 weeks, for those out East for a short period of time.
TJB – 3×1 is a really inspirational and denim authentic brand, how do you make that happen?
Scott – Thank you for saying that. I think we've focused our energy on introducing customers to our world, the world of 3×1, and at its core is our passion for jeans making, quality, uniqueness and exclusivity. I think those ideas resonate with a lot of people, and as a result I hope we've inspired customers to think differently, especially when thinking about selvedge denim and the world of custom made and bespoke.
TJB – Do you have more plans to branch out in the future?
Scott – Absolutely. We've just opened two shop-in-shop's at Le Bon Marche in Paris, and our new shop in Southampton is our first standalone shop outside of NYC. There's a lot of excitement around our expansion, and I'm expecting that this is only the beginning!
TJB – What are some of your newest jeans that you expect to sell well this season?
Scott – We're very excited for our amazing lightweight chambray for women – which is available in a cropped halter top, gaucho short, culotte, and 70's style jumpsuit. We also have a great selection of chambray shirting and sunwashed colored shorts for men that are perfect for the season out East.