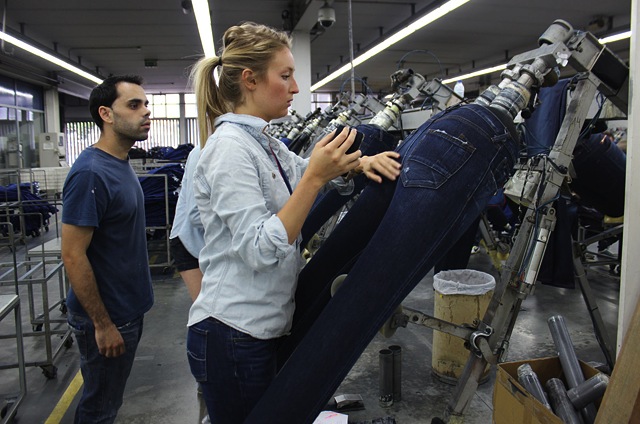 Learn how to design and make jeans with PRPS founder, Donwan Harrell
For all of you aspiring denim designers out there, The Jeans Blog has some great news to share with you! Donwan Harrell, the founder and denim designer of one of my favourite brands, PRPS, has created a new programme 'Jeanology'. Realising that as a past fashion design student himself, Donwan knew nothing about the denim industry upon graduation from the university, he was inspired to give back. Implemented at VCU in Richmond, VA, Donwan has brought to life a denim manufacturing and washing curriculum that he's instituted within the current fashion design program at the VCU campus.
"Most design schools focus only on pattern making, draping, and design theory and nothing on Americas 15 billion dollar denim industry that we've single handedly created. With my own personal success and experience over the last 20 years in the denim industry, I've always wanted to embark on a path which would also allow me to communicate to new, young, up and coming designers the skills I've developed within the trade. After continuing conversations with my Alumna at VCU for the last 2 years, finally I received the green light to teach an intensive course on the subject of denim manufacturing. I felt that it's a unique opportunity for students to delve into the intricacies of how to develop, design, and manufacture denim in the market place. Its the first program of its kind in the U.S. It turned out to be a success."
The course has already taken place over the course of a month and you can see just how it was scheduled and done below. I think it's absolutely fantastic and extremely unique. Denim is increasing in popularity as the years go by and making it a focus for design students was definitely something that was lacking.
Session 1 May11-22nd.
I kept this first initial student body really small with 10 students only and lectured for 2 weeks on denim history and fabrications. At the end of the 2 weeks was a test covering all history material. Utilizing samples from my enormous vintage library to site examples.
Session 2 June 1-5th
The students spent a week in my NY office to witness the operations of a successful denim company and were required to do research in the market on all competitive denim brands and complete a graded verbal presentation of what they saw.
Session 3 June 8-12th
Students were flown to a denim factory in Europe and briefed on all machinery, methods, applications, and were given a raw denim jean to creatively wash down to their desired specs. All industrial machines were available for their disposal to experiment and create.
If this is something that interests you and you would love to join up, the dates are exactly the same for 2016 so make sure you sign up for this ongoing 4 week curriculum at the University. It's happening every Summer starting every first week of May, so please get in touch with PRPS for their Jeanology programme at [email protected].
For those of you who aren't as familiar with PRPS as I personally am, it's the first company in the U.S. to manufacture and utilize Japanese denim in Japan with a strong premium U.S. distribution. The brand started in 2002 and has branded 2 divisions of product. "Noir Japan" as well as "Goods & Co". It's rare that I can come across a denim brand which pays as much attention to the quality of denim and craftsmanship as PRPS does, so they always sit highly on my imaginary denim shelf for that. They are currently stocked at Bergdorf Goodman, Ron Herman/Fred Segal, Saks Fifth Ave, Bloomingdales, Nordstrom, Niemans Marcus, American Rag, Atrium, Revolt and more. Don't forget to also follow them and keep up to date with their Instagram @PRPSJEANS as it's a great insight into the denim world.