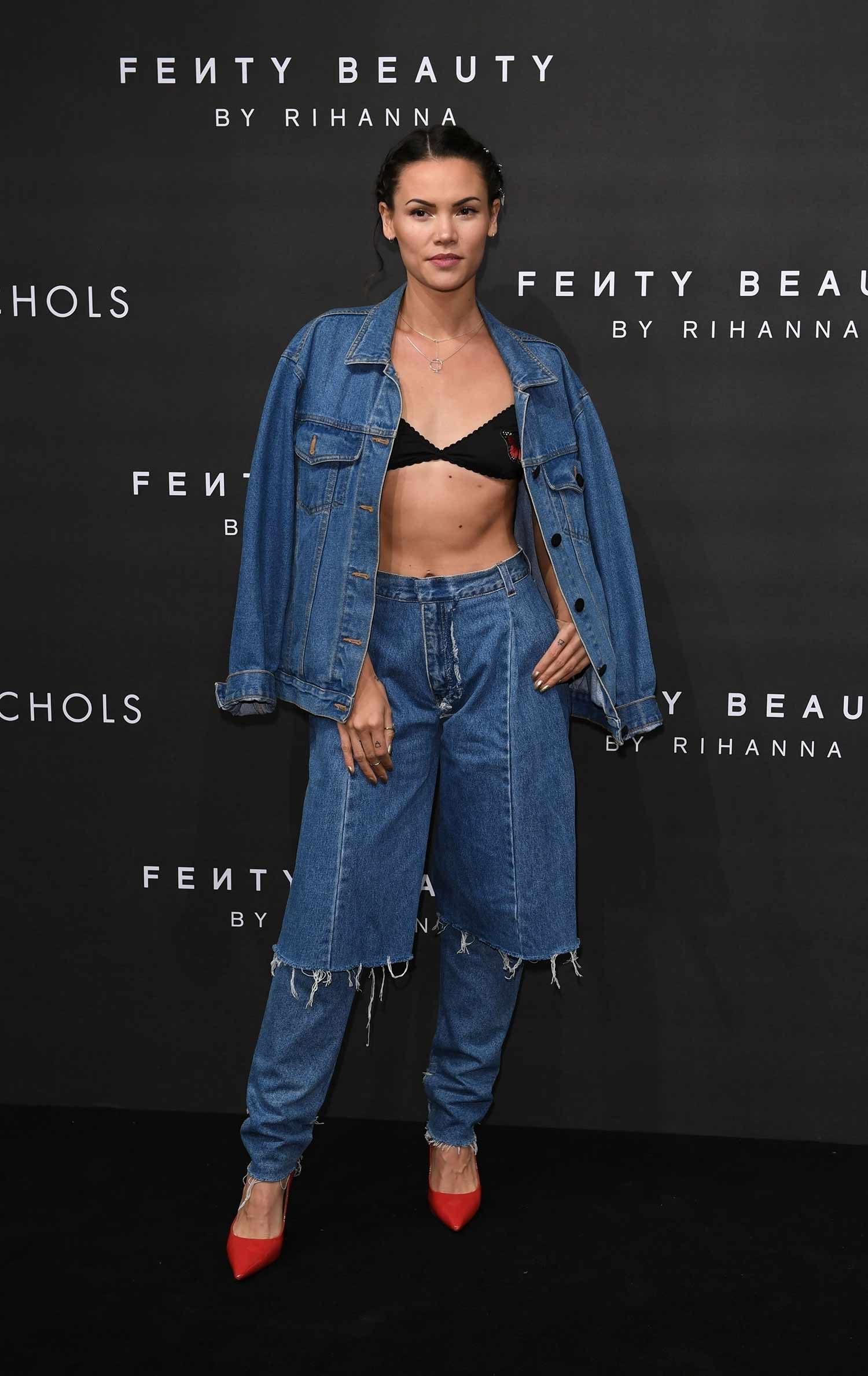 Now I'm not one to be completely negative and cruel, but I'm struggling greatly with these new denim trends that are cropping up and I'm finding it very hard to understand how they're considered cool or attractive. Sinead Hartnett is the latest celeb to jump on a crazy and ugly jeans trend while posing for photos at the Fenty Beauty by Rihanna event at Harvey Nichols in London, England.
Do you remember when I made this 'What Were They Thinking?!' blog post which featured the Ksenia Schnaider Dark Blue Demi Jeans? Well I didn't actually think people would wear them… Ksenia Schnaider have now released more of these double jeans, like this pair that Sinead is wearing here. They have a similar look, just without the undone hem. Their Instagram even shows numerous bloggers wearing these jeans as well, so I don't know what to make of it.
Sinead styled her Ksenia Schnaider jeans with a Take Two London Denim Jacket, a black bra, and a pair of red pumps. I mean the jacket could be cool on its own (the wash isn't very good though) and the red pumps are just fine, but this whole mixture together? I can only hope that this doesn't make it to one of the best dressed lists as I'm sure people are going to look back on this in a couple of months and honestly ask themselves what they were thinking with this outfit. I wouldn't say the jeans are bad enough to make it on the worst and craziest jeans list that I put together, but it's close. If any of you can shed some light on what makes these jeans attractive or cool, please do let me know as I don't feel like it's my age that's coming into play here. I'm still in my 20's.
See these Jeans at Shopbop.com
Image Credit: BACKGRID