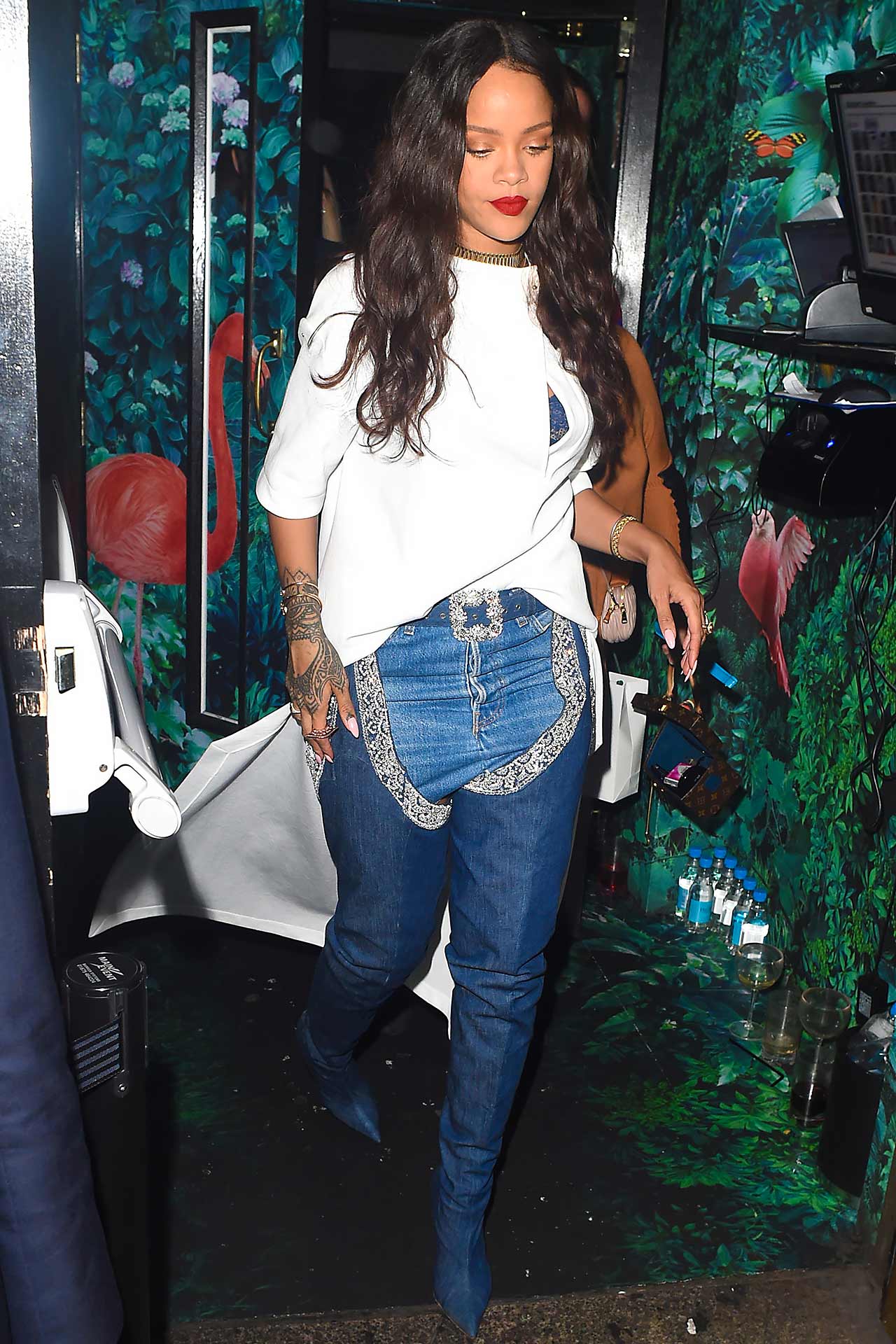 Style icon and singer, Rihanna, got pictured while leaving the Drama Park Lane after having a night out with some friends in London, England. She didn't seem to mind the paparazzi as she faced them with an outfit overloaded with denim. Have any of you heard her new song for Star Trek by the way? She's the latest celebrity to do the movie soundtrack.
Rihanna wore her Manolo Blahnik collaboration boots for the day: the 9-5 Thigh High Denim Boots. She styled these with a Levi's Denim Skirt and an oversized white top for her outfit. Now over the knee boots have of course been a winning trend for years, but Rihanna really did take it a step further with these boots as they come up to the very top of the thighs and feature a belt around the top, to hold them up, all while being encrusted with crystals. Someone at Racked recently tried these $4000 boots on, and I actually think they fit her much better than they fit Rihanna!
Since these Manolo Blahnik 9-5 Thigh High Denim Boots are made entirely from denim, I wouldn't have expected Rihanna to style them with a denim skirt as well, as it could have been too much denim. However, as it's Rihanna, she makes it work doesn't she? She has this way with denim where she makes it look so chic and flawless, even if she's coated head to toe in the fabric. I do think pairing them both with a white top was key though, otherwise it would have been overkill. What do you think of Rihanna in her Levi's Denim Skirt and Manolo Blahnik Denim Boots combination? Do you like it?
Image Credit: Xposure / AKM-GSI