The lovely 'Titans' actress, Minka Kelly, was pictured grabbing a healthy smoothie to go in Los Angeles, California a little while ago. She's currently in post-production for the drama 'She's In Portland' which is due out next year and I'm sure it's going to be amazing!
For her outfit, Minka wore a pair of the MOTHER The Stunner Ankle Fray Jeans in Graffiti Girl which she paired with a simple white cami top, some black mules, and a beautiful grey blazer that she threw over her shoulders. I find looks like this to be so chic! In a way, it reminds me a lot of an ensemble that Rosie Huntington-Whiteley or Olivia Palermo would put together, so I wonder if she was inspired by those ladies or she just likes this type of look?
How I feel about it is that the skinny jeans and tank top vibe is extremely casual, but throwing a blazer over your shoulders just brings it all together and makes it stylish, but it still has a laid back element because she's not wearing the jacket properly. I do this quite often for my outfits when I'm wanting something different. I often find the key to different looks is in how you wear the pieces, not just what they are and how they're designed to be worn. Details are important too as I think if Minka didn't have her hair in a bun and wasn't wearing the necklace, earrings, and leopard print sunglasses, it wouldn't look half as good. They really make it! It reminds me of the quote in 'Dumplin' where Jennifer Aniston says 'the difference between winning and losing is all in the details' and that's so true!
MOTHER Denim has been extremely popular over the last couple of years though, and rightly so as they have some amazing fits and washes, so it's no wonder most of the celebs wear them. The Graffiti Girl wash has always been one of their best sellers as well, which is why they have kept it in their collection as a classic. I've bought a few pairs over the last year and I like how they fit, I just wish as a brand they were more receptive to the press or bloggers, it's a shame when they aren't.
As we're approaching 2019 very soon, I am wondering what denim brands will be taking the crown next year. There's so many that take turns on having their moments and there's a good chance that it might be a brand that we already know, or something completely new. Or I wonder if there will be a new trend that's sweeping the denim world by storm? I'm often excited by the new prospects that companies have to offer, so I can't wait to see. Either way though, I'm sure the likes of J Brand, MOTHER and Citizens of Humanity will still be high up there! Anyway, what do you think of Minka Kelly's outfit? Do you like her MOTHER The Stunner Ankle Fray Jeans in Graffiti Girl?
Shop these MOTHER Jeans at Shopbop.com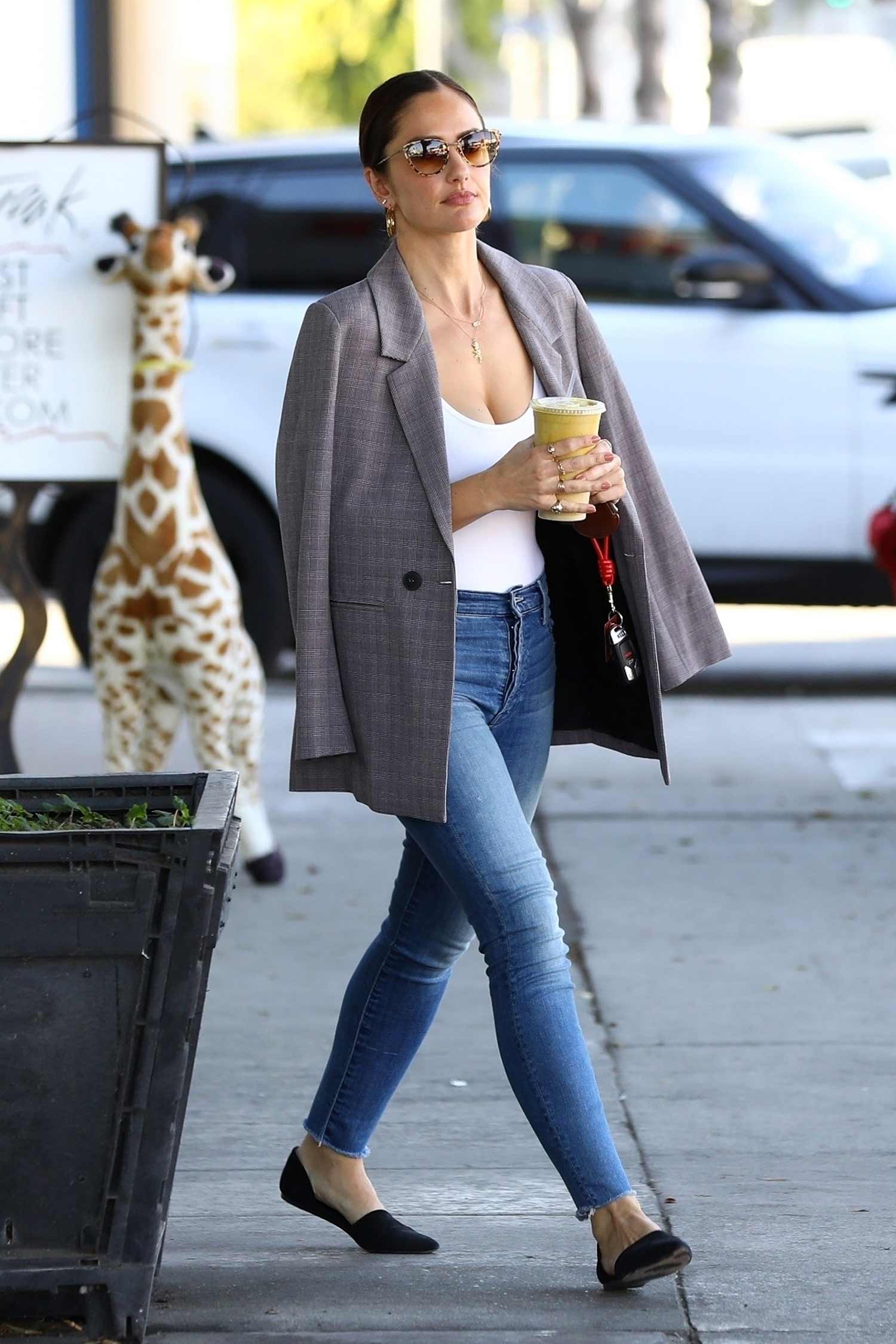 Image Credit: NEMO / BACKGRID