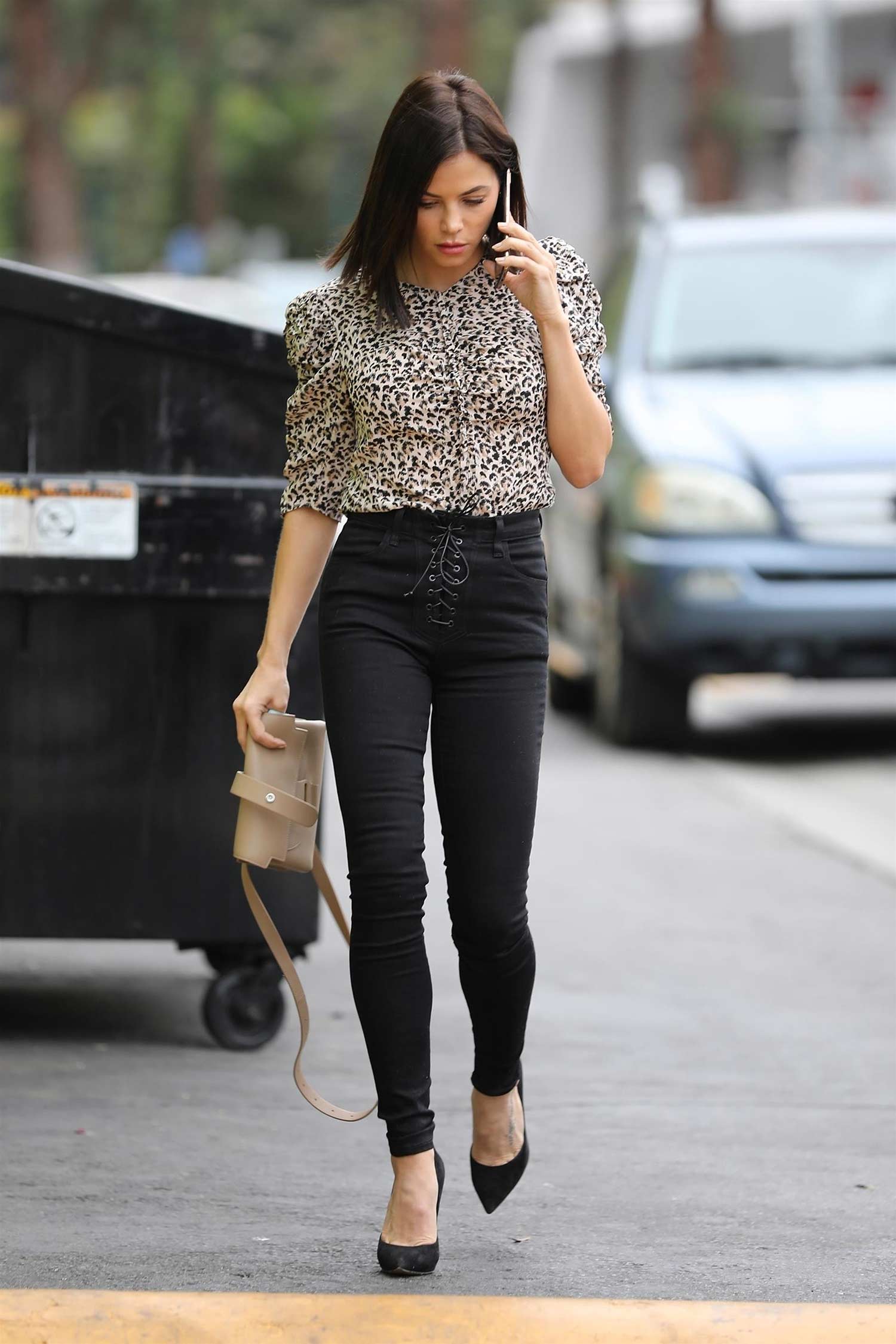 The ever gorgeous Jenna Dewan was seen chatting on the phone while running some afternoon errands around Los Angeles, California. Every time we see her out she's always dressed immaculately, and wearing the latest denim, so I often get excited to see what jeans she's donning!
This time, Jenna chose to wear a pair of the J Brand x Steph Shep collaboration jeans called The Little Black Jean (which come in a coated and non coated option, but the non coated version that Jenna has is sold out), and they're amazing! They feature the classic, high rise, skinny fit that J Brand has to offer, but they have a lace up front instead of the standard button and zip fly. Based on the measurements, I feel like they're modelled on the Maria which is one of J Brand's most popular cuts, but altered to fit the unique qualities that Steph wanted to go for with her design.
Jenna chose to pair J Brand's The Little Black Jean with a Rebecca Taylor Leopard Print Ruched Blouse, which I think just looks perfect, and then added on her Senreve Aria Belt Bag in a matching Taupe. To finish it off, she went with a simple pair of black suede pumps, but they have a pale gold heel which teams up perfectly with the rest of the beige shades within the ensemble. I have to applaud her for the attention to detail here as everything matches and nothing looks out of place, it all works harmoniously and has a wonderful, neutral colour palette.
I haven't personally tried the Steph Shep collaboration with J Brand, but if you have, I would love to know what your opinions are? One thing I have tried though is this Senreve Belt Bag. I own it in Burgundy and it's super cute, easy to wear, and very easy to use, so if you have been eyeing it up (it's pretty popular among celebs and bloggers right now) then I do recommend it. It comes in so many different colours so one will be suited to you, but I think neutrals like Jenna has chosen is one of the best routes to go down when it comes to needing a bag to match your denim.
Anyway, I'm going to finish this blog post in admiration, as I genuinely do love this combination, especially how she's combined subtle leopard print which is perfectly on trend, but has made it look classy instead of tacky. Hats off to you, Jenna! What's your opinion? Do you like it as much as me?
Shop J Brand Jeans at Shopbop.com
Image Credit: LESE/Seafon / BACKGRID
*This post contains affiliate links to help keep this blog running.