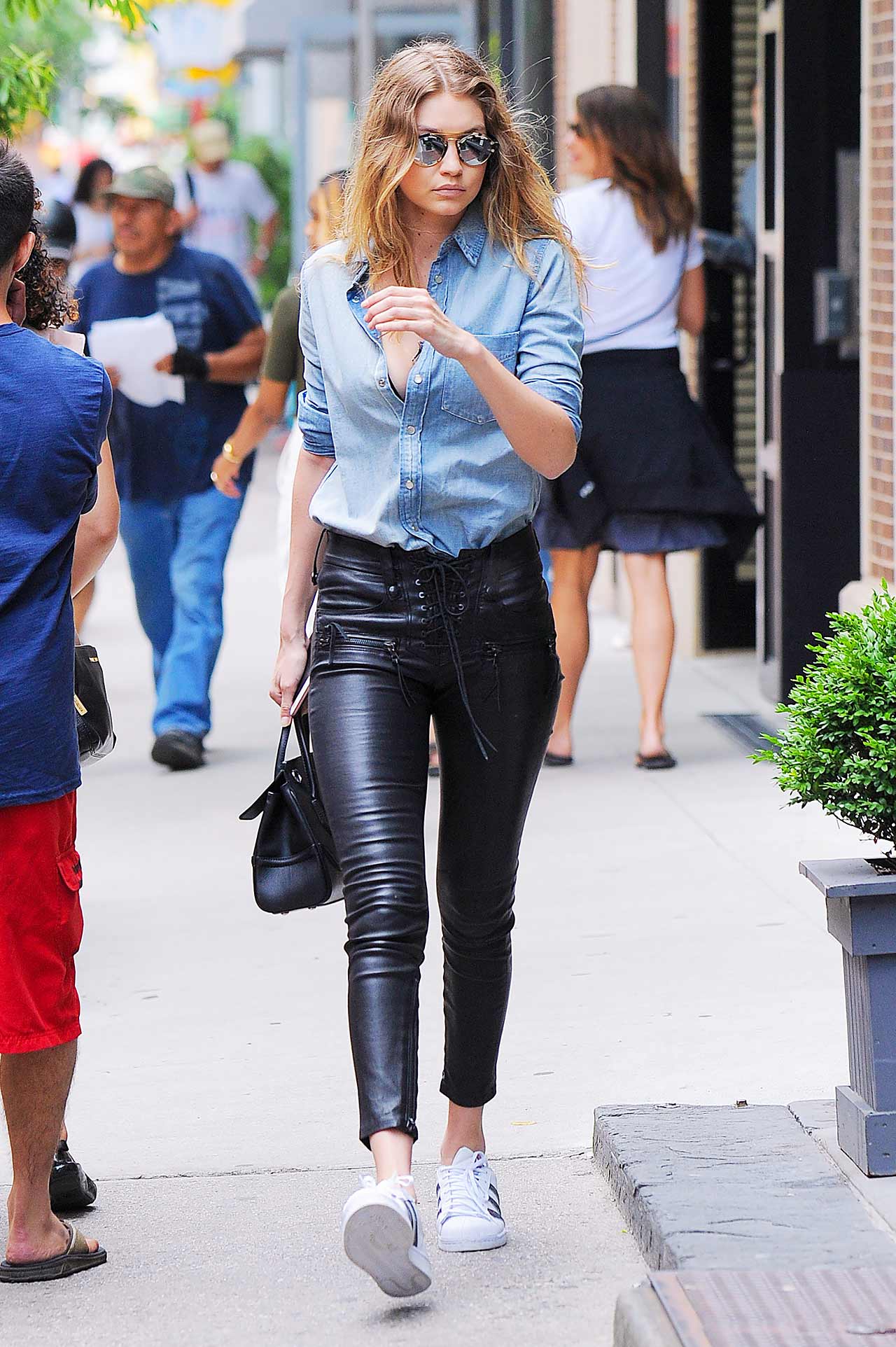 American blonde bombshell and supermodel, Gigi Hadid, was pictured out and about in New York City with a girl friend while running some errands. We see Gigi in candid snaps all the time and she's such a natural beauty, but one thing that always stands out for me, every time I see her, is her personal style. Even her casual and dressed down days are perfect!
This leads me to Gigi's outfit here. She decided to wear a pair of UNRAVEL Lace Up Front Leather Skinny Pants which she styled with a MOTHER + Jacquie Aiche Collaboration Denim Shirt and a pair of Adidas Superstars. All finished off with a little black tote bag and some silver mirrored sunglasses, ideal for spending some time in New York City.
These Lace Up Front Leather Pants from UNRAVEL are a newer style as we have mostly seen the Lace Up Flared version which has been extremely popular. I can't wait for these to become more widely available online (buy the denim version at FWRD here) as I'm sure we will be spotting numerous different celebrities out in this particular pair now that Gigi has shown how amazing they look. Some people might think they are too much with the lace up fly and the hip/ankle zippers all in one pant, but they are fantastic and Gigi shows that. These UNRAVEL leather pants can be styled any way.
Leather pants and denim shirts is always a combination that I am fond of personally, so I'm excited to see that Gigi chose such a fun denim shirt to go with a fun pair of pants. The MOTHER + Jacquie Aiche collaboration is one that has caught the eye of many people. The motifs and embroideries on the denim shirts are quirky, fun and entertaining, but they keep the stylish and classic element that MOTHER is known for, making it a match made in heaven. So even though there are smart aspects to this outfit, it's casual too which means the Adidas sneakers are the perfect choice in footwear.
Gidi Hadid truly does have a winning personal style and I can't recall seeing a look of hers that has ever looked bad, in my opinion. She knows how to get the right fits, how to play with different cuts and make them work for her shape. She knows how to keep her clothes feminine with the right mix of masculine. I love the fact that experimentation and trying such a diverse range of denim from brands all over the price scale is something she's into. It just goes to show how much she adores denim and loves trying new things. You can buy similar leather pants and a denim shirt from MOTHER Denim, both online at Shopbop.com. Do you like this denim and leather outfit on Gigi Hadid?
Image Credit: AKM-GSI.