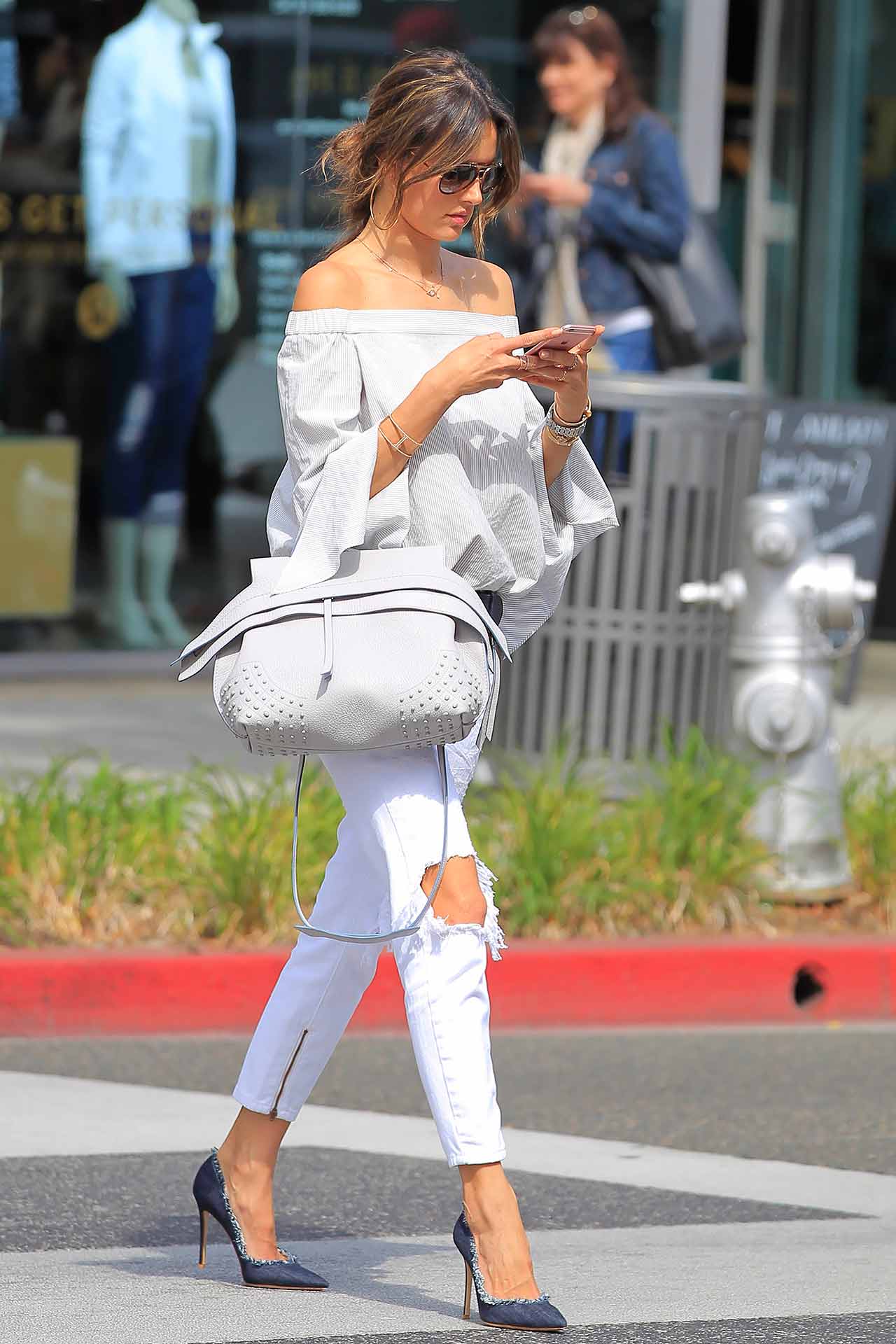 Brazilian beauty, Alessandra Ambrosio, stunned everyone in an all white ensemble as she was seen using her cell phone during a shopping trip in Beverly Hills, California. I wonder if she was sending a text or replying an email? As she looked to be concentrating hard while crossing the street.
Speaking of Alessandra's all white outfit, she traded in her usual RE/DONE Levi's Jeans and paired together the cute and fun One Teaspoon Freebird White Beauty Jeans with a white, ruffled tunic and a white studded tote. She obviously had to up her game though and decided to do a double denim outfit with a pair of Gianvito Rossi Denim Pumps as well. I think this is the perfect way to rock denim on denim, without it being too much. Don't you?
There's a subtlety and a touch of class that these denim heels bring to this outfit, especially since the jeans are quite casual. However, since One Teaspoon have made these Freebird jeans in such a clean, white wash, it really adds a classic, more polished vibe to the denim, so they aren't as easy going as they usually are.
Alessandra has created a fantastic pairing as it mixes chic, stylish, comfortable and elegant all into one, creating a flawless look. The pop of colour in the belt and the burst of blue from the shoes is just enough to make a statement. You can buy a top from One Teaspoon very similar to this one here, a clean white pair of Freebird jeans online here, and the Gianvito Rossi denim pumps here. Do you like her outfit?
Image Credit: KNNG / AKM-GSI