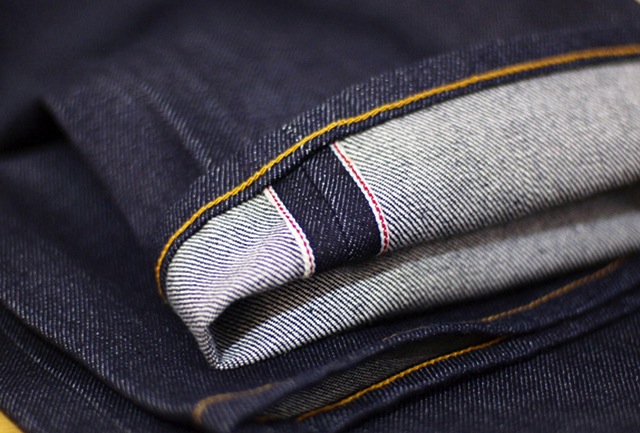 Raw Jeans For Women
Raw Denim for women has always been a bit of a talking point, purely because of the amount of times you have to wear the same pair of jeans without washing them. Raw jeans are mainly considered to be for the guys, the ones who don't mind getting dirty, however in the denim industry, it's actually creeping up more and more and raw jeans for women have become a little more popular and accepted. Not by everyone of course, but by a lot of people.
Since there isn't much online about raw denim for women, I thought it would be a good idea to share with you some of the top brands and pairs that are perfect for the ladies looking to break a pair in and leave their mark on jeans. When searching for raw denim, I mainly found posts related to men's jeans, but since I have a wide knowledge of raw denim myself, I wanted to share that with you so it can help you on your journey to creating your own jeans!
I will be making a separate post soon all about raw denim in general, including what it is, how it works and exactly what to do with it, but for now, this is just a post for the ladies! I will give you a few little bits of advice and that is remember to size down so they are uncomfortably tight to begin with, this is incredibly important because raw denim stretches out like crazy. If they fit you fine from the beginning, it's likely they wont after a few wears. Also, it's recommended that you wear them for as long as possible, Nudie says up to 6 months, before you wash them. The general rule is the longer you wear them before washing, the more intense the whiskering and fading will be. It's not as dirty as you might imagine, but if you are feeling like they are dirty, you can turn them inside out and give them a soak in the bath tub quickly, to avoid washing the indigo out.
I've personally had four pairs of raw jeans throughout my denim addiction and I am currently breaking in one pair. The pairs that I have had belonged to Cheap Monday, Good Society and Sling & Stones, but the current pair of raw jeans I'm wearing are the Nudie Tight Long John. These are unisex jeans and are one of the best, so without further ado, here are my top six pairs of raw jeans for women.
Nudie Jeans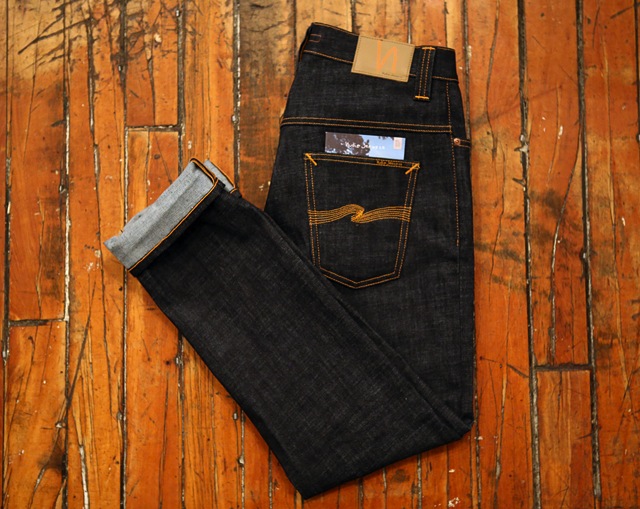 I have chosen Nudie Jeans as my number one purely because of how easy they are to get hold of and how well they break in. Everyone knows Nudie as a denim brand that makes amazing raw jeans and even though they don't have a specific women's line, a lot of their jeans are unisex and can be worn by both men and women. I mentioned above that I have the Tight Long John in Dry Organic Twill and those are breaking in really nicely! They also have the High Kai and the Skinny Lin, both of which are unisex too and skinny enough to work for the ladies. One of the best things about Nudie is the fact that they have a lower price point for their raw jeans, they often come in at around £89 and the skinny styles that I mentioned have stretch to them. This means you wont be uncomfortable and feel like you are walking around in a pair of cardboard jeans! Trust me, I've been there! You can shop all of the Nudie raw jeans online by clicking here.
Pure Blue Japan Jeans
Pure Blue Japan is my second choice as I have heard so many amazing things about them. I've chosen to highlight the purple pair here as I think they are incredibly cool, I can only imagine how beautiful these will look once they fade and break in with the purple showing through! The skinny raw jeans from Pure Blue Japan are made specifically for women and have a higher rise as well as a good amount of stretch to them. They are a thinner denim too when it comes to raw jeans so they are easier to wear around without restriction. Not to mention they are made incredibly well and have gorgeous details! I've seen some amazing fading after months and years of wearing Pure Blue Japan, so they are definitely a great pair of raw jeans to choose! They are a little harder to get hold of, but you can buy them online by clicking here.
Sling & Stones Jeans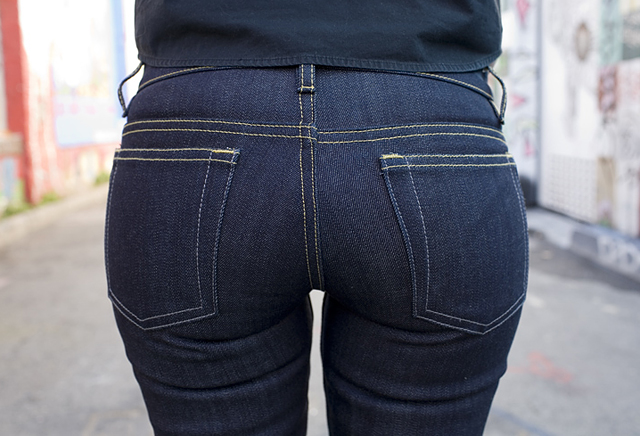 Now I mentioned above that I had a pair of Sling & Stones jeans that I was breaking in. I had one of their original slim jeans in a 14oz 100% cotton blend with the inverted yoke, however they ended up stretching out too much and becoming too big, that's why I had to retire them before they ever got a great amount of fading (I never sized down). The brand is fantastic for making organic raw jeans with gorgeous Pima cotton blended in, so they are soft as well as great for wearing in. Sling & Stones retired the older version of their jeans and brought out the newer raw jeans for women with stretch, like these Naomi jeans above. They are still a really great quality and fit, however they are more comfortable to wear and they wont lose their shape as much. These are another fantastic pair of jeans to get hold of, however they are quite rare so you can only find them on Self Edge by clicking here.
Samurai Jeans
I'm sure you might have heard quite a bit about Samurai jeans if you have been doing research on raw denim, so they come in at number four for me on the list. These are more like the cardboard jeans I was speaking about above as they have a 16oz denim weight and are 100% cotton, so they are going to require a lot of breaking in and stretching out. The best thing about rigid raw denim though is that it tends to break in a lot better, the denim creases and holds as well as fades nicely, so they are better all around if you want amazing wear, but they are not the nicest to actually wear. I find them quite uncomfortable, restricting and awkward, but if you can handle it, they are definitely worth it! Plus, the plaid pocket lining is a nice little touch! Just remember to size down though because they will stretch out at least a full size, if not more, so you will be really restricted at first. You can get these online by clicking here.
A.P.C Jeans
Now in fifth place is the A.P.C Petit New Standards for women. These are men's jeans, however I know a lot of women wear them too as they have a unisex fit, a bit like Nudie. They are 100% cotton with a 12oz denim, but they aren't as slim as others. I would class them as more of a straight leg since they have a 14″ leg opening. A.P.C is a brand that is favoured by so many in the raw denim world though, they are known to fade and whisker incredibly well and are really easy to get hold of in comparison to others, it just depends again if you like the idea of rigid jeans which are quite restricting to begin with. If you are a true raw denim enthusiast though, you will. Just remember again to size down and you can buy these online by clicking here.
G-Star Raw Jeans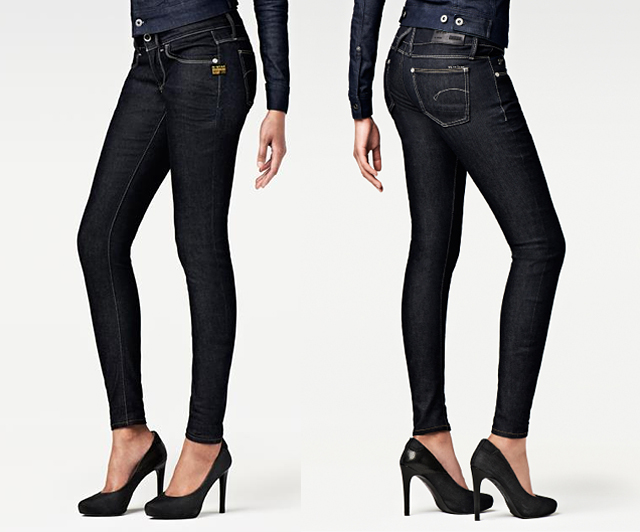 Finally, we have a pair of G-Star Raw skinny jeans! I put these last purely because they aren't as 'raw' as the other pairs that I have included. The denim is 10oz, so it's lightweight and it's extremely stretchy and skinny, acting like a regular pair of skinny jeans. I spoke to G-Star about these as I wanted to find out if they would fade as well as other raw jeans for women, and they told me that despite the high levels of stretch, the denim stays quite rigid due to being heavily starched, so this should improve the staying power of the creases quite significantly. They are raw purely because they are untreated and in their natural colour, but it depends purely on how much you are going to wear and wash these jeans in terms of how they fade.
Of course the rigid and heavier weight denim would fade faster, but if you are planning on having a pair of jeans to wear all the time, these will eventually break in nicely! I would probably recommend this G-Star Lynn skinny jean to those of you who love a super skinny fit and want a high amount of stretch too, these would be a great first pair of raw jeans to transition into and see how you get on with, they also have a lower price point of £99. You can buy them online by clicking here.
So, this rounds up my raw jeans for women post and I really hope that you found it helpful! Like I said, I have been breaking in raw denim for years and am quite passionate about it, so if you do have any questions regarding raw denim, please just leave a comment below and I will get back to you! If you loved this post, feel free to give it some love with the social media buttons below too! Happy raw denim day to you ladies!
 Images courtesy of 32Jeans, Blue in Green, Self Edge, Mr Civillized, Marcus Troy, Revolver Project and G-Star.