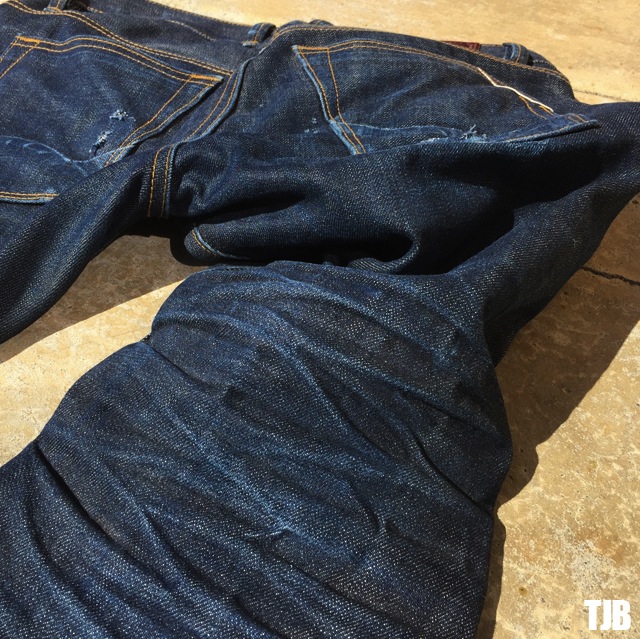 Is Raw Denim for You? I recently had a chance to break-in a pair of Cult of Individuality raw denim jeans for 6 months and I've written down some tips on how to create a future vintage look.
Adding raw appeal to your wardrobe is a great way to showoff your personal style and create something unique. It becomes a relationship where time matters less other than counting the days, years or longer since the last wash. Rather it's about the journey that gets them a step closer to vintage. All the whiskers to combs will have a story of their own. Who gets to know is up to you, and that exclusivity might be the best reason to wear raw denim.
1. Decide on a style that best complements YOU so that you'll want to wear them often. I picked Cult's Rocker Slim because skinny jeans are my favorite.
2. What about sizing? Forget what others say and size down instead. The tighter fit makes it easier to create outlandish creases, especially honeycombs.
3. If you didn't size down, you can still achieve a tighter fit by soaking them in hot water for a few hours, then carefully hang to dry prior to your first wear.
4. Can you handle six months without washing? You should wait at least this long before washing with soap and water. It sounds daunting at first, but after a few weeks, you will discover how easy it is to unlearn when to do laundry!
5. Cleaning tip: Roll them up and put them in the freezer overnight instead. Sub zero temperature has a way of deodorizing denim, leaving them fresher the next time you put them on. Maintaining your cool has never been easier, literally.
6. Unleash the artist within you. Treat your jeans as your canvas and paint your tale with shredded knees, torn pockets, and deep fades. Show them off or go and create more. Rip and repair. Which leads me to…
7. Be brave. Be unconventional. If you can clean by deep freezing, imagine what microwave radiation can do? For about 45 seconds, you can safely heat up your jeans in a microwave to disrupt the indigo bond in the denim to get faster fades.
8. Rub coffee beans on your jeans? The acidic nature of coffee beans possess fading properties. Take a handful and rub them onto targeted areas. Once enough, pour near boiling water over the jeans.
9. The first wash: If you're using a top load washer, skip the end spin cycle to prevent vertical lines, gently squeeze off excess water by hand, then hang to dry.
10. Want holes? Save yourself from scrapes and re-create those holes like they were meant to be there. Here's a fun and original way to get that vintage detail. A throwback to stone washing, I used rocks to brushstroke natural wear and tear into the denim. You can speed up creases and fades too by giving it a good rub. Once it frays, start picking on the loose threads to form holes of any size.
The reward: 6 months and one wash. Broken-in with unique characteristics, my cult of one, named Honeycomb OG. You can see how they turned out in the photos here, I would like to know what you think of their 6 month journey. Also, take a look inside Cult of Individuality's Spring 2016 lineup to preview their colorful, vintage inspired collection and maybe even try out your own pair of raw jeans to break in.