10 Statement Jeans For Fall 2019
Isabel Marant Etoile Neko Cargo Jeans
Dad jeans and Mom jeans are still trending, camo print is quite huge, paper bag jeans are a thing with the drawstring waist… but denim isn't stopping there. I remember when there were just a couple of trends at a time, usually based on fit and prints, but these days anything goes, at any time, so we are left with a mix of classic jeans all the way up to the most bold and crazy pairs you can imagine!
I've rounded up a list of 10 statement making jeans for you that you can wear during the Fall months, if you're brave enough and into fashion, it wont be an issue, but for those of us who love the classics, you can just admire from your screen! I can definitely see these on the street style stars next month during Fashion Month, especially in London and New York!
The pair of jeans above by Isabel Marant are quite cool though, they're really bold, and not made for flattering purposes, but styled with the ankle heeled boots, I could see these on the likes of Hailey Baldwin or Gigi Hadid and they would rock it! What's your opinion of them?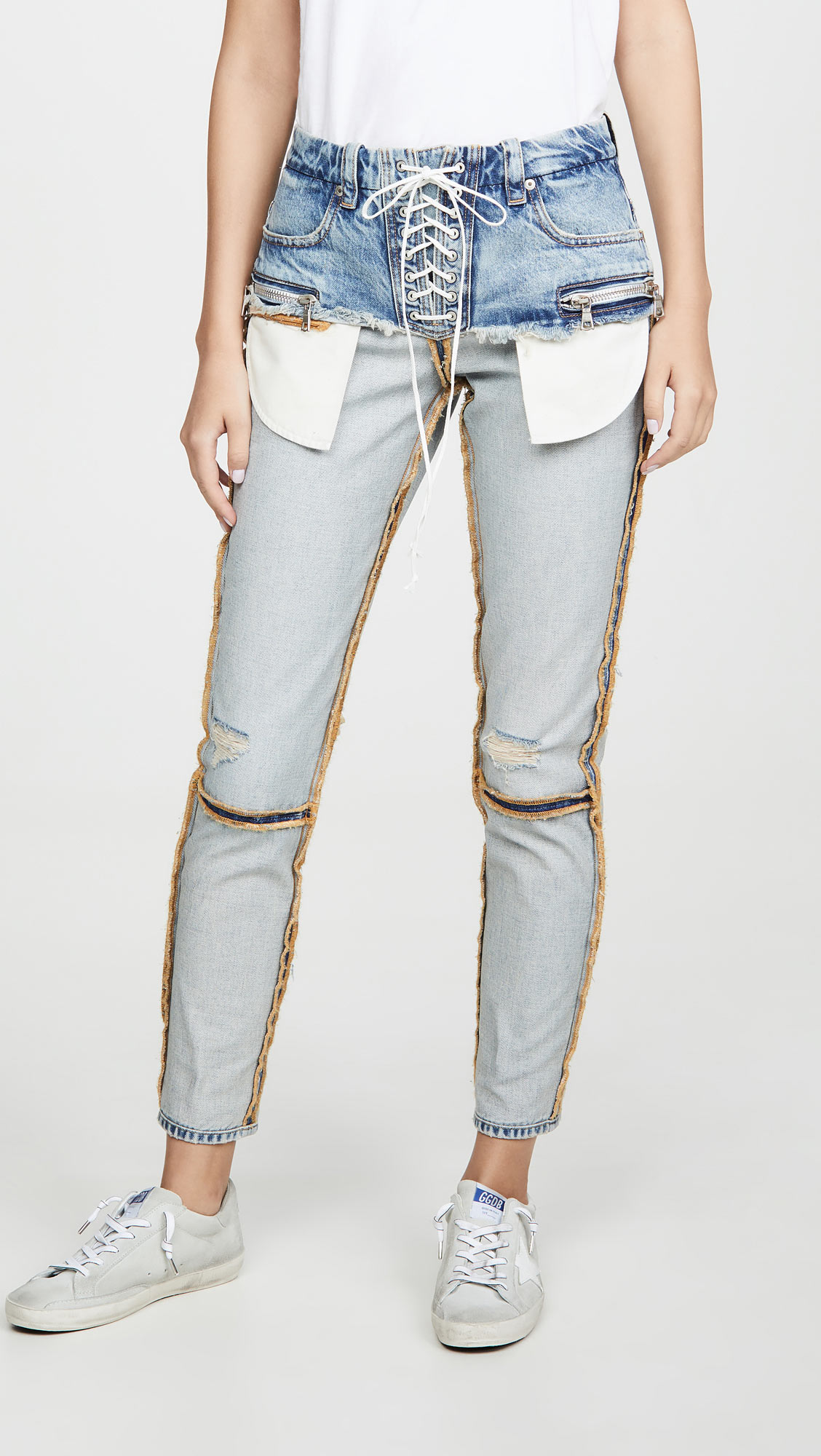 UNRAVEL were a trend for some time when they released their lace up leather pants that everyone loved, so it makes sense that they're doing well in the denim department too. These jeans are inside out, mixed with the right way round, with the pocket bags showing, and the lace up closure. They're incredibly unique and I have to say that I haven't seen anything like these at all!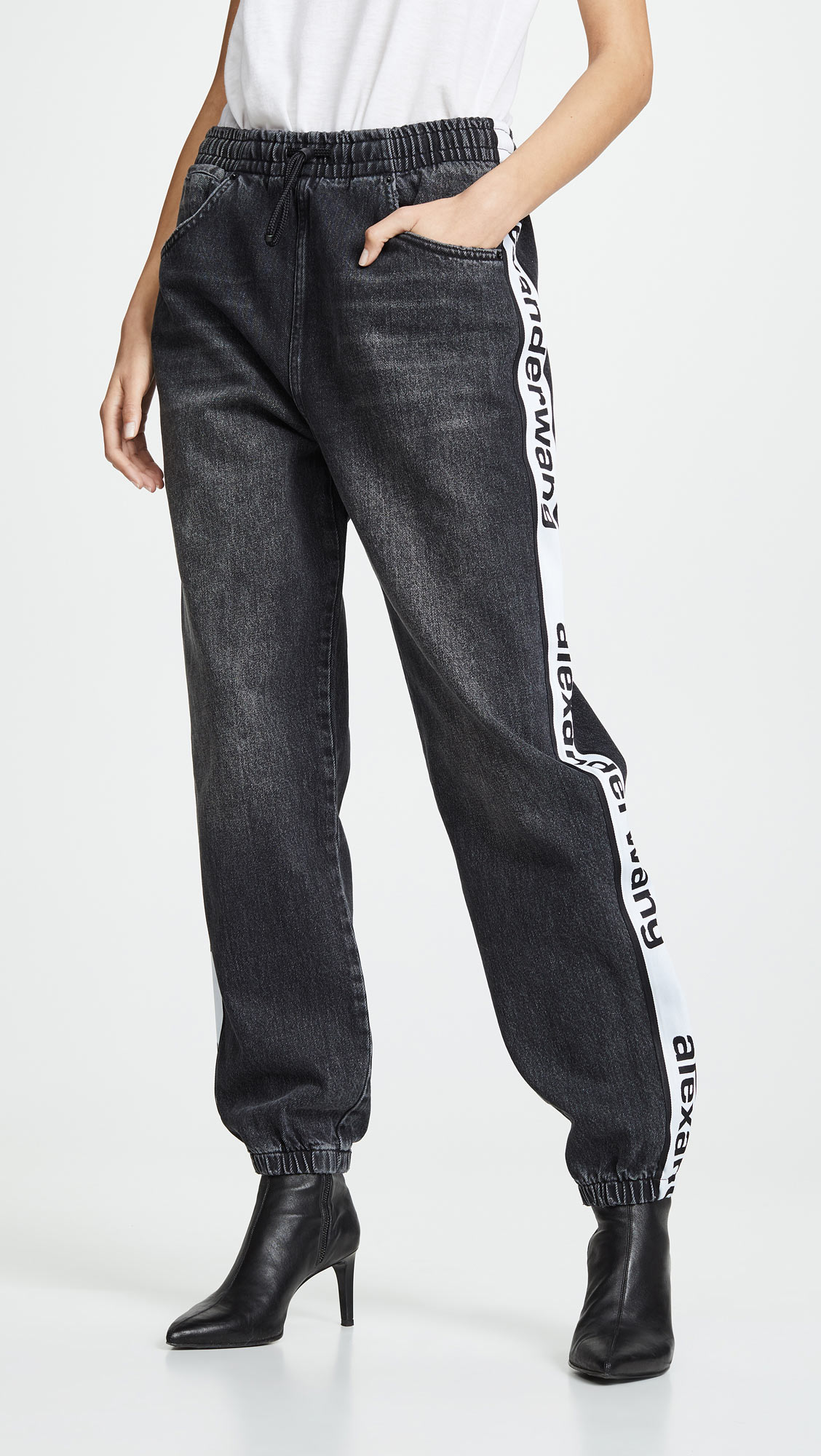 Alexander Wang is known for creating casual wear, so these track pants made from denim are quite cool. The logo stripe down the outerseam is what makes these cool though. They're definitely a pair I can imagine popping up on influencers from all over!
If you're still a fan of leopard print, 7 For All Mankind has you covered! They've combined a really strong print with intense orange hues on their kick flare jeans, so you'll be trending in more ways than one. Due to the colour palette of these jeans, I think they're perfect for the Fall months.
Again, if you're into cargo pants and that trend, these Miaou jeans might be for you. They remind me a lot of utility work pants, and have a very retro 90's vibe, but it could work. They're wider legged so you would probably need to style them with heels, unless you have extremely long legs.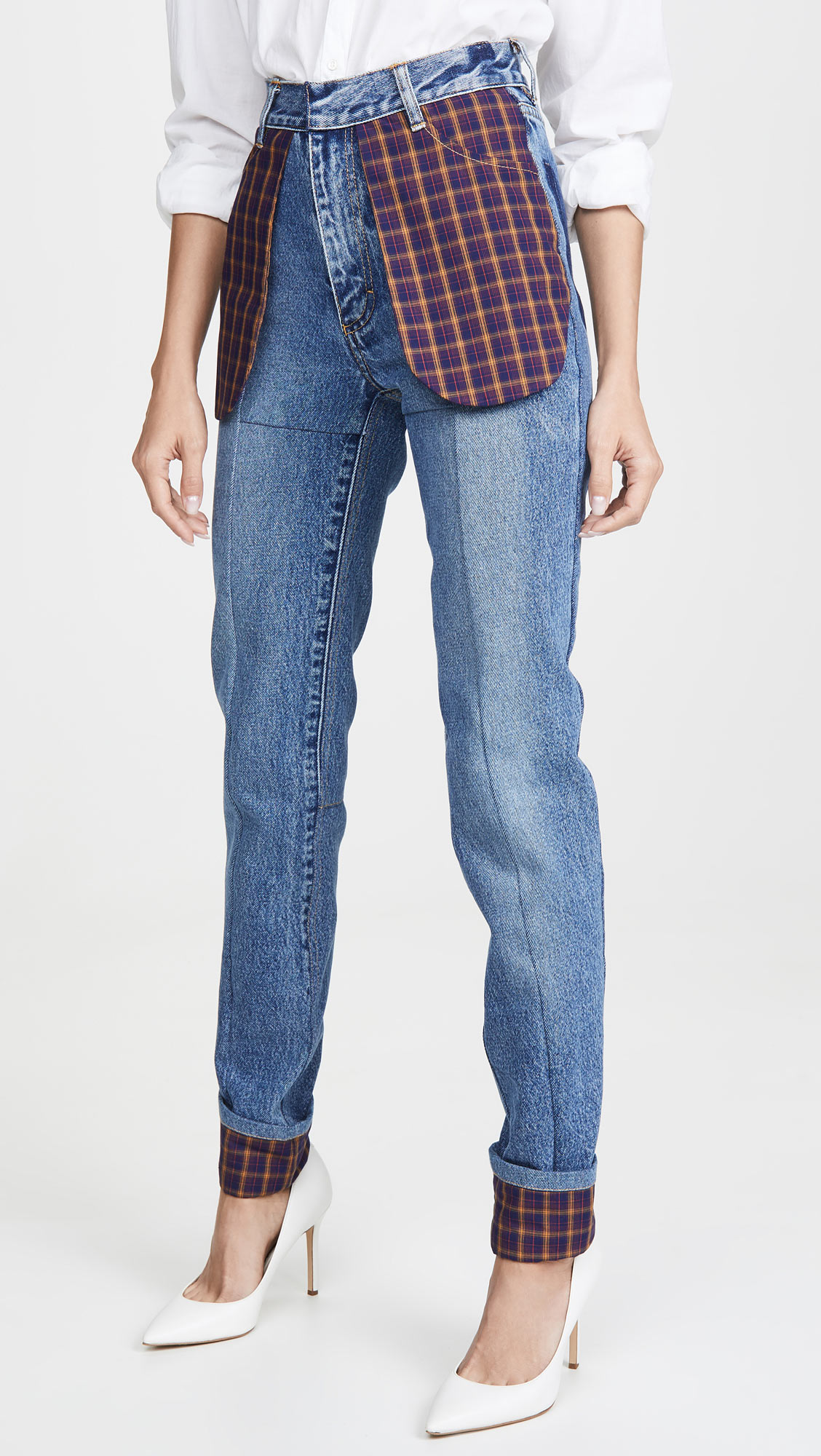 Similar to the UNRAVEL jeans above, these Ksenia Schnaider jeans are unique too. They give off the appearance that they're inside out, but they're not. They feature oversized plaid pocket bags on the front of the jeans and matching cuffs, along with some twisted seams. Again, I could definitely see these on Gigi, Hailey, and even Kendall Jenner. Those girls would pull these off well!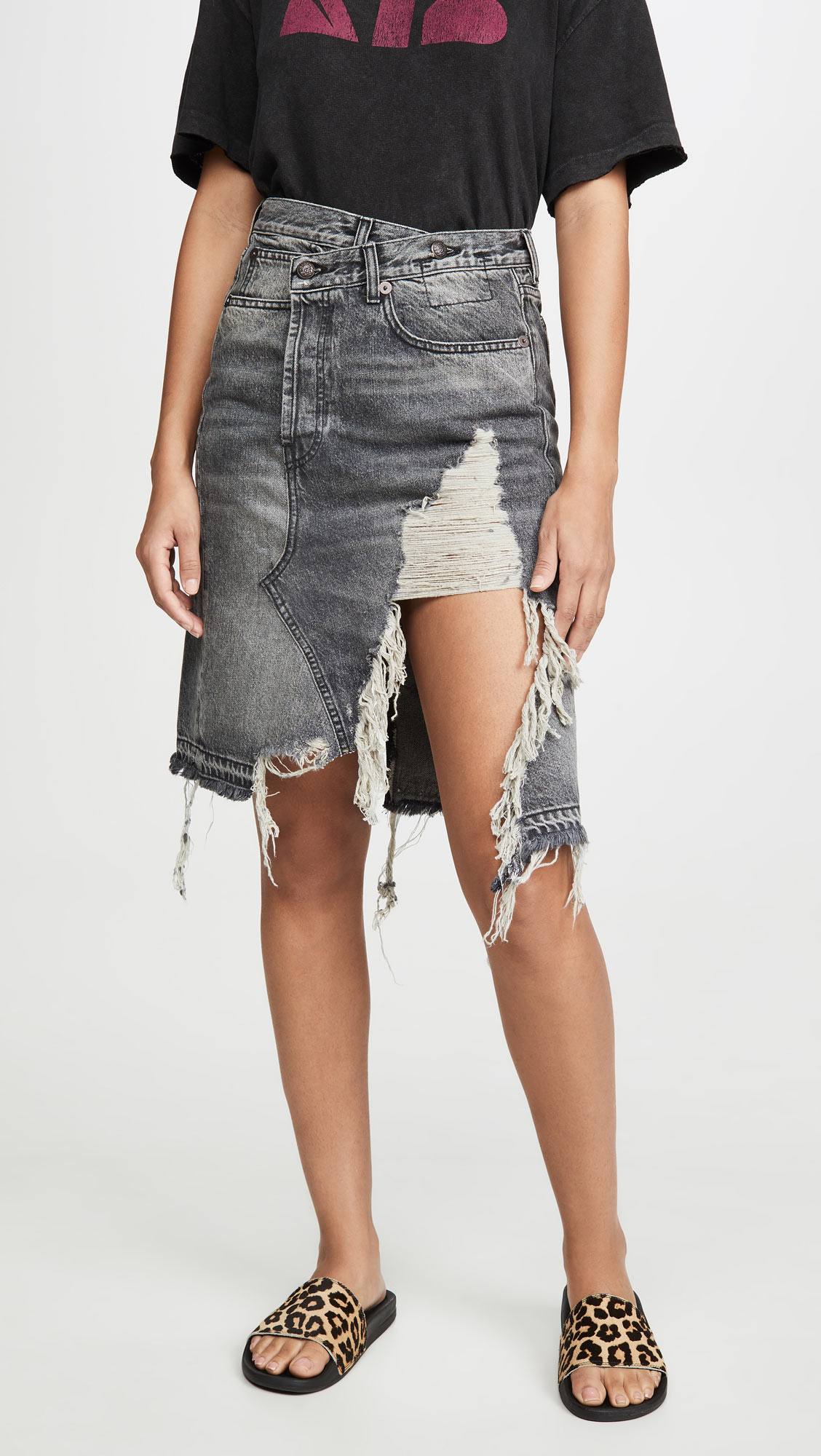 R13 are known for making shreds and waves in the industry, so their new grey denim skirt was no surprise to me. I quite like the cross over waist band here too, as that's a trend I've liked for a while. I'm thinking this piece with some over the knee boots and a shirt would be very cool during Paris Fashion Week.
Two tone denim is a thing again! Remember when it was trending a couple of years ago thanks to RE/DONE? Well it's back now! I've spotted a few versions, but I thought this E.L.V pair was the best. They're really bold and make a statement, so go big and style them with other extreme items, or keep it simple and let them be the focal point. I find them quite versatile in that respect.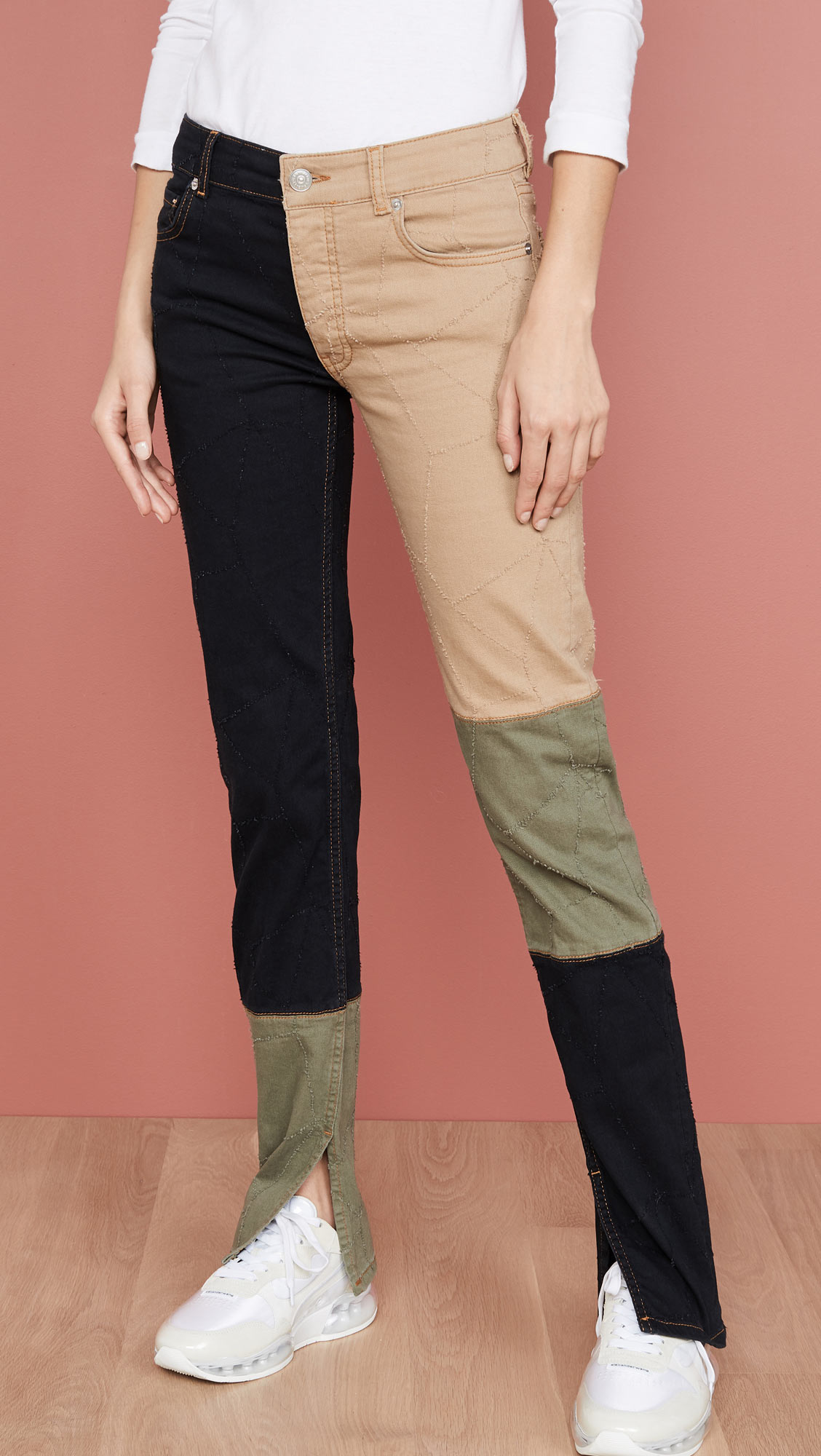 Patchwork is also here, and these GANNI jeans are really bringing it back for Fall. The earthy tones of green, black and beige are perfect for the cooler weather, but the ankle splits are very reminiscent of the 90's too, so these jeans could be a winner if you're looking to really go bold.
And finally we have camo! A trend that has come and gone over the years constantly, but it's back, again, and Pam & Gelo have gone for a bright and colourful version! I think combining yellow in there was a cool idea, as it really makes them pop.
– So here you have 10 statement making jeans for Fall 2019! Do you like any of them? Or do you think they're all absolutely crazy?
*This post contains affiliate links to help keep this blog running.