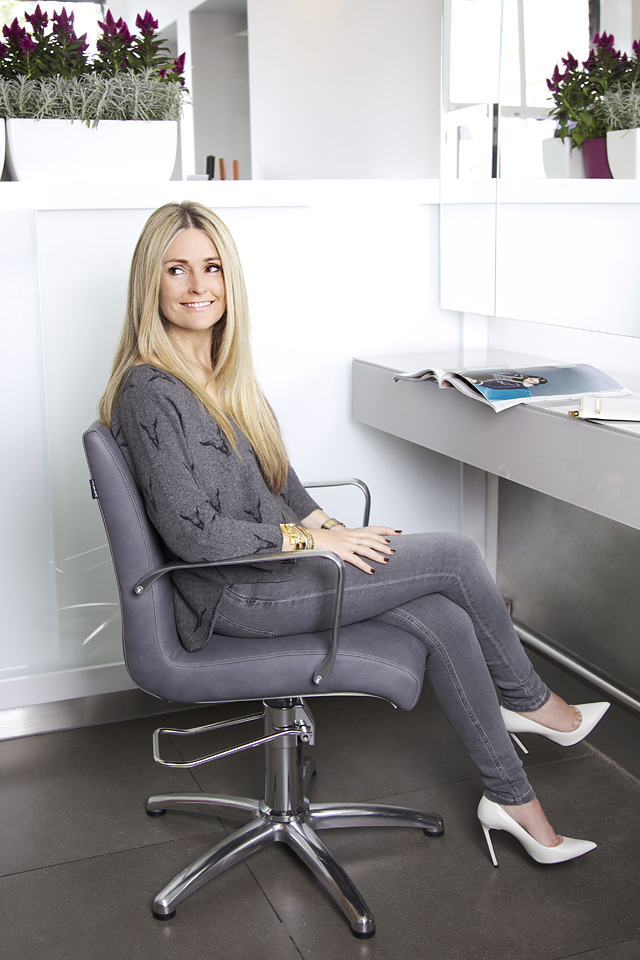 My First Pair of Jeans by Jean Queen Donna Ida Thornton
I got my first pair of jeans when I was growing up in Sydney Australia. They were by American brand Guess which was the coolest denim label at the time. They were a black acid wash so they looked super worn and grungy. I absolutely loved them and I remember feeling special when I wore them as a teenager. They were the perfect mid-rise slim leg and they went with everything, so I wore them all the time until the denim started to wear thinner in places. As the acid ate away at the jeans, I then cut out little squares of floral fabric and made patches for them which I blanket stitched around the holes. The knees went first and then the pockets, so by the time I had finished they ended up looking like a piece of art. Looking at the trends now for the distressing and cool patches everyone is adding to their jeans, I wish I still had them!
I have always loved jeans though, ever since I tried on that first pair, but it wasn't until I came to live in the UK that I noticed how hard it was to buy the right jeans for your body type. Department stores would have the right selection, but unfortunately they lacked the personal service to make sure you could find the right pair. This was when I started thinking and I thought it would be an amazing idea to put the department store selection of denim into a boutique environment and Donna Ida was born, so you can find the perfect pair of designer jeans at The Ultimate Denim Destination.
This truly helped develop my love of jeans even further and I had the idea to start my own denim label from the very beginning, right back when I was adding floral patches to my Guess jeans. I knew my own denim line would have to be focused around delivering a solution which I couldn't get from any of the premium denim brands though, then after time, IDA was born.
On the market IDA was launched as a collection of high-waisted jeans which offers a chic, iconic denim look which cinches in at the waist and holds you in, this was something that I felt lacked in the denim world and I was happy to launch IDA with this concept. For SS15 though, I'm introducing mid and low-waist jeans to the IDA range. The collection is called California Dreaming and the direction is influenced by a cool, laid-back LA-style vibe.
I'm adding a 7 inch rise super skinny called Honor (as I say just high enough to protect your honour!) plus a mid-rise Ankle Swinger called Kitty and a Gypsy a mid-rise Relaxed Classic which is designed to be worn relaxed and cool with flip flops in Summer. I've also added pieces based on fashion icons, but the best-selling high-rise IDA Ivy skinny is also coming back in a wash christened Goldie's Dream, inspired by actress Goldie Hawn's love of light, but bright blue denim. There will be the 70s Farrah after Farrah Fawcett's iconic worn-in denim jeans too.
So, as you can see, that one pair of Guess jeans which ended up getting damaged from acid, led me to fixing them up and getting creative with denim. If I hadn't have had those jeans and got so inspired by them, who knows if my denim line and boutiques would be exactly the same as they are today? Denim is a lifestyle for me now and I can't be without it.
A huge thank you to the lovely Donna Ida Thornton for sharing her denim tale with us here on The Jeans Blog! It's always fascinating to hear how others developed their love for denim and how far it can truly go.
Donna now owns 4 boutiques across London, her own denim line and looks perfect in her skinny jeans! That's definitely one denim success story in my book! Don't forget, if you would love to submit your own denim tale, we would love to hear it! Do get in touch! In the meantime, you can follow Donna on Twitter and check out her website, Donna Ida.