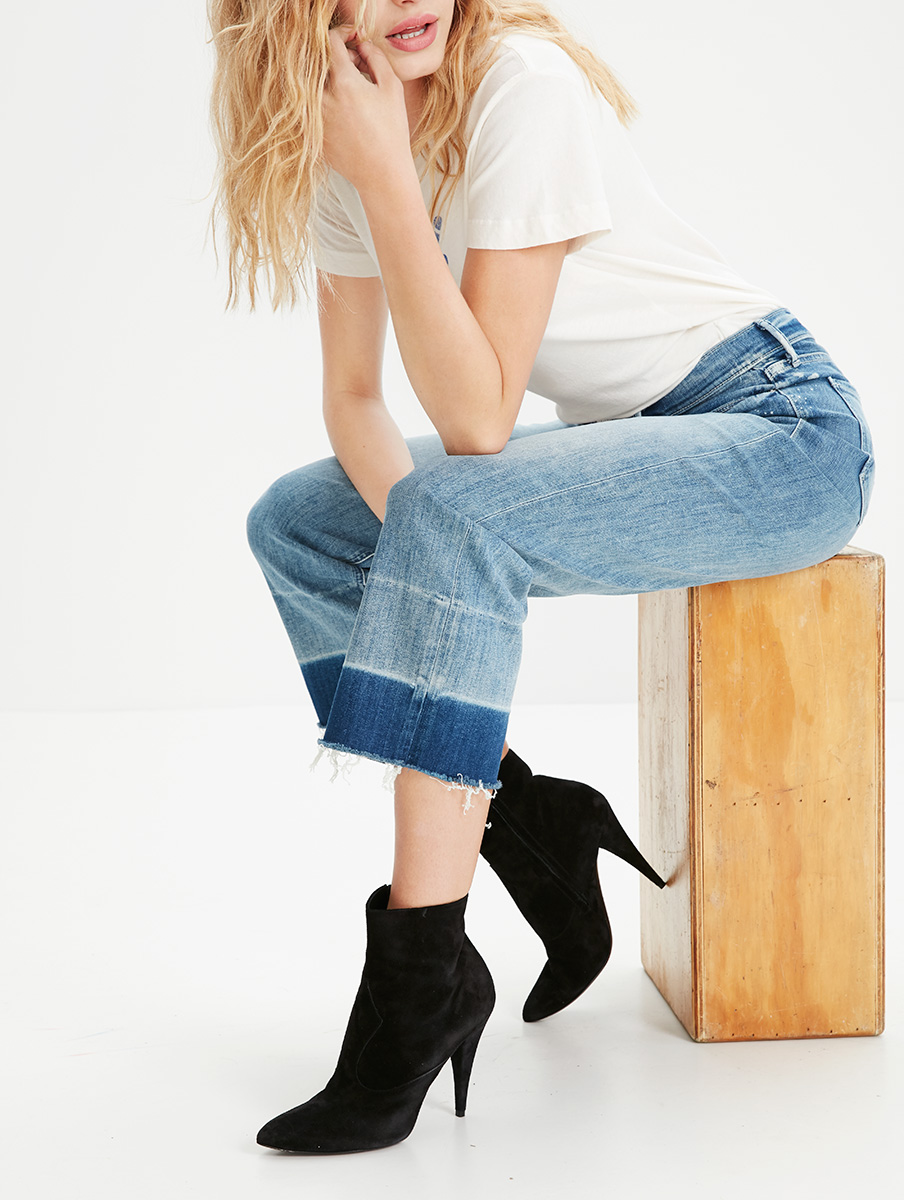 MOTHER Undone Hem Maverick in Double Time
This current heatwave that we are experiencing right now has fully put us in the mood here at The Jeans Blog for summer. As we are approaching August, the temperatures are only going to rise and it wont be long before we're longing to lounge on the beach. One thing about summer though is that it always puts me in the mood for new denim, especially the fancy, fun and gorgeous pairs of jeans that don't always look that great in wintertime. So, we have teamed up with Lyst to bring you this post!
The thing that makes denim so special in summer is the fact that it truly becomes the focal point of your outfit – it's not covered up by layers of clothing. It's hot, so of course you will only want to wear a little tank top or cropped top, while your feet enjoy some sandals. Now is the time to show off those beautiful pairs of jeans that you have been longing to rock. A cropped flare with undone hem detailing is ideal, a slouchy boyfriend with distressing is comfy, while a classic skinny in some gorgeous washes are an absolute must.
The Jeans Blog and Lyst have brought you our top 6 MOTHER denim choices for the summertime and we couldn't be more excited! We have chosen everything from a full length skinny to a cropped flare, with a different wash for everyone. Whether you fancy dipping your toes into the pool of light blues or scaling the ocean cliffs for some on trend grey, we have you covered. If white is more your thing and you want to reflect that scorching sun, there's a perfectly stylish, raw hem jean for you. If you might prefer darker blue jeans, don't worry either, you can brighten those up with your accessories and a white top! What are your summertime favourite jeans right now?
MOTHER The High Waisted Looker in To The Moon And Back… Again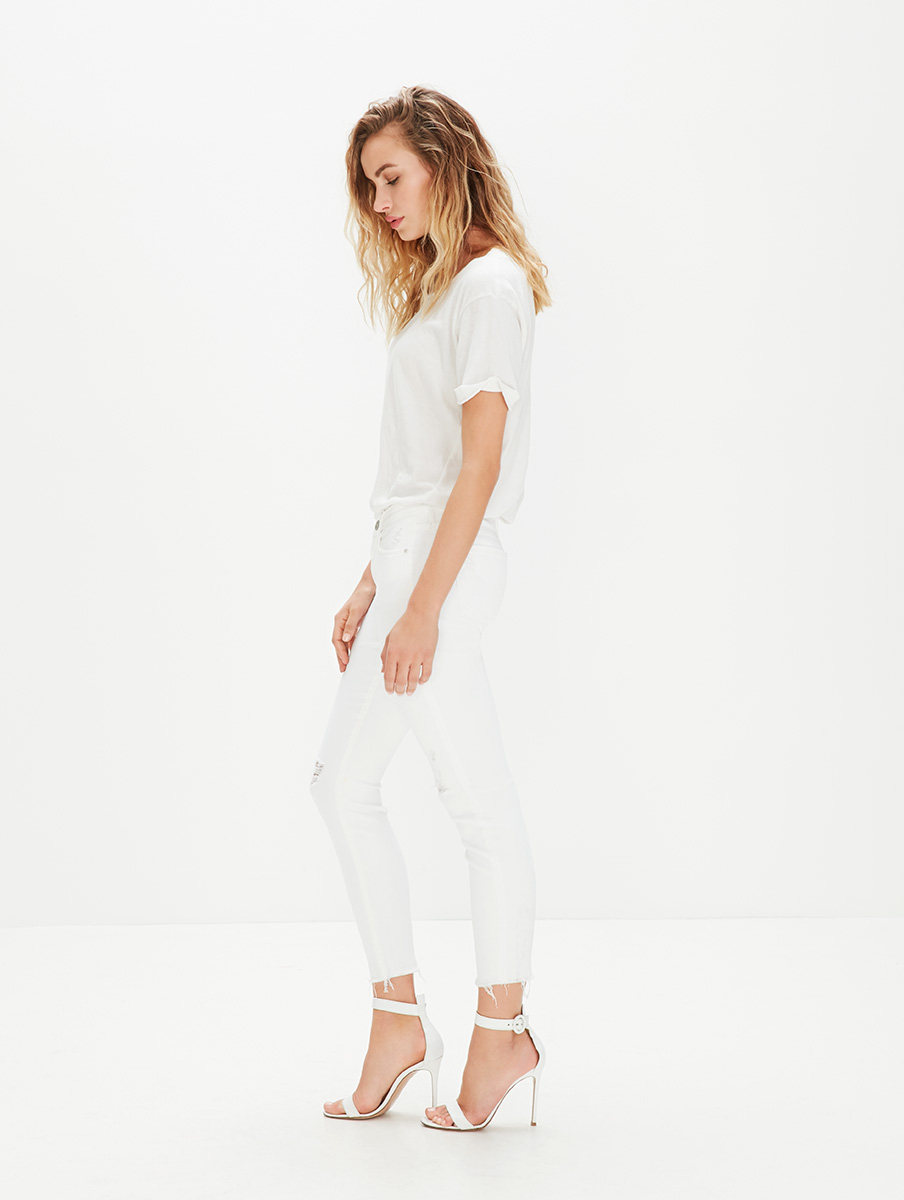 MOTHER The Looker Ankle Fray in Little Miss Innocent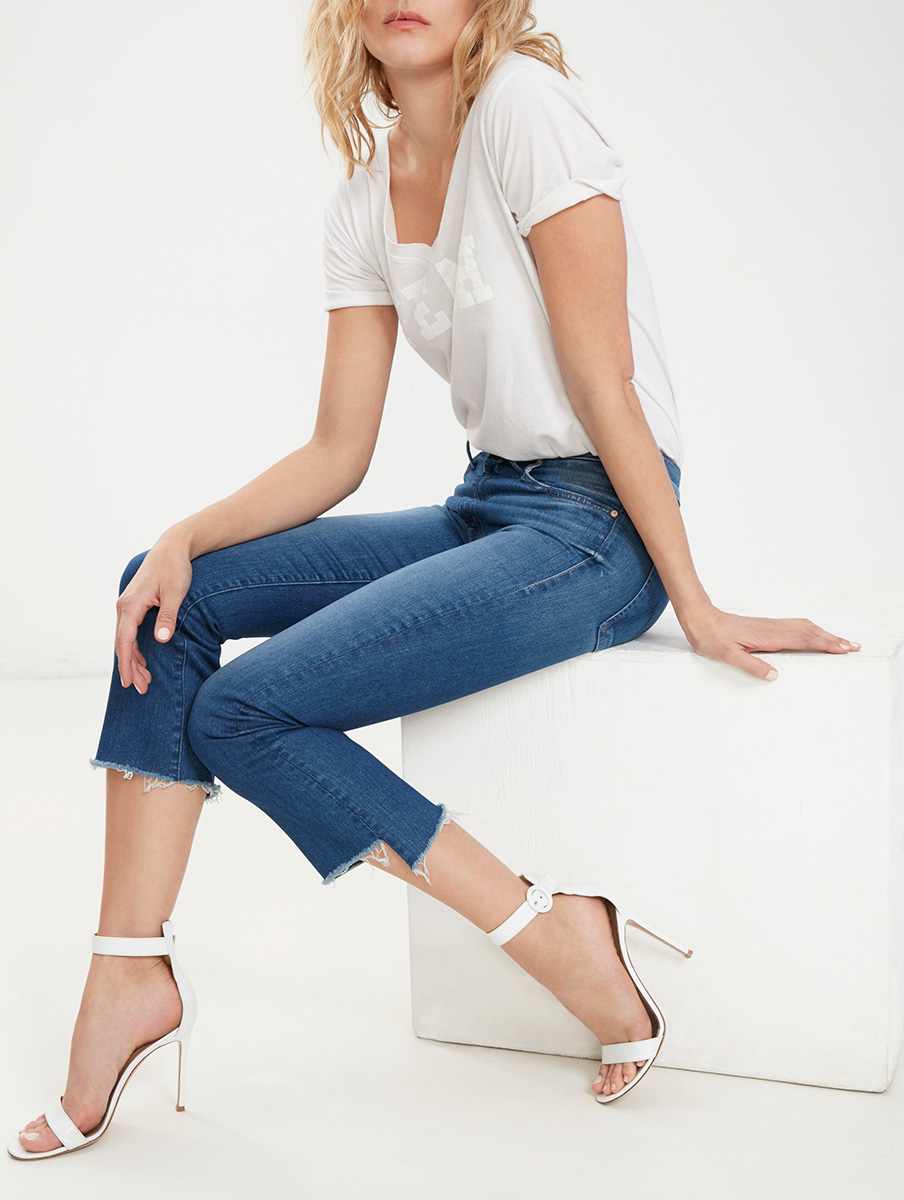 MOTHER The Insider Crop Step Fray in Blue Moon
MOTHER The High Waisted Looker in Blow Out – Midnight Blue
MOTHER The Vagabond Crop in Hijacking The Runway
If just choosing a pair of these beautiful jeans isn't enough, why not get some styling advice too? I've personally put together an outfit featuring the MOTHER Insider Crop Step Fray, with pieces that are incredibly stylish, giving you that Rosie Huntington-Whiteley 'model off duty' appearance which looks effortless and put together. A slouchy white top, some statement, colourful heels and black accessories are ideal for this! Shop this look below.
MOTHER Insider Crop Step Fray in Shake Well
Stelen Women's White Hudson Top
Alexander Wang Black Suede Large Marion Bag