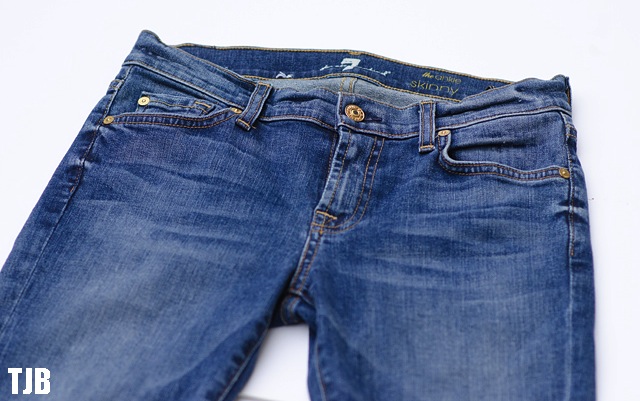 7 For All Mankind The Ankle Skinny Raw Hem Jeans in Rue De Lille
I've had these gorgeous 7 For All Mankind The Ankle Skinny jeans with a Raw Hem in Rue De Lille 2 for a couple of weeks now and I haven't fell in love with a pair of 7 For All Mankind jeans this much in a long, long time! I have worn these 5 times already and within two weeks, considering the amount of jeans I own, that is a lot for me! I can officially say that I have become obsessed with them, so I'm more than happy to share this review with you!
I'm going to start with the fit of these jeans as they are absolutely fantastic. I would say they have a classic super skinny fit with a medium rise of around 8.75 inches and an inseam of 27.25 inches. You can tell they are really skinny because the leg opening is around 9.5 inches, making them a super skinny which I love. They are made up of 98% cotton and 2% spandex so they are incredibly soft, but because the denim is really light weight and thin, it's so stretchy, almost the same as a jegging, so you are free to move around as much as you want without feeling any restriction. I absolutely adore the softness of these, I could sleep and live in them if I wanted to!
The thing that attracted me to these jeans initially was the raw hem though. It's a trend that has been gaining popularity over the last few months with numerous denim brands jumping on board, but it's one that I think looks chic and pretty. I'm not a fan when you literally just cut the hem off with a slice and it leaves a straight edge, that would have put me off of these, but I love what 7 For All Mankind have done with these! They have frayed the hems softly so they are raw, but they look really gentle and dainty as opposed to aggressive. I think they did such a great job with these!
Secondly, the wash was something else that looks beautiful. The Rue De Lille 2 is a gorgeous mid to light blue with pretty whiskering and fading in all the right places as you can see. It's precious and it actually looks authentic and extremely well thought out, which is something that I look for when it comes to denim. It must look real. I actually own the Rue De Lille wash from before in a regular skinny, so I am extremely happy that they released it again! It must be a popular wash for 7! These come with their signature plain pockets on The Skinny, just having a little branded fabric tag on the right back pocket, like all 7 For All Mankind jeans do.
I took a size 26 in these which is my regular size in premium denim, so I can say that they run true to size, maybe even slightly on the bigger side, so if you are between sizes, I recommend taking the smaller one as they are very stretchy. But overall, I honestly can't fault these in any way! The inseam is the perfect length for my shorter legs and the fit is just fantastic! They are so flattering and perfectly proportioned, they make the butt look fantastic and the legs look really slim and shapely! I love them! Buy these jeans online at Shopbop for $198.
Click here to view modelled photos of these jeans!
Buy these 7 For All Mankind The Ankle Skinny Raw Hem Jeans in Rue De Lille