Get Her Look: Hilary Duff wears black leather pants and a denim jacket
Ever since I was young and started watching Lizzy McGuire, I have been in love with Hilary Duff's style! First I must ask a question, am I the only one on earth watching Television for the fashion, not for the plot of the show? I hope not! But if this is the case, I think we can all still be friends!
Hilary Duff has typically had the same amazing style over the years, her body has changed a few times, but she has never looked less than flawless. I love her ability to look amazing when she is going to the gym or out with her son to the park. Even back to her Lizzy days, she frequently wore leather pants, I especially remember a Christmas episode where she wore a pair of red pants that were to die for (okay, well maybe in a middle school kinda way).
The point is, she is simply my most favorite celebrity stylista and this outfit below featuring her black leather pants and a denim jacket is one of my most favorite outfits she has ever worn. This is a denim outfit perfect for multiple occasions and is great because of the separate pieces that could all be removed or added at anytime. So, you can get her look and steal her style for a lower price tag below!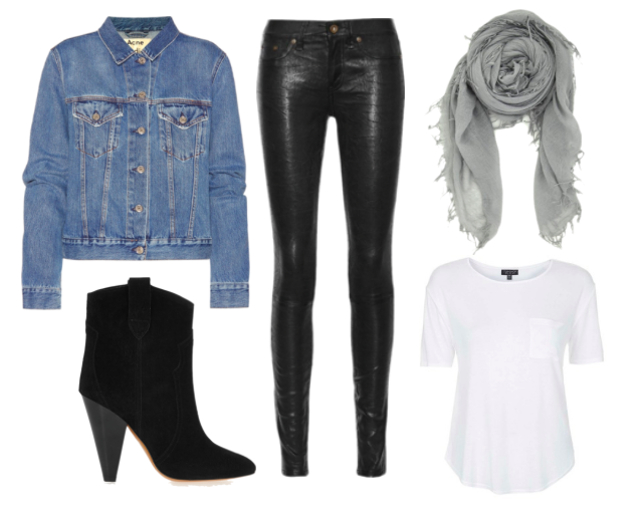 Shirt | Jacket | Pants | Scarf | Booties
Hilary's outfit above comes with a huge price tag, real leather pants from Rag & Bone along with booties from Isabel Marant and a Jacket from Acne Studios can really hurt someone who's on a budget. Lucky for you, I have re-created her outfit with much more affordable items (below) including coated denim instead of real leather and a few more options that will still look great minus the hefty price tag.
If you love her exact look though, you can see the pieces I have chosen above with the black leather pants, the denim jacket and more! Each item is available to buy in the links under the collage, but you can get it for less with the denim options below. Happy shopping! Also check out our Hilary Duff: Get The Look when she wore her J Brand skinny jeans too!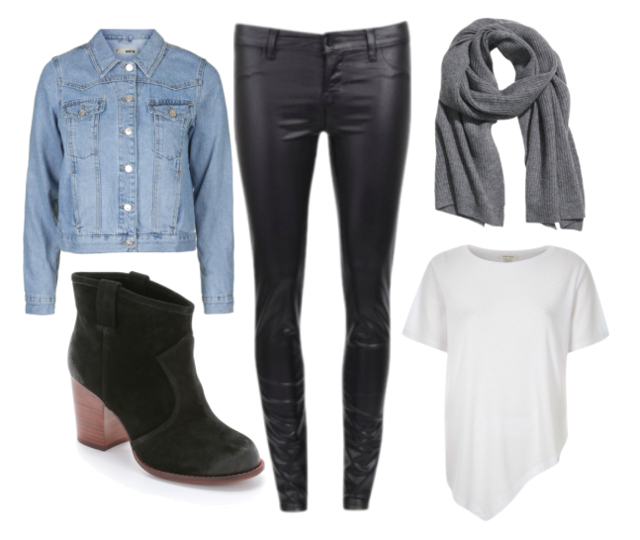 Shirt | Jacket | Pants | Scarf | Booties